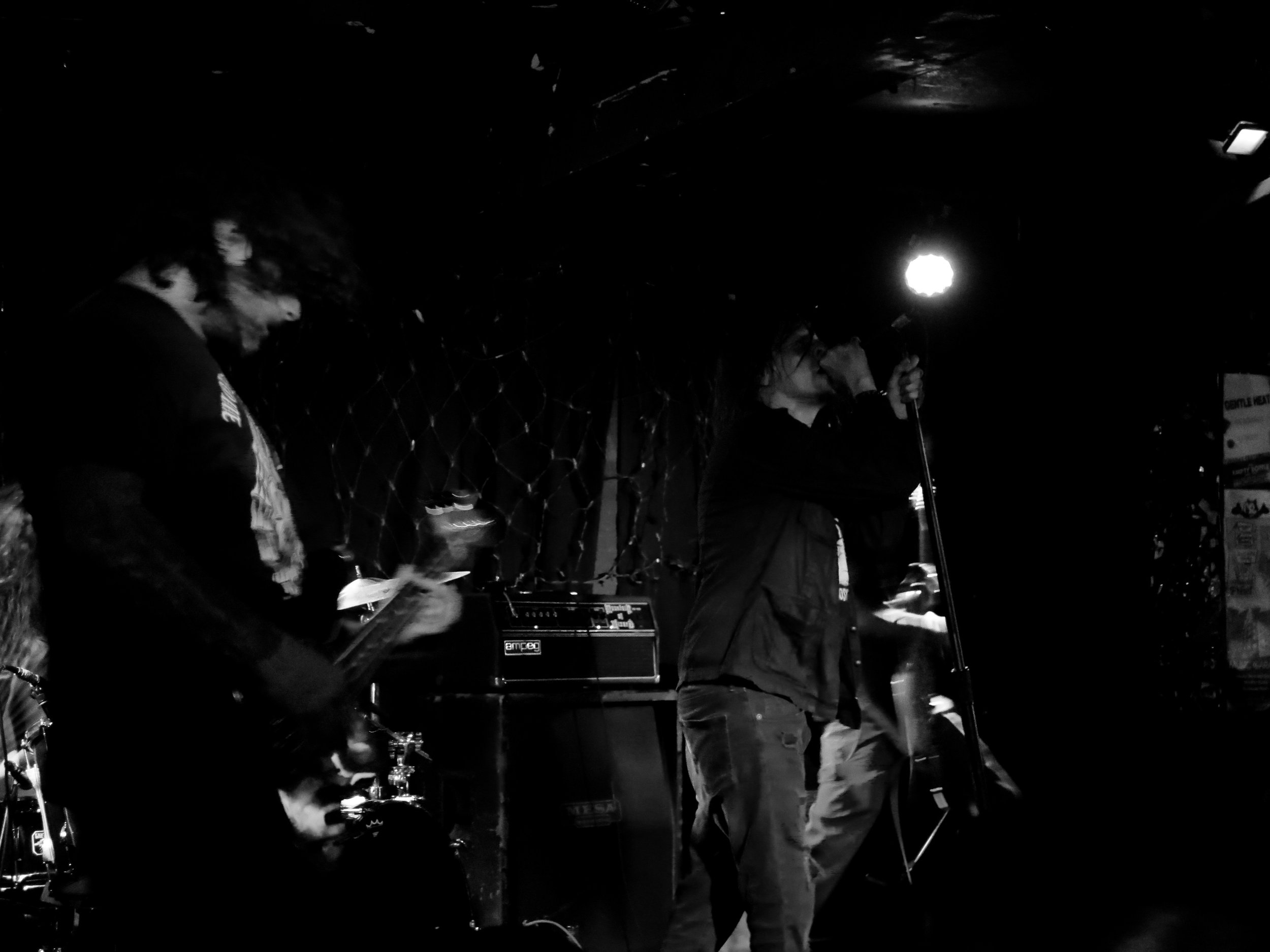 Empty Bottle
August 30th - 31st
EYEHATEGOD / all📷 : MDR

Summer is over. I know there are technically a few weeks left, but the leaves are turning, kids are back in school… it's dead. Get over it. Good riddance. (Fall and winter are really more my scene.) Allow me to enumerate the ways my life improves after we put the last nail in August: 1) It's hoodie weather, all the time- even indoors, 2) Halloween, 3) I can order stouts again at the bar without hipster bartenders sneering at me, 4) freaking Halloween, 5) and metal festivals like Scorched Tundra roll through town. Towards this last point, I don't feel like I have to explain why colder weather is better for enjoying metal music. It just is. Just like a festival that features Co-headliners Eyehategod and Black Cobra needs no description due to it being transparently awesome. If you went, you already know this. If you didn't, your loss. Go next year. That's my professional recommendation as a metal expert. Now my job is done. Byyyyyyyyyyeeeeee.…
Still here? Well, I guess there is more I could say. Scorched Tundra XI was pretty epic after all. Let's get some points of order out of the way first.
First off, the festival was held on Friday (8/30) and Saturday (8/31) which for those of us who need to wash our underwear most weekends and have matured to the point where we don't just buy a new pair at CVS when we need it, having a day off from the rock 'n' roll rigmarole to wash our bun wrappers is appreciated. Second, there were a number of pretty amusing tie-ins to the festival happening around the city over the weekend. If you were feeling peckish, you could take your ticket to one of Kuma's Corner's locations to get a discount on some sloppy slabs of beef and cheese with names inspired by Eyehategod and Aseethe…. Or, you could drop in at Bite Café for some gnarly headliner-heralding nosh, like The Back Cobra (Charred Thuringian Sausage on a New England roll) and EYELOVECOD (black cod croquettes with horseradish schmeer). There was also a beer on at the show called the Circle Pit, an APA from Buckledown Brewing. If you had an organ you wanted to abuse for pleasure that weekend (whether heart, liver, or ear drums), Scorched Tundra was prepared to indulge your every masochistic desire. Preamble over, on to the review!
For those who didn't read my interview with organize Alexi Front last week (you can find it here), Scorched Tundra is a long-running, immaculately curated exhibition of savage sound art. Alexi describes the process of booking and organizing the lineup for each festival the same way one might describe the placement of visual art pieces in a gallery. The expressive qualities of each group's music is meant to have an affecting flow and enhance the experience of the other. The impression the previous band's set left in the minds of the audience is the foothold used by the next to launch their assault on awaiting expectations. To be honest, I was somewhat skeptical when I first heard about this approach. We're talking about human beings and not inert objects at auction after all. But after witnessing the philosophy in practice, I've come to believe that Front is either consistently lucky as a promoter, or is some kind of psychic wizard (probably a bit of both).
Friday night's line-up was comprised of only three bands: Varaha, Cloud Rat, and Black Cobra. This is an absolutely puny line-up as far as festivals go, but where the schedule's short roll-call, the individual sets that comprise the schedule are impactful enough that you might not notice. Local atmospheric dark metal band Varaha opened, beginning the night out on a bleak sober note. That's right, dark, not black metal. This is not the sound of the Scandinavian woods filtering through the amplifiers of that hallowed beer hall, but the cruel, dust-choked cry of the American prairie stripped of its plants, its animals, and its people by industry and avarice and left to bake in the withering sun. There was a tremendous sense of mistrust and grief conveyed in the chilling howl of vocalist Fabio Brienza as he gave voice to the desperate conditions of his adopted home. As popular as metal is in America, there are few bands that capture the essence of its lived trauma better than Varaha. The mood set by opening harbingers created a fertile farrow from which the half-crazed crust punk grind of Cloud Rat emerged.
Cloud Rat filled the same slot on Friday that I believe the blacked fatalistic hardcore of Brooklyn's Couch Slut filled in last year's lineup. That is, the musical equivalent of a burning house. Cloud Rat are a band whose sound is almost more pain than polyphonic, menace than melody, and damage than dynamic, despite having all of these musical elements in spades. A blazing effigy of tortured poetry, ominous observations, twisted tangents, and flammable brain goop. A living disaster of suffocating emotional outpour. Seizing the audience by the inside of their throats and smothering them with the charcoal fog of its indignation. The rawness of their performance almost overpowers the nuance of their skill and songwriting. They're a band whose set takes multiple encounters to unpack and fully appreciate. This was not the first time I've seen Cloud Rat, and fate willing, it won't be my last.

Black Cobra took the stage last on Friday, and for a guitar and drum duo, they can do what most bands couldn't with three times as many members. Lousily translating the blues into a language that our primordial ancestors may have better understood than those of us raised in a civil society (or what's left of it), Black Cobra animate the animus in all of us. The closest musical comparison I can draw to describe their sound is that of local thrash-trance trolls Oozing Wound, but Black Cobra is not a thrash band. They're more like Primitive Man after ingesting the White Stripes. Brutality isn't the goal, it's a method- a means of reaching a boundary line. Confidently-penned songwriting and tightly executed performances that wind and detour through a maze of existential dread. A labyrinth without ingress or egress. A spool of dead-ends. The first night of Scorched Tundra was devastating both sonically and psychically. Saturday would have a much different curatorial approach, something that I was not prepared for, or disappointed by.
Fast-forward to the next night, we open the scene with Hanna of Hitter, the opener of the evening, rolling up next to me at the bar with a friend. I waved and said "Hello" only to receive a smile and a horse whisper in reply. My surprise must have been apparent because her friend was quick to explain that she was saving her voice for the set. This was the first sign something tremendous was in the works, a fact that dawned on me about twelve seconds into Hitter's performance. Hitter on a normal night is bullet-proof. Hitter on Saturday night was like the samurai-devil tiger-tank from the cover of Judas Priest's Defender of the Faith. Basically the musical equivalent of an air raid. Boozy, pool-hall brawl, rock 'n' roll, under the influence of hardcore punk's perpetual state of dissatisfaction and black metal's antipathy and fatalism. Like Midnight doing a cover of Fear's "Don't Care About You" after lighting the stage on fire, or David Lee Roth taking a hit of acid and confessing to war crimes on stage during the bridge of "Runnin' with the Devil" at the Milwaukee Summerfest. Sticky, dank trouble with a pitch-black exhaust trail. Even missing half their rhythm section (Joe from Meat Wave filled in on bass in for Madalyn [I guess she's recording with her other band]), they still managed to reduce us mere mortals to piles of hamburger in their wake. A superb way to start the evening and a tough act to follow, but that didn't stop also-locals Luggage from trying.
Minimalist post-punk is not the first thing that comes to mind when you think "metal fest," but if you are thinking in terms of matching tones, textures, and themes, rather than in terms of genre, then it makes perfect sense. The bands on Friday night dwelled on themes of discontent and disorder. Few bands embodied these themes better than Joy Division, and few bands captured that specific breed of languid angst, pioneered by Ian Curtis, and which so many of wallowed in during their formative years than Luggage. I appreciated the stabbing quality of their terse chord progressions and the tarnished gloss of their melodies. Luggage are a band whose sound feels like it is the human translation of a script-packet received directly from whatever despotic server cloud Amazon dreams up its employment practices in. Their chipping, emulsified sheen was the perfect contrast to the dirt-caked, Neurosis indebted sludge-abyss of Aseethe. While Luggage speaks to our waking nightmare, Aseethe depicts the terror that lurks at the border of our vision in the depth of night.
Combining elements of drone and doom metal, and hardened by the unresolved angst of the DIY punk scene, vocalist Brian Barr and drummer Eric Diercks came up in Aseethe's sound that is as expansive as the skies above the Hawkeye state, and as dense as the earth pile upon a casket. They are one of only a handful of metal bands on Chicago's progressive label Thrill Jockey, a seemingly random event owing to a chance meeting with the label owner after they played Gilead Fest in Oshkosh, WI. Aseethe are a Midwestern metal band. A definitive fact that they both wholly embrace and is readily apparent from the gritty flavor of their ranging chord progressions and the sinkhole-like drop of their rhythms. Grounded is not a word that I would use to describe many drone acts, but it is a term easily applied to Aseethe. Stone to dirt, dirt to clay, clay to blood, blood to dust. Add a little whisky, and you have the entirety of the human condition. Speaking of whiskey, Saturday's headliner was Eyehategod.
New Orleans is a town where you don't go looking for trouble. If you are there long enough, trouble will find you. Hard living, and even harder dying sludge metal legends Eyehategod are a testament to this fact. With songs like "New Orleans is the New Vietnam" they make no excuses for the world around them and the systemic abuses that make bread and work luxuries out of reach to most. Beyond the polemic of their lyrics, there is a working-class quality to their music that was reflected in the crowd that evening. What do I mean by that? Well, for starters it was one of the more diverse crowds I've seen at a metal show in a while. Second, the disaffected quality of Mike IX's feral screeches over badly tarnished, detuned blues riffs has an outsider art quality to it. A quality that could only emerge from the spaces that are created between hustles and benders. It's not capital "P" political music, but it is political owing to the experiences it speaks to. Like Black Sabbath before them, Eyehategod is a blues band at their core, whose messages speak to the strife and anger that manifest due to a cruel state of affairs. For people in the margins, which always includes the working class, the political can't help but be personal. A reality which songs like "Shop Lift" and "Kill Your Boss" are ripped as if from whole cloth. They also have quite a few songs about getting turnt as hell. Again, comparisons to Black Sabbath basically write themselves. The band's set drew heavily from their early material. I heard a lot of familiar cuts from Take as Needed for Pain and Dopesick, with gooey riffs oozing out from the stage to fill audience earholes with mucousy melodies. Their jaundiced register filling the confines of the old Polish beer hall with enough perverse abandon to satisfy even the most discerning degenerate. They even got a mosh going. First of the fest, I swear. Legends don't always live up to the expectations of their mantel, but on the second night of Scorched Tundra XI, this NOLA metal mainstay did. If you weren't there, you now have a faint glimmer of what you missed. Go grab a burger and an Alpha King at Kuma's, and enjoy your winter. I'll be seeing you next year for Scorched Tundra XII.
-MDR