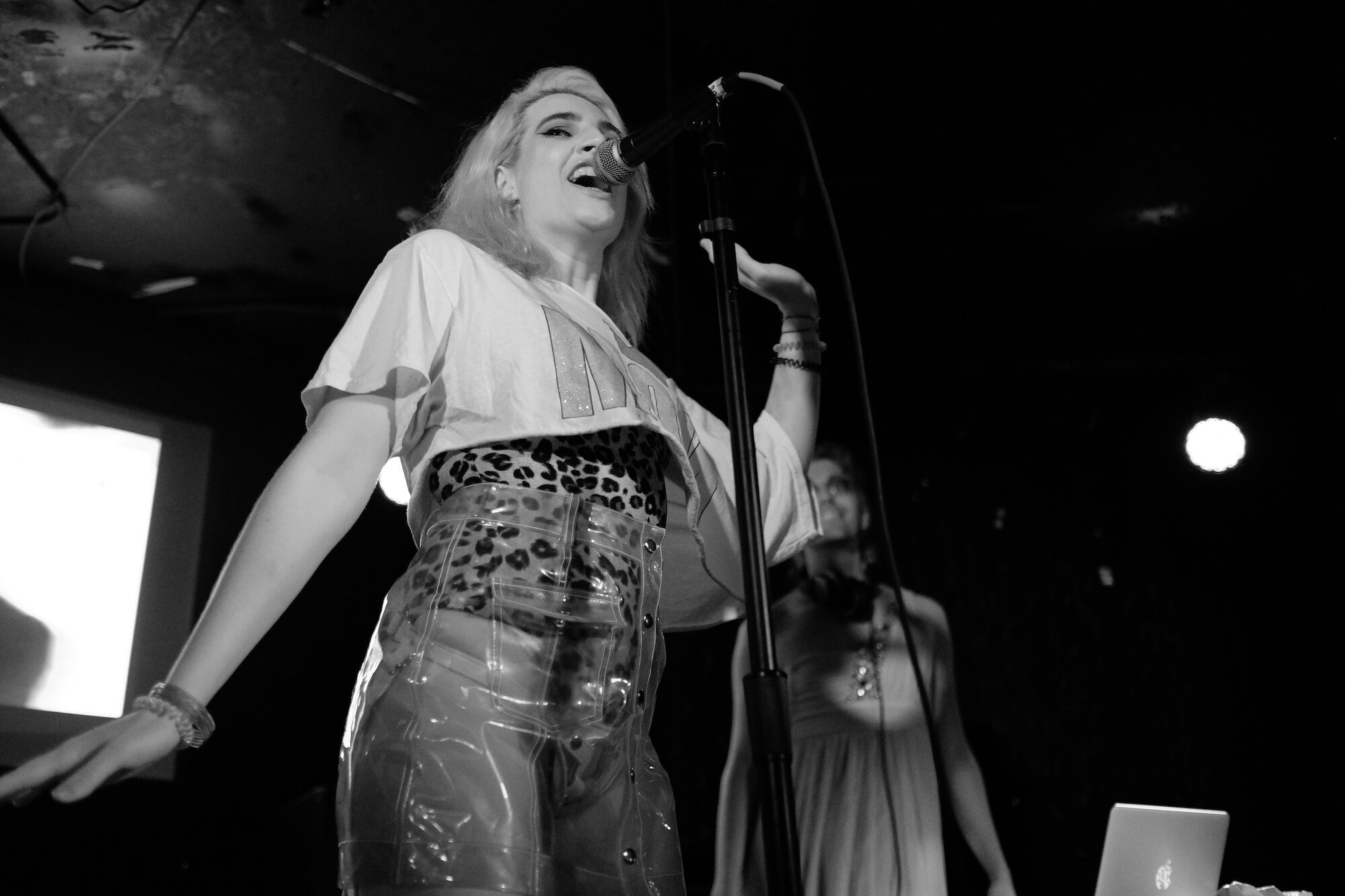 Nyssa / CJ Run
The Empty Bottle
October 4th
Sir Babygirl/ all 📷 : Tina Mead

Special guest writer, Aaron Pylinski, has been living in Japan for a few years. An old punk with a deep love for the Chicago music scene, it's been a minute since he had the pleasure of hanging out in our fair city. Aaron has been a big supporter of our writer/photographer TIna Mead, so she was excited to take him out to a show and team up as he passes through town.
This isn't just a story of live music and merrymaking. It's much more than that. This particular Friday night was a showcase of all that is good in humankind, shown through the power of music and open-minded camaraderie.
After 15 hours on a plane from Tokyo to Chicago and a couple days to decompress, it was nice to land at the Empty Bottle on a brisk Chicago night. The evening opened with hip-hop efficanado, CJ Run. Truth be told, after four years of me not gracing the Empty Bottle, it was a pleasure to see a Chicago crowd in a venue such as this. The fans embraced CJ Run as passionately as they poured their music from their soul. CJ Run brought a smooth vibe I haven't genuinely heard since the '90s. But they didn't chain themselves to traditional hip-hop canon. They came to the Bottle and spliced British grime with what any purist hip-hopper in America would fall in line with and created an anthemic sound second to none.
Hip-hop is lucky to have a ground-breaker like CJ Run to revolutionize the genre. As the show started, "Ain't nothin' wrong" had them posting up in the crowd's face. It didn't take much to coax the crowd to the front of the stage. The heart-pumping drum lines by Shravan, and Mick working DJ and slick backup vocals, CJ Run was blending lines of genre and life. The rolling basslines with the pink and blue lights of the Bottle provided the best backdrop for audience participation. Run's closer added Afro-beat to the mix and sent us all off reeling. This writer isn't much for making inter-genre comparisons, but if you could condense The Roots into a single soul, they would be CJ Run.
"I'm so good at talking on stage," Nyssa quipped, "That I'm going to stop doing it." After this self-effacing interlude, she rolled into new material that mixed her brooding voice with a pounding soundbed. Nyssa was the middle child of the night, and though she was plagued early on with mic cord problems, it didn't stop her from delivering a class-act set. Her snarling and sometimes smooth vocals were coupled with a West Side Story fashion sense. There's no doubt Nyssa felt her music with "I'm Alive" quickly bringing the crowd into the fold. Her tidy synths and vocals hovered between operatic and angst-filled and had a west coast vibe through and through. As her set rolled on, I was reminded of "Cheree" by Suicide. To hold that mantle is reminiscent of bygone days from the proto-punk era and is no easy feat. Nyssa prowled the stage sending looks into the crowd. She rounded out her set with a crowd invasion garnering looks of admiration and disbelief from the crowd and landing on her prey like a lioness. For her first time playing Chicago, the Toronto native has a home here anytime.
Rounding out the evening's triumvirate of supreme awesomeness was our headliner, Sir Babygirl. On their first tour they started the show like seasoned pros. It didn't take long for Sir Babygirl to froth up the crowd. My initial observation was: Is this set cheesy, with large lipstick, inflatable couch and prom-date opener? Sure. From start to finish, was Sir Babygirl awesome? Yes. Was this moment unforgettable? Absolutely! Everyone in that room was lucky to have experienced this show. This was a spiritually and emotionally moving set for me personally. I'll stop gushing and get on with it.
A projected backdrop added to the flavor of the show. Everything from WWE to Avril Lavigne to random facial injuries. There was something different for each song and it gave the audience a slight distraction from the random guitar connection issues that seemed to beset Babygirl on occasion. Fighting through guitar issues, Babygirl was quick on their feet and kept the crowd engaged as they worked through the problem. Sir Babygirl was nothing short of a fantastic performer. Their sense of play during "Cheerleader" and "Defying Gravity" (which brought participants from the crowd to the stage) was contagious, but the real magic was in the message.
I developed a crush on Sir Babygirl days before when I was introduced to their work, but I wasn't prepared for the moxy and determination they produced at the Empty Bottle. I fell in love with the music, but more so with everyone in the room. This was a night to celebrate our differences and commonalities in the midst of a world seemingly gone mad. Between the three performers and the boiling cauldron of the crowd, it was proof that there is still beauty and love in our human society. Sir Babygirl's acoustic encore, "Helena" by My Chemical Romance, embodied this in ways that are near incomprehensible to the human psyche. But they did it. Camped out on a speaker next to the stage, guitar in lap and singing in stereo with the crowd. It brought every soul in the house together under the umbrella of equality; and me to tears.
So long and goodnight…