As usual we had a plethora of shows to choose from this week, dear Surfers; but alas we can only attend a few. We bring to you a night of free music at Schubas with locals The Knees and Lenny along with Memphis outfit Super Low; a great in-store at Bric A Brac with Deadbeat Beat and Emily Jane Powers; stellar mellow indie rock of Hovvdy, Lomelda, and Ghost Orchard at The Empty Bottle; and the legendary Hold Steady with upstarts Pkew Pkew Pkew at Thalia Hall. We know . . . a packed issue once again, It's our style, we can't help it. Chicago had a massive dose of new releases this week with records from Hood Smoke, 93PUNX, HIDE, WINGTIPS, and a debut EP from Happy Face. Along with singles from rocking duo Djunah, the masked electro twosome NONE OF YOUR CONCERN and the always reliable kingpins of Chicago indie rock Twin Peaks. Kick back, hit up that playlist, and delve into the week in music. See ya on the flip side . . .
Keep Seeing Live Music!
Scorched Tundra Fest
"These groups form a foundation where the music is highlighted in a unique manner when stacked in a lineup. Much like hanging paintings in a gallery, aspects of each painting are highlighted or enhanced depending on the order in which they are hung." - Alexi D. Front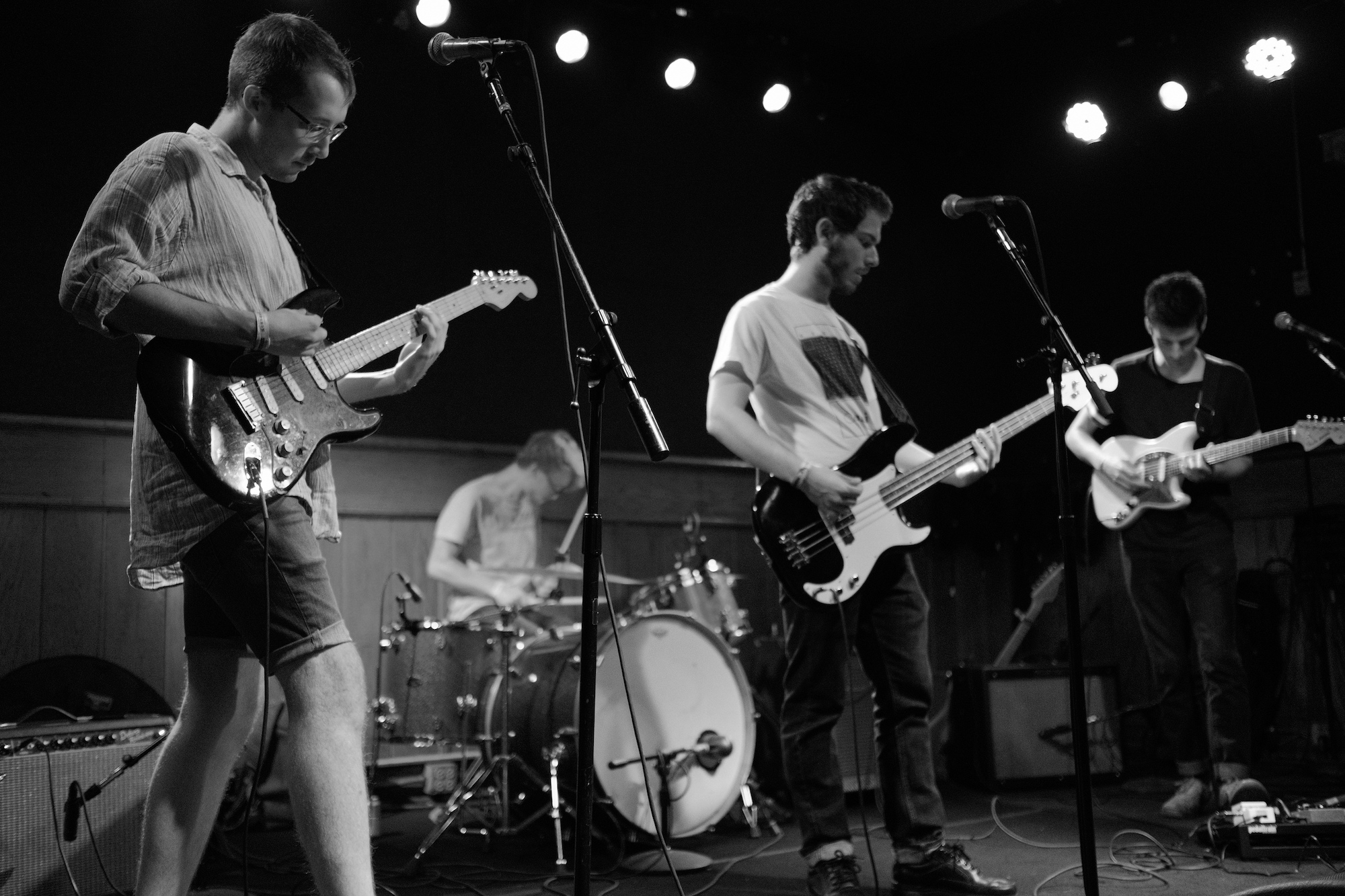 Super Low / Lenny

Schubas
August 20th
The Knees /📷 : TLM

The number one way I would characterize The Knees sound is that of an off-kilter clock. One with loose parts. They moved faster and the slower within the same song, changing pace and time signature. As the first song ended, David Miller's guitar was left ringing out; it had a twang that was not country so much as dissonance. Like a spring sprung off-key to the rest of the mechanism.
Emily Jane Powers
Bric A Brac
August 24th
Deadbeat Beat / 📷 : TLM

More and more people wandered into Bric-A-Brac and browsed the merch, talked to the band, and added to the congevial, relaxed atmosphere a free afternoon show has. Chicago musician Emily Jane Powers pointed out how crazy it felt to be playing in the daylight: here we are, rocking out in full sun.
Lomelda / Ghost Orchard
Empty Bottle
August 26th
Hovvdy / 📷 : KPL

Their signature indie folk vibe in full effect, the Austin duo captured the late crowd with their mellow allure and spaced-out harmonies. Bringing on Read of Lomelda to sing along with Martin in a harmonic duet straight from the Covers EP the two put out was a sure-fire highlight and capped an infectious evening of warm feelies and satisfying performances.
Pkew Pkew Pkew
Thalia Hall
August 22nd
The Hold Steady / 📷 : MVM

The Hold Steady's recently released album, Thrashing Thru The Passion, and Craig Finn's birthday were both being celebrated on Thursday night, equally important to the band because the new album marks their first release in five years, and Finn could not have looked any more excited to be performing
See you at the show Chicago!