Welcome Surfers, to yet another big week in CCS coverage! We caught locals Ethers, Fran, with NYC act Dark Tea at The Hideout and Chicago native Shawn James with W.T. Newton at Beat Kitchen. We have a huge slate of local new releases on the way, and this week had quite a few with new records from Bandy, David Quinn, and IL pop goddess Lissie stripping down her tunes on a solo piano effort. Plus singles from Pixel Grip and Noname and a new EP from Tara Terra. And that's not all, with plenty of new albums from all around the country and the world! So hit up the playlist, and step inside for all the music news from this week! Make sure to check out the calendar and pick a show to see this week!
Keep Seeing Live Music!

Not for you
"My writing can be very personal, but I do like to allow the listener to make their own interpretations, which is why I have not shared the lyrics for this material…" - Lindsey Sherman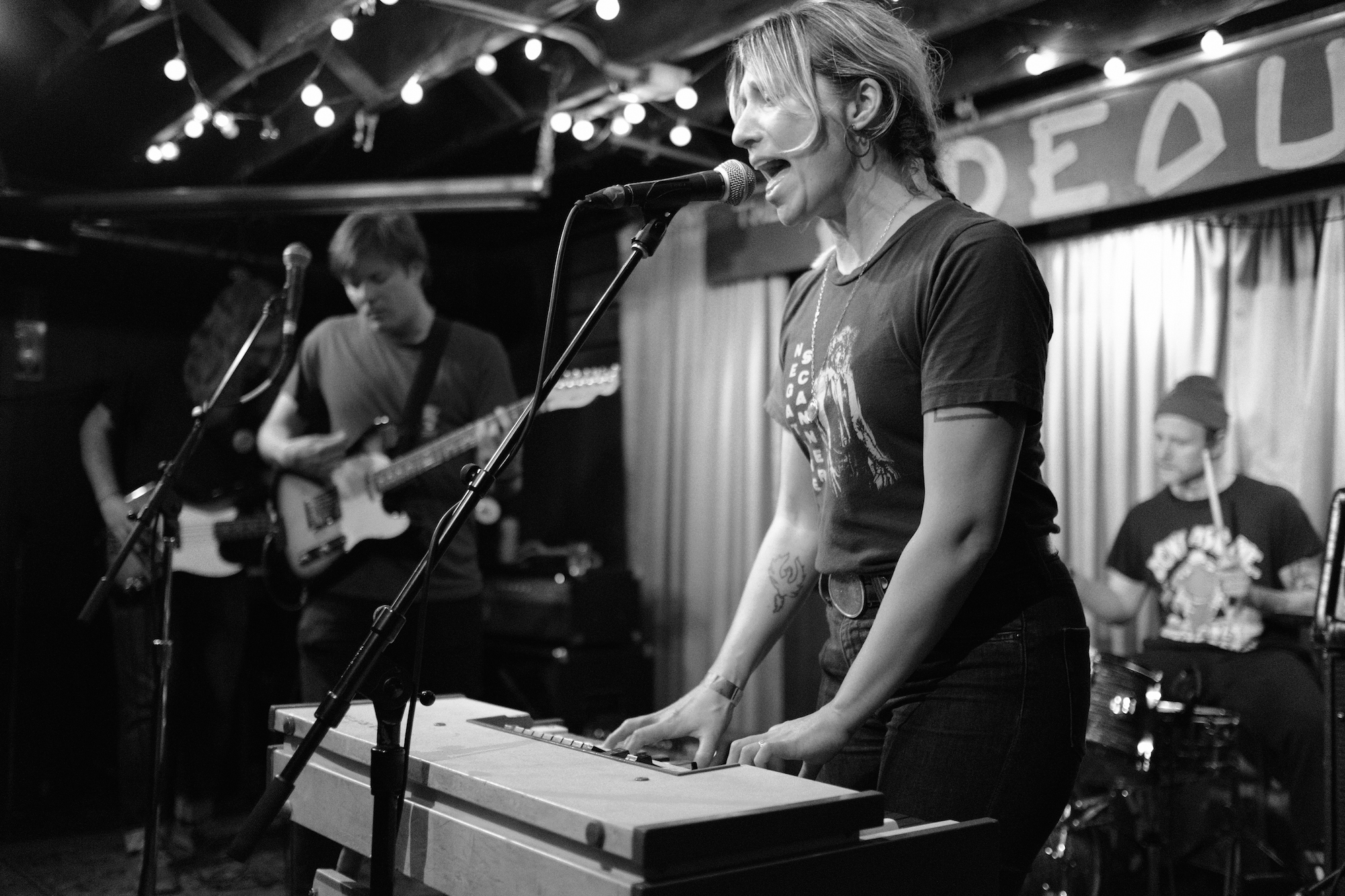 Ethers / 📷 : TLM
One of my favorite ways to find new music is to listen to the bands that are playing the venues that I love. If you trust the venue's musical curator , you will be led to some amazing stuff. The Ethers was one of these bands. I was hooked from the first few seconds of the lead track on their self-titled debut album. It is an existential rocker. It was full of angst and a nice heavy beat that made you move. They made us wait until the next to last song to unleash "Empty Hours" on the crowd. Giving me that "YES!" rush of happiness when a band you love plays a song you love. But that's the END of the night. Let's rewind...
Our first band of the night was Chicago darling Fran. It was no surprise that, despite being the first opener, they were greeted by a decently full Hideout. At the center of Fran is singer-songwriter Maria Jacobson. Jacobson is a songbird—to bring back an old descriptor. Her voice soared above the rest of the mix. But that doesn't mean it was sweet. I would say melancholy is the most common feeling I had during the set. Her tone brings me back to the sixties—clear and open throated resonance. The whole band was feeling the music. Soulful drummer Ashley Guerrero hitched her shoulders with the beat, slowly shaking her head with the groove. Jake Acosta swayed and worked his jaw while playing his bass. Bret Koontz leaned in as he laid down back-up vocals, guitar, and synth. They left us with something to look forward to with "Own Time" as it will be on their next album (which I will be waiting for with anticipation). They ended their set strong with Acosta's melodic bass-playing and the jazzy feel of "Desert Wanderer."
Dark Tea was up next, visiting us from New York. Dark Tea's music had a certain down-home feel. The rhythm section of Alexa Pantalone on bass and Eric Carney on drums set the tone with a laid-back country shuffle. That feel was emphasized by full, warm chords and punctuated by hitches of up-strumming and flourishes that brought southern rock to my mind. The vocals by Gary Canino were not what I would call in the country style though. He kept his voice flat (as in not too many flourishes typical of country singers, not a comment on his pitch) which is much more typical of indie rock. It all created a unique sound to what would otherwise be straightforward Americana. The band felt the music with a bounce—some with a nod of the head, some at the knees. It was an infectious groove. I liked how the drummer was in communication with the band. You could tell Carney was feeding off of their performances. It all came together in their last song, "Day's End." Carney and guitarist Noah Kohll got into a really chewy jam session. Both of them let their hair fly and the audience hooted in appreciation.
When the Ethers crash into their set, it was with volume and power like a kick in the face. They definitely stepped up the sheer force of energy coming off the Hideout stage.
This indie rock band brings together elements from different genres and styles, giving us a perfect storm that can be constructed by none other than the Ethers. A punk rock drummer. Hard rocking melodies from the bass. New wave keys. Fuzzy guitar. Droning vocals by Bo Hansen. Mary McKane's vocals are definitely more psychedelic. They were united in their killer performance. Watching them throw themselves into the music definitely took the experience up a notch. The gave their performance every ounce of passion. Every song had the crowd groovin'. At times, it was more of a low-key bounce, but everything they played made me want to move. There is nothing better than feeling like you are getting carried away by a band. The band hit a fever pitch with their last three songs and didn't let up: "CBD," "Empty Hours," and "Rip Off." They really kicked the crowd's ass, leaving us breathless and begging for more.
-TLM
Shawn James /
W.t. Newton
Shawn James / 📷 : NBL

The Beat Kitchen's venue room was packed when I arrived in time to see the second artist W.T. Newton. Center stage, with just his guitar and a mallet, the singer-songwriter stepped up and then sat down on what seemed like a suitcase. He started belting out his song while hitting the suitcase with the mallet. Newton sings of personal themes of life and the military, in a style that is heavily rooted in folk and country. He sang of his close friends who was in the military and had recently passed away. From Newton's songs and voice being traveled by the way of the silenced audience and the acoustics of the venue, to his praises of Shawn James (a close friend who invited him on tour) his set was nothing less than intimate. Newton gained some new fans of his classical music, instrumental genre mixed with his unique vocals.
After Newton's set, Shawn James and his band the Shapeshifters stepped up to fill the stage and thank the audience for coming out to his sold-out show before they started rocking out. The last time James was in town was Halloween where he had a solo acoustic set and played songs from his existing albums as well as his then-upcoming album The Dark and the Light. James and the Shapeshifters played uninterrupted except to let James play on his own and talk to the audience at times. The band tracks such as "Orpheus," "The Shadow," "Burn the Witch," and "The Weak End" ( a song James mentioned reminded him about the older infrastructure in Chicago that still holds up the city as time passes by). James played off his solo songs which included "Eating Like Kings," a song dedicated to Veterans and written by a good friend who was stationed in Afghanistan. As he played "Eating Like Kings," James let the audience sing the chorus. His fans sounded like churchgoers singing a hymn. Similar to his show in October, James announced his musical input for the video game The Last of Us 2. He then spoke about about his sister being bullied in school. He also mentioned he had had the same experience when he went to a religious school, and thus he was dedicating his next song, "Through the Valley" to anti-bullying.
While the band was getting back on stage, James gave a shout out to his parents and continued to talk about how much he loved being born and raised in the Southside of Chicago. After his mom gave him a shot of whiskey and suggested to the audience that someone give him five more shots for him and his band. Shortly after, a waitress from Beat Kitchen brought the artists the order. They cheered with the audience and continued to rock out. James switched with his pianist and played two songs that were very important to him. In one, James explains why he writes such sad songs while traveling and talks about the rockstar life. (He also mentioned that his wife hates that song.) His next song, "When I'm Gone," is a somber song about death. He explained that he writes sad songs because they move listeners emotionally and allow him to tell beautiful stories and speak of beautiful scenery. While still playing piano, James sings love song, "Love Will Find A Way" which took him ten years to write. As the drums quietly beat and the guitars hum along, James' voice and piano power through with beautiful vocal chords that blended with the instruments.
As the band disassembled, James played a solo encore that included a love song for his city, Chicago. It depicted how much he missed the city and how he didn't know what he had left behind until he came back to visit. James rounded out the encore by playing Frank Sinatra's "That's Life," continuing with "Pendulum Swing" during which one of his guitar strings broke and he continued singing as he put the guitar at his side. He then ended it with an Iron Maiden cover, "The Number of the Beast." The band came back up for their encore. James introduced his band mates, who were visibly having fun and producing so much energy throughout the set. James and the Shapeshifters ended with a Sam Cooke cover "Bring It On Home To Me." While fans are used to hearing blues cover from James, this new one exhibits a larger variety of covers for the artist.
The show was amazing, and fans all had a gleaming look on their faces as James and the Shapeshifters were playing. The venue was entirely packed from start to finish and everyone wanted to get close to the stage. As the band finished, everyone took a bow, and the audience cheered for them, James was happy to perform in his hometown, and I think there will definitely be more performances like this to come.
-NBL
****
Lots of SOLD OUT shows this week that are not included here
THURSDAY April 11th
Bandy (Album Release) / Easy Habits (Last Show) / Peach Fuzz @ Reed's Local 8PM $5
Xeno & Oaklander / Odonis Odonis / Public Memory / Andy Ortmann (DJ Set) @ Empty Bottle
8:30PM doors $10 ($12 doors)
The Nth Power / The Congregation @ Martyrs 9PM $15 ($18 doors)
Todd Snider / Chicago Farmer @ Park West 7:30PM $35
KOLARS / Brett Newski and the No Tomorrow / Cousins @ Beat Kitchen 8PM $12
Cherry Pools / Tillie @ Schubas 8PM $10 ($12 doors)
Pert Near Sandstone / Chicken Wire Empire / Them Coulee Boys @ SPACE 7:30PM $15 - $25
Hatebreed / Obituary / Terror / Cro-Mags / Fit For An Autopsy @ Concord 6PM doors $25
DJ Kou / Altered Tapes / Charles Mantis / Macedonio Guerra @ Sleeping Village 9PM FREE

FRIDAY April 12th
Sen Morimoto / ShowYouSuck / Drea the Vibe Dealer @ Co-Prosperity Sphere 8PM $12
Night Beats / Heaters / Flesh Panthers @ Sleeping Village 9PM $15
Faux Ferocious / Glyders / Junegrass / Magic Ian (DJ set) @ Empty Bottle 9PM doors $10
Lee Fields & The Expressions / Neal Francis / Dave Mata (DJ Set) @ Thalia Hall 7:30PM doors $20
Amanda Palmer @ Chicago Theatre 7:30PM $29.50 - $45
TAUK / BIG Something @ Concord 7:30PM doors $16 ($18 doors)
Jared & The Mill / Michigander / Twinsmith @ Lincoln Hall 9PM $15 ($18 doors)
Citizen Cope @ House of Blues 6:30PM $39.50
Anomalie / Rob Araújo @ Chop Shop 9PM $13 ($15 doors)

SATURDAY April 13th
Pixel Grip / Grun Wasser /Cae Monae / DJ Ariel Zetina @ Sleeping Village 9PM $10
Spencer Radcliffe & Everyone Else / Wished Bone / Skirts @ Hungry Brain 9PM FREE
Mark Farina / Diz / DJ Heather @ Smartbar 10PM $15
Acid Mothers Temple / Yamantaka // Sonic Titan @ Empty Bottle 8:30PM doors $12
The National Parks / Wild @ Schubas 6PM $15 ($17 doors) 10PM $15 ($17 doors)
Show Me The Body / Rash / Vortex @ Subterranean 6PM $12

SUNDAY April 14th
Brittany Campbell / Akenya / Amber J / Little Church / Mermaid @ Sleeping Village 8PM $10
Lavender Country @ The Hideout 8PM $10
Ceschi & Factor Chandelier / Armand Hammer / Dylan Owen / Dark Time Sunshine @ Subterranean 8PM $15
Post Child / Deaf Poets / Avantist @ Emporium - Wicker Park 8PM FREE

MONDAY April 15th
J Fernandez / Coughy / Izzy True @ Empty Bottle 8:30PM doors FREE
Pelafina / CALYX / Waste Man / The God Awful Small Affairs @ Subterranean (downstairs) 8PM $8
The Palms / Faintlife @ Schubas 8PM $12

TUESDAY April 16th
Vesper (Record Release) / Zigtebra / Big Syn @ Empty Bottle 8:30PM doors $8 ($10 doors)
Cafe Racer / Mia Joy / claude / Zilched @ Subterranean 8PM $10
Aaron Lee Tasjan / Rorey Carroll @ SPACE 8PM $15 - $25
Of Montreal / YIP Deceiver @ Lincoln Hall 8PM $25
Patty Griffin / Lucy Wainwright Roche @ The Vic 7:30PM $40 - $50
Marc Broussard / Drew Angus @ City Winery 8PM $35 - $48

WEDNESDAY April 17th
Chris Cohen / Not For You @ The Hideout 9PM doors $10
Quarter Mile Thunder / Nathan Graham @ Emporium - Wicker Park 8PM FREE
Meadow Mountain / Joybird @ Tonic Room 8:30PM $10
CANTER / The Foreign Resort / Panda Riot / DJ Scary Lady Sarah @ Beat Kitchen 8PM $10
Lady Lamb / Reneta Zeiguer / Alex Schaaf @ Lincoln Hall 6:30PM $18 ($20 doors)
Marc Broussard / Drew Angus @ City Winery 8PM $35 - $48
See you at the show Chicago!