Rounding out March comes a stellar week in music with plenty from Chicago and beyond! Buckle up and drive on through the tunnel that is sure to come out in spring. This week we caught Open Mike Eagle and Company at a 30/10 series show at Schubas, HÆLOS and Fee Lion at Lincoln Hall, and Baroness and Deafheaven at The Riv. Local noise rockers Facs and Not For You dropped new music, along with new singles from Divino Niño and Dehd, and Chicago's own premiere chamber ensemble, Third Coast Percussion, released their highly-anticipated new record including a piece written for them by Philip Glass. That's just the music from Chicago, Surfers! There are plenty more new releases and jams to dig through, so plug into the playlist and journey through this week with us. Make sure to check out the news and calendar so you can keep up to date on all-things-music Chicago has to offer. Pick a show to go to this week, and get out there to celebrate the soon-to-be good weather!
Keep Seeing Live Music!
Open Mike Eagle / Sammus / Video Dave
Open Mike Eagle / 📷 : KPL
All year, Schubas and Lincoln Hall are presenting 30/10 Anniversary shows celebrating the thirtieth year of Schubas and the tenth of Lincoln Hall. Some big-name local and touring acts that have had a relationship with the venues for years are being invited to return for this special series. One of the first events in this series that promises to bring big names to the iconic venues hit Monday with Chicago born and bred hip-hop phenom Open Mike Eagle bringing along friends Sammus and Video Dave for a indie hip-hop dream team show at our local church of music- Schubas Tavern.
We call it a church of music because with the pews along the wall and the blonde wood paneling and archway above the stage, it really takes on the feeling of a house of worship. Thirty years of energy live in that electric room, and as one enters the hallowed double doors into the venue, there is a distinct change in vibrations as if an aura of perfect vibes exists within. No matter the acts on any given night of the week, Schubas will always hold that charm. It just so happens that Monday's show was one of those nights that transcended even the room's mystical elements and vaulted the sold-out crowd into a connection with the artists that only occurs every once in awhile. A synergy formed between performer and audience that bonded the two tightly for those brief moments until the set finished and all that was left was memory...
A constant collaborator with Open Mike Eagle, Chicago native Video Dave bounded onstage with his laptop in hand. He took to the mic in spurts as he set up his rig, warming up the crowd with his distinct self deprecating humor. "I'm not leaving the stage tonight till I have at least fifteen more follows," he joked, brandishing his cell phone; "I've got all night." Mixing hip-hop and comedy is nothing new but Video Dave takes it to a whole different level with visual aids mixed into the act, and actual hard hitting social commentary interspersed within the laughs. A cameraman by trade and video hobbyist, he uses his skills to hone the films and visuals that went with the several songs he performed. The videos added an element missing in many hip hop acts and only helped to support the work through the use of follow along lyrics and humorous anecdotes that pulled the crowd in and kept them as the venue began to fill up toward the end of his set.
After a very quick changeover (all that really had to be done was a laptop switch), Sammus took over the room with her mixture of affecting confessional and pop culture based rhymes and self-produced beats that sucked everyone up into her distinct flow and personality. The New York born, Philly-based, first generation American (her mother is Ivorian and her father Congolese), PhD candidate, and artist was highly impressive throughout her set running through quite a bit of Pieces In Space; her record from '16 that broke her out in the indie scene with excellent tunes like "100 Percent," "1080p," and "Qualified," which each take a look at life from a different perspective than any mainstream rapper would ever dream. Her verses are honest, thoughtful and distinct; with a killer flow that has old school flavor with a modern twist. The beats she writes fit her style, while never getting too chill to groove. She got the crowd going from the start and never let up, flying through the set with an intensity that exudes power and self assurance, even through the tunes that lay out her doubts and emotional turmoils. A revelation of a set, Sammus got the room hopping, warming up the crowd for the main event and threatened at times to steal the show. But as Open Mike Eagle opened his set all doubters were put in their place.
Backed by amazingly effective visuals by Video Dave, Open Mike Eagle was his usual phenomenal self. With an understated flow, funky soul fueled beats that are heavily steeped in experimental music, and thought provoking, emotive lyrics that always seem to prick at the heart while never falling into the sappy trap. A good number of his tunes came from his latest LP, Brick Body Kids Still Daydream (a concept record about his experiences growing up in the Robert Taylor Homes,) and last year's What Happens When I Try To Relax EP. Running through several tunes he admitted he doesn't play live often, including standout, "(How Could Anybody) Feel at Home," he had us all in his hands from minute one. Only joined onstage for "Hymnal" by Sammus; and friend Hannibal Buress (yes the comedian) for an odd but fun encore, he spent the rest of the set alone with his computer, a beat pad, a mic, and his own idiosyncratic style that never feels false or hyped. His rhymes are honest and real, touching and down to earth; and for 60 magical minutes, he turned that church of music into celebration of hip-hop, the joys and tragedies of life, and coming of age in our complicated and unparalleled city.
-KPL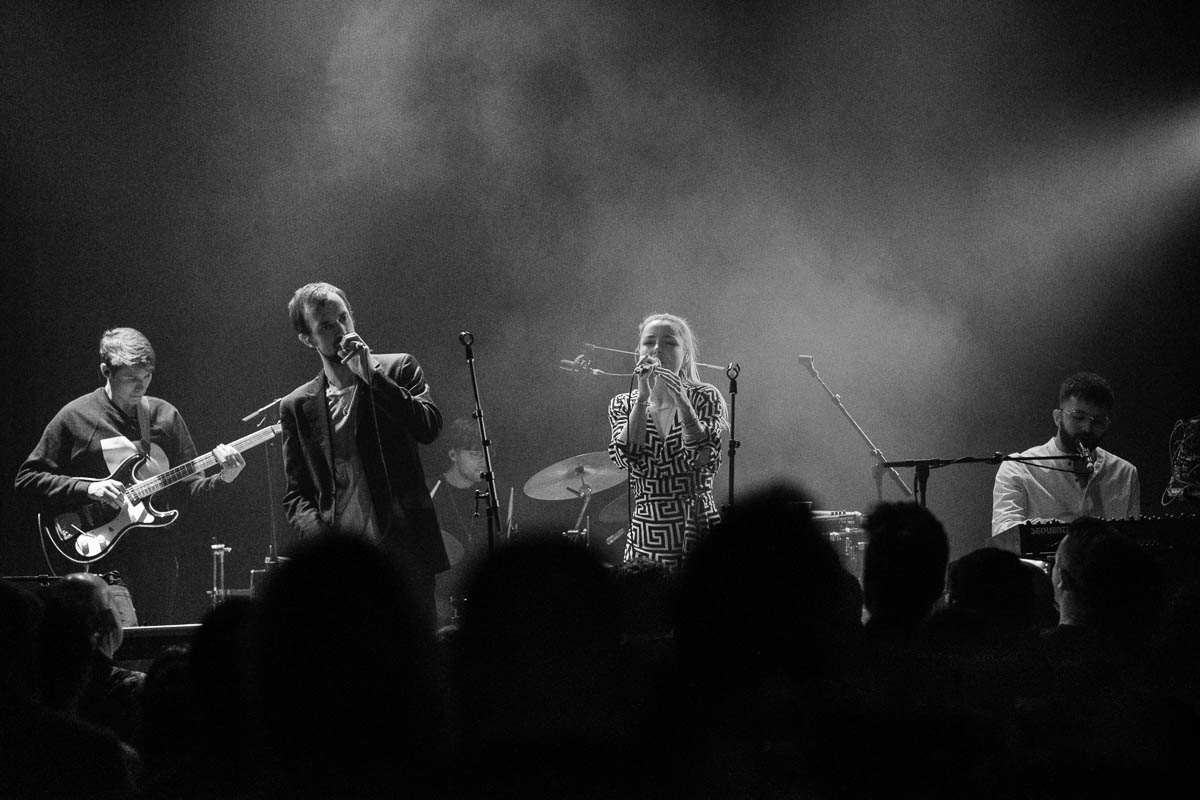 HÆLOS / 📷 : JCB

Watching Chicago's own Justina Kairyte, (more commonly known by her stage name Fee Lion), made me feel like I was back at legendary nightclub Neo. Her decidedly gothy fashion sense and new-wave stylings would have been a perfect fit for the old Clark St landmark. Getting up on stage to a less than crowded Lincoln Hall could be derailing to any band, and devastating to a solo artist, but Fee Lion strolled up to her mic with utter confidence and launched into a performance that soon pulled the folks still grabbing drinks at the front bar straight to the stage. By the time she dropped the latest single "Re (Visit)," the place was packed and bobbing in unison to her inspiring words of being just fine post-breakup.
When you see an opener covered head to toe in black latex, with extravagant lighting and smoke effects, it's safe to bet they have a plan for what you're seeing. That plan seems to be the transcendence of traditional singer-songwriter. While her lyrics are quite personal, she's not a lonely girl strumming sad guitar songs in the middle of an empty stage. With crunchy synth beats to make my industrial roots smile, and the stylized art-pop of Grimes, Fee Lion is like watching a one-woman Depeche Mode. Kairyte smartly puts her voice at the forefront of the delicate kaleidoscope of drum loops and distorted guitars. She's got gorgeous pipes, and using that juxtaposition sets her apart from more ferocious contemporaries. Fee Lion let us know her EP should be finished up soon, so I'll certainly be on the lookout for that guaranteed gem.
Trip-Hop. A genre that drastically shaped my evolution from metalhead to well-balanced smug music purveyor. I emphasize smug because I, dear reader, lived and studied abroad in Bristol for a summer. Yes, that Bristol. Yes, I came back to the States with an obnoxious air of superiority, which I may have never actually broken free from. I was in the birthplace of trip-hop. I hung out where Portishead, Tricky, and Massive Attack started- I was even in a club where 3D was hanging out!! I walked the streets that Banksy, did, man. I just get it, ok?
Did I mention I'm bad at interludes?
HÆLOS hails from London, so they're not really trip-hop, but they're surely bringing almost every aspect of the genre back to the mainstream. With all the retro crazes we have, this one is particularly shocking to me. Trip-hop it seemed to be a movement of a particular time, with no significant resurgences outside of the original members. To prove that the genre is timeless, the quartet of Lotti Benardout, Arthur Delaney, Daniel Vildosola, and Dom Goldsmith brought their ethereal vocal harmonies about the power of love and connection, weaved through and around breakbeats and reverb-soaked guitar to a packed Lincoln Hall on the eve of their sophomore record's release.
The band opened with one of the new album's single, "Kyoto," which slowly built the lush and enveloping soundscape louder and louder until it dominated the venue. A few songs in, they transformed the chilled-out vibe standard for trip-hop into a full on dance party with latest single, "End of the World Party." Nodding at their own apocalyptic themes, the party track flips the script and makes a song that people might describe as 'fun'. It's bright and fresh and could be remixed to death in clubs by DJs hoping to pick up on the new Bristol massive. And not to get too far off the mark, Benardout and Delaney grouped together in the middle of the stage to layer their vocals over the staccato beats to end the song to a sweaty dance floor. The new songs like the two aforementioned, and "Boy/Girl" (which is unfortunately not a backwards Aphex Twin cover,) show that the band is exploring new ground with influences from Chicago's own House genre. It's a haunting and melancholic synth track, and Benardout's incredible voice soars into the upper register. The call and response vocals with her and Delaney were particularly moving, and their subtle swaying back and forth from the limelight to let each other shine equally only further impressed the feeling that the band is a complete package. I know the first album very well, but that track has been stuck in my head for the past week.
Ending with Oracle, the objectively best track from debut album Full Circle, set a wondrous vibe for wandering the dark and sprawling city streets. The centerpiece of that album serves as the perfect comedown for a live performance, drawing inspiration from longer film score tracks and using Benardout's voice as the emotional lynchpin yet again. She's the crux of the band's immediacy, and they're wise to show her off as much as possible. Her stage presence is directly correlated to her delivery, as she opts to strike starkly unassuming poses that, when built up over lengthy codas, makes for one hell of a vision.
-JCB
HÆLOS is set to release their next album, Any Random Kindness, on May 10th. If Full Circle and the live show is any indication, these Brits have plenty of strength to show off.
Baroness / Deafheaven / Zeal & Ardor
Baroness / 📷 : MDR
Sunday nights are usually a calm, reflective time at my apartment. It's time to fold laundry, plan meals for the coming week, and decompress. I have dinner with my partner. We watch a movie. And then spend the rest of the night watching Korean comedies, reading, listening to music, or some combination of the three. Not this past Sunday though. No, this past Sunday I ventured to the distant land of Uptown to cover Baroness and their current tour tagalongs Deafheaven and Zeal & Ardor at The Riviera. Without giving away any spoilers, I will never take a sleepy Sunday for granted again. You can't buy peace of mind with $9 Goose Island Tallboys. Believe me, I recently tried.
To dispense with the preliminaries, The Riv is never a desirable place to see a show for me. Despite being an old theater with a huge floor area, it has a claustrophobic vibe, and I always feel like I'm standing too far away from the band (even when I'm standing up against the barricades at the front of the stage). Long story short, I have no idea what Alice in Wonderland tomfoolery is going on with the architecture there, but I'm thankful that it doesn't mess with the acoustics too much. The bands usually sound alright in that space, even if the overall experience of watching their performance is usually weird and underwhelming.
There was a good-sized crowd for a Sunday night, but it certainly was not the typical metal throng. The audience leaned towards the young side. Mostly college-aged kids. Young dudes in plain tees, jeans, and hoodies, and gals in patterned button-down blouses and slacks. It was more like the day drinking crowd at Sleeping Village than the folks I throw horns with at Reggies. There were a few back patches scattered about, 2/3 of which were for Russian Circles, which felt oddly oversaturating, even for a local band. I later learned that Russian Circles did a big tour with Deafheaven a few years back, meaning that I had encountered a number of converts from that tour who still bore its torch. In an interview, the lead singer of Deafheaven sang the praises of the guys from Circles for mentoring him and impressing on him to the need to put on a great show every single night. Reflecting on that crowd, you can't argue with results...
Things kicked off in a bold manner as opener Zeal & Ardor unfurled their ruin-strewn banner and all three of the group's singers found their marks on stage. If you don't keep up with the metal press out of Europe (which you are forgiven for not doing- I don't either), Zeal & Ardor are a Swiss band lead by singer and guitarist Manuel Gagneux. Gagneux describes his project's sound as a combination of American gospel and black metal. I'm still attempting to decipher how he came to this assessment of his own art. To me, it just sounded like Imagine Dragons doing a cover of the Breaking Bad theme. There is definitely a dark folky vibe to their music, but it never digs deep enough into the soil of the American west to unearth anything that couldn't play over a primetime ad slot of a major broadcast network. It's like a full bottle of Tennessee Whisky that is half water and half expired RC Cola. More KONGOS, less King Dude (actually, there is no King Dude [my apologies to Kind Dude for roping him into this unnecessarily]). I'm really not sure where the black metal is supposed to come into the equation at all. Their rhythm guitarist plays tremolos over their bridges sometimes. Is that it? I don't know. They ended their set with a song called "Baphomet" that's kind of Satanic. Kind of. Anyway, I prefer Impurity's version.
After Zeal & Ardor wrapped, the audience was treated to a good half hour intermission while Deafheaven set up and unfurled a rainbow banner behind their drum kit, because, again… black metal? If you have never read Pitchfork, and are perplexed by internet information retrieval services like Google, Deafheaven is a Californian band who combine shoegaze with black metal. Yes, like Ulver. No, not as good. If you ever wanted to know what Wolves in the Throne Room might sound like if they were thoroughly atomized and reorganized by committee to play midday at Coachella… here you go. This might sound harsh, but trust me, it's an accurate description of their sound, for better or worse. This also doesn't imply that they don't put on a good show, because they actually do. Lead singer George Clarke is an impressive vocalist and can consistently release an agonizing screech that is on par with the prince of the dead himself, Euronymous. Above all else, I'm thankful that I was able to see their best song to date "Black Brick" performed live. It rips and it was the peak of their set in terms of both energy and execution. What I think works about that song is its consistency. It's a seven minute hailstorm of blast-beats, rattlesnake whip chords, and gurgling subterranean vocals. It was inexplicably cut from their 2018 album Ordinary Corrupt Human Love, and released this year as a b-side single. The vast majority of the band's set focused on their Sunbather material. They clearly use the Slowdivey parts of their songs to steady themselves for the more physically and technically demanding black metal sections. The sunny feedback intermissions in each song weren't my favorite parts of their set, but they did lend themselves to guiltless trips to the washroom to unload and to the bar to refuel without feeling like I missed much. Small mercies that drastically improved my overall experience of their performance. I've come to the conclusion that more bands should implement mid-song intermissions like these. Final assessment: Talented band. Played a pretty alright set. Everyone else seemed to like it. I went home and listened to "Black Brick" four more times.
The only band not in black metal cosplay that night was the headliner, Baroness. Baroness are a sludge metal band, originally hailing from Georgia, and led by the gaunt and somewhat grim John Baizley. The group had a fairly consistent line-up for their first three albums but has had some significant personnel changes since 2013. Not the least significant of which was the addition of Gina Gleason on guitar and vocals. Gleason, who used to moonlight (and possibly moonwalk as well) Cirque du Soleil's Michael Jackson One tribute of all things, is a natural performer and a preternatural guitar player. The interchange between her and Baizley added a little dose of lightning to the set every time they faced off or played back to back. Their show already had a palpable murmur of excitement swirling through it, but the interjection of the band's guitarists trading riffs and smiles really helped to prime the fuel line and amp the crowd's enthusiasm. In terms of set lists, all of the hits were present and accounted for: "March to the Sea" thundered out from the stage like a shock wave of a collapsing building, while the sticky, and honey-sweet psychedelia of "Morningstar" rung out over the pit like a victory bell, then there were crowd favorites like "Shock Me" and the rough collared "Take My Bones Away," which inspired uproars of cathartic, shout-back sings-alongs. Even new material like "Boarderlines" off their forthcoming Gold and Grey resonated with the frantic and enthusiastic crowd. As harsh as I can be on metal bands for their poppier inclinations (see above), I'm not opposed to them as a matter of principal. In fact, I would argue that it is these enormous, ranging harmonies that really sell Baroness's sound and help to knit together the three-way handshake of southern rock, psychedelia, acid rock that comprises their sound. If you're coming from the post-hardcore beat down of early Mastodon or the pain indulgent and bleak experimentation of the Neurosis, this might not be your brand of sludge. For my part, I could pour Baroness into a swimming pool and lay in it like it was a giant, filthy, jiggling jello mold. The upshot is that the band is just as sweet as the aforementioned dessert, without any added sugar or artificial flavoring. This is a genuine metal band that knows how to write killer hooks and gets a serious thrill out of performing their tunes for a crowd. This was my first time seeing Baroness live and I'm already looking forward to my next opportunity to pay my respect to her highness. Here's hoping it won't be a Sunday next time. I have episodes of Sound of Your Heart I'm trying to catch up on after all.
- MDR
Baroness's Gold & Grey will be released June 14, 2019, on John Baizley's own label, Abraxan Hymns. You can pre-order your copy on the band's website.
NEWS & NOTES
Summer Fest schedules are rolling in hot! This week we got the Millennium Park Summer Music Series schedule. Highlights include Car Seat Headrest July 1st, Mt. Joy June 13th, Flora Cash June 27th and Natalie Prass opening for Los Amigos Invisibles on July 25th. Check out the schedule, mark your calendars, and get out to Pritzker Pavilion this summer! It's FREE!!! You have no excuse.


Check out more music coverage from Chicago with Midwest Action's Best in the Midwest from this week, along with The Challengers Album Premiere.

Along with ANCHR Magazine's coverage of Ten Fé at Schubas and Stella Donnelly at Schubas.


YOUR LAST CHANCE TO STAND WITH CIVL (Chicago Independent Venue League) IN THEIR FIGHT AGAINST THE LINCOLN YARDS TIFF VOTE!

APRIL 8th at 10am: Finance Committee Vote

APRIL 10th at 10am: Full City Council Vote

As They Say: Get There, Bring a Friend and Stay As Long As You Can!
****
Lots of SOLD OUT shows this week that are not included here

THURSDAY April 4th
Mdou Moctar / TALsounds / DJ Matt Jencik [Reckless] @ Empty Bottle 8:30PM doors $16 ($18 doors)
Animal Years / Dance Bullies / The Diving Bell @ Subterranean 8PM $10
Ceramic Animal / Spentime Palace / The Evening Attraction @ Schubas 9PM $12 ($15 doors)
STIV - No Compromise, No Regrets (Documentary Film), Bad Sons, The Evictions, MAMA, Hozac Dj's @ Chop Shop 8:30PM $10 ($12 doors)
Zoe Keating @ Thalia Hall 7PM doors $27
Davina & The Vagabonds @ SPACE 7:30 PM $15 - $17

FRIDAY April 5th
Hand Habits / The Ophelias @ The Hideout 9:30PM doors $12
Rotten Mouth / Revolt Coda / Fuzzlove / Saltwater Tap @ Cobra Lounge 7PM $8
David Quinn / The Family Gold / The Saluda Moonlighters @ Empty Bottle 9PM doors $5
Marina City / Emily Blue / The Weekend Run Club @ Chop Shop 8PM $10 ($15 doors)
the telescopes, the Cult of Lip, Airiel @ Beat Kitchen 9PM $13
Nils Frahm @ Art Institute 7PM doors $50 - $55
James Supercave / Sunjacket / Love In October @ Schubas 9PM $12

SATURDAY April 6th
2nd Annual OTR Fundraiser!
No Limits Music Fest, Bronte Fall, Natalie, Simpleton & Cityfolk @ Beat Kitchen 6PM $30
Ethers / Dark Tea / Fran @ The Hideout 9PM doors $8
The Wild Reeds / Valley Queen @ Sleeping Village 8PM $17
Kemba / Brittney Carter / Calid B. / DJ RTC / DJ Ca$h Era @ Empty Bottle 8:30PM doors $10
Delta Sleep / Gleemer / Bogues @ Subterranean 7:30PM $15
Blac Rabbit / Thee Casual Hex / Dogs At Large / Horace Greene @ Schubas 9PM $12
The Cactus Blossoms / Jack Klatt @ Lincoln Hall 9PM $15 ($18 doors)
Eric B. & Rakim @ House of Blues 7:30PM doors $40 - $45

SUNDAY April 7th
Typical Sisters (Record Release) / Yada Yadda / Ryan Whitney @ The Hideout 9PM doors $10
Tara Terra (EP Release) / Fay Ray / Ryan Hadarah @ Sleeping Village 8PM $10
Hitter / Mock Identity / Lilac @ Empty Bottle 8:30PM doors $8
Crywolf @ Chop Shop 9PM $14 ($16 doors)
Okilly Dokilly / Playboy Manbaby / Black Bear Rodeo / Death Of Sel @ Reggies 7PM $15

MONDAY April 8th
Something Is Waiting (Record Release) / Low Dose / Thieves @ Empty Bottle 8:30PM doors FREE
Claire & The Bears / Thomas Comerford / Modaff @ Montrose Saloon 8PM FREE
Reivers / Harbor Lights / Hard Pet @ Sleeping Village 9PM $5
Telekinesis / Sontalk @ Schubas 8PM $15
Andrea Gibson @ Thalia Hall 6:30PM doors $22

TUESDAY April 9th
The Coathangers / Big Bite / Skip Church @ Empty Bottle 8:30PM $15
The Dead Tongues / Minor Moon @ Schubas 8PM $13 ($15 doors)
Spiritualized @ The Vic 8PM $37.50 - $55

WEDNESDAY April 10th
Mourning [A] BLKstar / Ben Lamar Gay's 500 Chains Quartet / DJ King Hippo @ The Hideout 9PM doors $10
Blue Dream / Mother Tongues / Carinae / Uma Bloo @ Empty Bottle 8:30PM doors $10
Gramps The Vamp / ÉSSO @ Tonic Room 9PM $10
Ex Hex / Moaning @ Thalia Hall 7PM $20
The Scientists / Richard Vain / Absolutely Not @ Sleeping Village 9PM $25
Tennyson / Sports Boyfriend @ Schubas 7:30PM $17 ($20 doors)
Broods / Bad Sounds @ Metro 9PM $24
Epic Beard Men / Vegabond Maurice / Hong Kong / Sage the 64th Wonder @ Subterranean 8PM $15
See you at the show Chicago!