This is just getting ridiculous Chicago! March has been an amazing month of music and this week just keeps it coming with so many records coming out of our diverse metropolis. We started out the week with an ANCHR magazine showcase at Thalia Hall with standouts Varsity and Pool Holograph headlining. Then we scooped up a new contributor in Tina Mead, of Midwest Action fame, along the way; who covered the insanity of Black Moth Super Rainbow at Sleeping Village. Not to mention getting local country folker Marian Runk to answer our questions and the director of the Wax Trax documentary sat down with our own Mick Reed for an interview all about the making of the film. It was another massive release week and we've got it all laid out for you, including new records from the legend Bill MacKay, great Chicago trio's Engine Summer and Juice Cleanse, a collab record from local Paul Cherry and producer Liano, and the much anticipated third record from Urbana's own American Football. And that's just the tip of the spear dear Surfers. So hit up the playlist and jump on in for a swim in the music glory that was this week. See ya on the flip side! April promises to be just as hairy, so gear up and head on down the road with us, weaving our collective way through the crowd.
Keep Seeing Live Music!
Marian Runk
"This song had a first life as a visual arts project -- I tried to make it as a comic, but it was never quite right. A friend of mine describes it as a love song, and I wonder if that's why it didn't work on the page -- a love song needs to be sung." -Marian Runk
Julia Nash
"Wax Trax fans are just the most incredible, kind, sweet, loyal, dedicated people, and the outpouring of love and support, they've shown me and my family… I just felt like 'I owe this to you guys, you should see this!'" -Julia Nash
Varsity / Pool Holograph / ROOKIE / Stuyedeyed
Varsity / 📷 : KPL
Thalia Hall's 'In The Round' series is all about getting up close and personal with your favorite musicians. The spacious floor of the historic venue has a platform stage slapped right in the middle of it, and the audience is invited to view the show in 360 degrees. The acts play facing each other, and the intimacy is unparalleled in the city. After we saw the lineup, we just had to scoot on over to ANCHR Magazine's showcase last Friday that featured some of the best indie rock Chicago has to offer with a special touring guest that tore up the hardwood on that historic dance floor.
Take a large helping of garage rock, a scoop of classic '70s radio tunes, a dash of '60s harmonies, and the energy of an '80s punk band, and you get local standout ROOKIE. Giving a new spin to your dad's rock, ROOKIE has been heating up the Chicago scene for a few years now, and the six-piece threatened to steal the show as they opened up the night. Guitarists Max Loebman and Dimitri Panoutsos split vocal duties with drummer Joe Bordenaro, and the entertaining Kevin Decker on bass and Christopher Kulwin on guitar deal a killer rhythm blow that is layered with Justin Bell's keys. It's an insane combination that just plain destroys each and every time. They said in a recent interview with Chicago Creatives that their main goal is to be played on 97.1 The Drive. If they keep going in the meteoric direction they're headed, they could easily reach that goal and far beyond. Their tight three guitar attack is no joke, and they have massive upside as they produce some of the most accessible tunes to come out of the scene at the moment. As children of the '80s, we freaking love this band, and your Dad will, too. ROOKIE is opening for another fav of ours, Engine Summer, for their Indiana record release party at Cole's on April 26th! Get there or miss out on what is sure to be the show of the spring! Cole's is always FREE!
After a quick changeover, (it's always amazing how fast the Thalia crew changes over the 'In The Round' shows), the New York garage rockers Stuyedeyed went right into their break-neck, no holds barred, tear-up-the-eardrums, downright inspiring set. Lit only by the white uplights on the stage, they flew through their too-short, 30-minute set with a measured reckless abandon, which just added to the intensity in the room already established by the moody lighting and their 'don't give a shit' rocker looks. With only a few singles under their belt, this Brooklyn quartet has the potential to become a real wrecking ball crew. Frontman Nelson Antonio Hernandez-Espinal's earnest intensity, fellow guitarist George Ramirez's theatricts (sacrificing spinal injury- throwing himself to the ground and leaping back up while never missing a note), bassist Humberto Genão's steadfast rhythm while grooving in his own universe, and drummer Luis Ruelas' ability to keep them all together while desimating his kit at every turn, are all reasons Stuyedeyed is a must-catch the next time they roll through.
Pool Holograph is one of those elusive acts you've known about for years but only get to catch every once in awhile. They've been steadily building steam for a decade now, and after frontman Wyatt Grant brought on a supporting cast of guitarist Paul Stolz, bassist Zach Stuckmann, and drummer Jacob Stolz several years ago for the phenomenal Transparent World, they have been heating up the local scene with their more New-Wavey take on the jangly Chicago sound. This night brought out the best in Grant as he interacted with the crowd on several occasions, even taking a seat on the lip of the stage for a bit. His dynamic energy is always on display, but this evening, the enigmatic frontman was especially entertaining, giving their short set his every last drop of passionate resolve. In their first set of the night, the Stolz brothers (who also are members of Varsity) were their dependable selves, and Stuckman's bass lines live apart from the the rest of the sound, grounding the jangled twisting guitars in a groove that kept the noggin' nodding. An all-around excellent set from a band still on the rise crafting some seriously dependable indie rock. They are opening for Cincy rockers Leggy at Cole's on Saturday April 27th. Get there to catch both the stellar acts for FREE!
After a lively conversation of Cubs vs. Sox with Deeper frontman Nic Gohl while getting our nic fix outside, nearly missing the start of Varsity's set, we made it back to see vocalist Stef Smith start the first song decked in a mini pink glittery cowboy hat that had to have made its way from Austin the week before. She soon lost the hat, and the crowd lost themselves in Varsity's dreamy indie-pop. Hitting their stride with last year's Parallel Person, the local five-piece has been making a name for itself around the double hit of Smith and guitarist/vocalist Dylan Wescher, with the extra layer of guitar from Pat Statton and the ever-reliable Stolz brothers in the rhythm section. This cast has been crafting some of the most hummable tunes to grace the local scene in the last year, and they didn't disappoint in the headlining spot with their lovely aura of magnetic, melancholic exuberance. (Yeah, it sounds like an oxymoron, but it works each and every time.) The audience bought into it, and they crowded ever-closer to the stage as they rolled through a good portion of their catalog, with plenty to keep the masses wanting more. This is an act who could break out to the national stage at any time, so keep your ears peeled for their next show, and get there before everyone knows who they are and they start selling out! They are currently on tour with SALES but will be back soon enough to rock a Chicago stage near you.
What a night! Thanks to ANCHR Magazine (Happy Birthday Rachel!) Thalia Hall, their staff, and all the bands for making this a night to remember for the local scene!
-KPL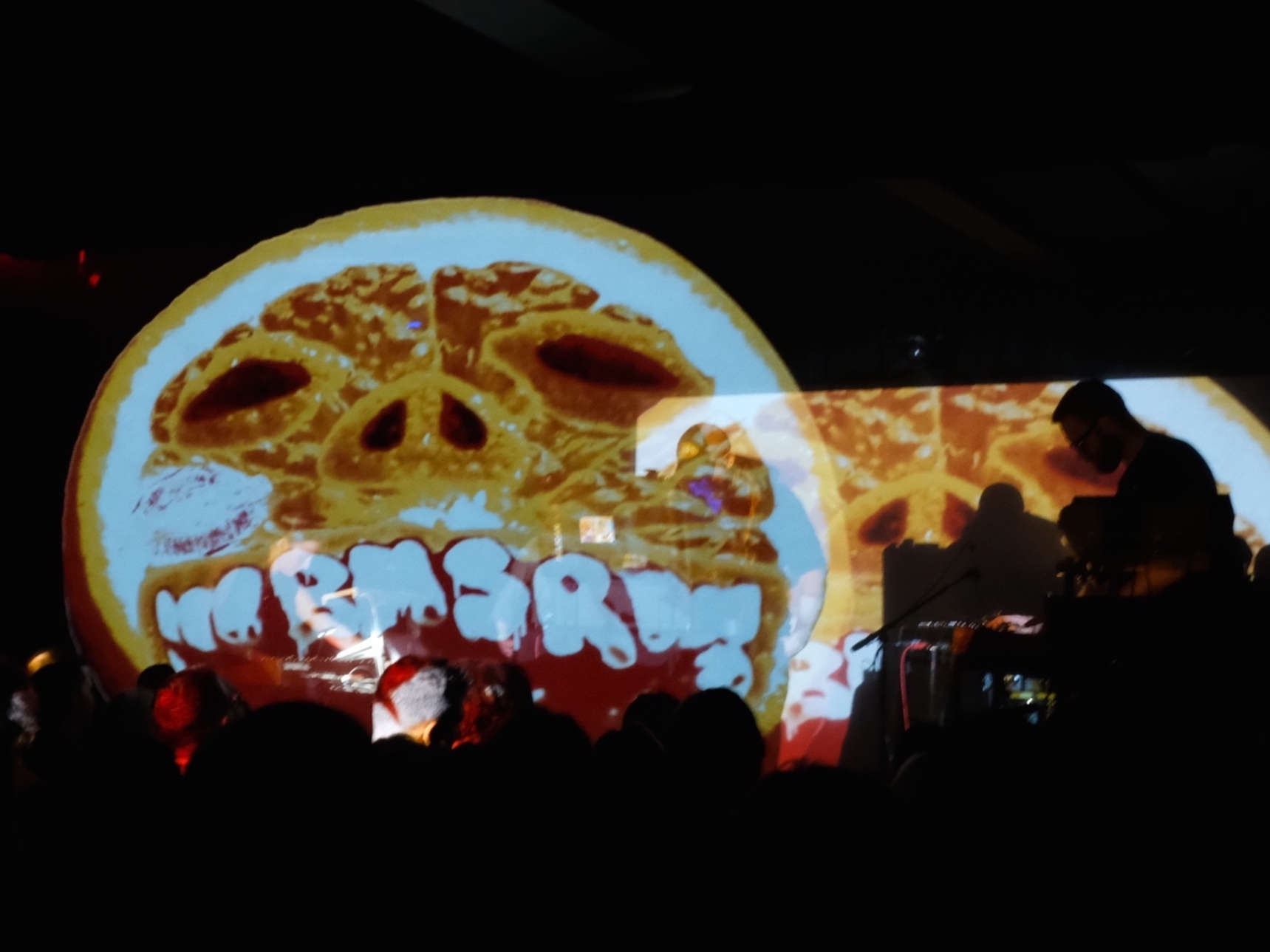 Black Moth Super Rainbow / Steve Hauschildt / Pony Diver
Sleeping Village
March 20th
Black Moth Super Rainbow / 📷 : TLM
One man occupied one corner of the stage surrounded by an array of devices. Pony Diver set up layers of atmospheric tones and slowly wove in beats... Watching him work was almost as mesmerizing as listening to his music. I really got into the almost-cyclical texture that he used. It was extremely conducive to meditative thinking. As it went on, fewer and fewer people talked and just started gently nodding or swaying to the waves of sound. It was a quick set. If it had gone on much longer, I would have needed to lay down on the floor and really give myself over to the music.
Steve Hauschildt is another mad scientist working with a complex gathering of keyboards and electronics. He gives us more gorgeous synth work. but Hauschildt's music is defined by the percussive elements: strong bass heartbeat. A hi-hat ticking. Digital flourishes. Beeps, boops, and p'kews. The elements came together at times in ways that conveyed a sense of danger- almost like the soundtrack to an apocalyptic movie set in the distant future then clashing in ways that sounded like tuning into multiple stations, but none of them coming in clearly. There was also the welcome addition of projections by Brown Shoes Only. Visuals are a great addition when watching a musician slowly turn knobs and press keys. They heightened the sense of mood and movement.
The crowd was fairly restless up until Black Moth Super Rainbow (BMSR) took the stage. I heard one person say, "We wanna daaaance" as they bounced on their heels. We have Pony Diver back as well as The Seven Fields of Aphelion on keys/electronics/synths. Tobacco is at the helm. Central with his mystery case, whatever the contents are (all electronic processing devices are like magic to me) takes his voice and turns it into the voice of the matrix. The music isn't all digital tho. The presence of live bass guitar and percussion could be felt. They gave depth and immediacy to the music. Through all these layered elements, BMSR brought the body moving rhythms the audience was literally begging for. Projections by Kevin Jackson obscured and enhanced simultaneously. Still images couldn't do it justice. He was masterminding the two layers of visuals live. One on the back wall of the stage and one on a scrim dropped between the band and the audience. It obscured our view of the musicians, but also gave Jackson a double canvas to work with. His images were spinning out the passage of time through images of nature and the seasons. At times abstract lines layered or interrupted the scenes of nature. It was a stark contrast. At the end, this melded together in a way that seemed like it had all been an illusion. That nature was not real and only this digital cocoon of music and images are real. I think most of us would have been happy staying in that world of beats and movement.
-TLM
NEWS & NOTES.
Need more music coverage in your life? Check out our fellow publications Midwest Action and ANCHR Magazine. They've been hitting these streets for longer than us and have a ton of great local coverage. We'll be pointing you their way in this section in future issues. To quote a punk adage of our youth "a scene united will never be divided."
****
Lots of SOLD OUT shows this week that are not included here
THURSDAY March 28th
Bunny / Matchess / Desert Liminal @ Emporium - Wicker Park 8PM FREE
Montrose Man (Record Release) / Hung / The Coldies @ The Owl 9PM FREE
Viagra Boys / Pottery / Ganser @ Empty Bottle 8:30PM doors $13 ($15 doors)
Future Punx / The Hecks / X49 Cleaner @ Sleeping Village 9PM $5
HÆLOS / Fee Lion @ Lincoln Hall 7:30PM $20
Jose Gonzalez & The String Theory @ Chicago Theatre 8PM $29.50 - $75
Old 97's / Joshua Ray Walker @ Thalia Hall 7PM doors $25

FRIDAY March 29th
Bill MacKay (Record Release) / Forest Management / Miranda Winters / DJ Mariapaz Camargo @
The Hideout 9PM $10
Midwest Action Showcase
Ovef Ow / Superknova / Blackglass @ Cafe Muststache 9PM $5 - $10 donation
WHPK Benefit featuring
Blacker Face / VIOLET / Pete Willson and The Rooks @ Empty Bottle 8:30PM doors $10
Thou/ Emma Ruth Rundle / Damiana (TALsounds + Matchess) @ Subterranean 9PM $15
Slow Caves / lettering / Gal Gun @ Cobra Lounge 6PM $12
The Werks / Chacuba @ Martyrs 9:30PM $15 ($18 doors)
Homeshake / Yves Jarvis @ Metro 8PM $16
Mansion Air / Beacon @ Lincoln Hall 8PM $15
Meow Meow and Thomas Lauderdale @ SPACE 7PM and 9:30PM $25 - $45

SATURDAY March 30th
Anemone / J Fernandez / Paul Cherry (DJ Set) @ Emporium - Wicker Park 9PM FREE
DJ Heather / Illexandra / Adrienne Sanchez @ Smartbar 10PM $12
Jenny Lewis / Serengeti @ The Riv 7:30PM $35
Ten Fé / Cinders @ Schubas 9PM $12 ($15 doors)
Hayes Carll / Ben Dickey @ Lincoln Hall 9PM $22 ($25 doors)
Maggie Rose / Them Vibes @ SPACE 8PM $15 - $30
Amos Lee / Ethan Gruska @ Chicago Theatre 7:30PM $33.50 - $98.50

SUNDAY March 31st
Vanishing Kids / Anatomy Of Habit / Dead Feathers @ Empty Bottle 8:30PM doors $10
Chris Rawlings (Record Release) / Eric Quigley @ Tonic Room 8PM $9
Kodakrome / Holly & The Nice Lions / Burst & Bloom / Harry Vetch @ The Burlington 8PM Cover
9Baroness / Deafheaven / Zeal & Ardor @ The Riv 6:30PM $28.50 - $33
Tow'rs / Jason Barrows @ Schubas 8PM $10 ($13 doors)

MONDAY April 1st
Open Mike Eagle / Sammus / Video Dave @ Schubas 8PM $15
Not For You (EP release) / Shady Bug / Floatie @ Empty Bottle 8:30PM doors FREE
Law / Roger This / Lee Street Looters @ Beat Kitchen 8PM $10

TUESDAY April 2nd
Cimafunk @ Martyrs 8PM $20

WEDNESDAY Wednesday April 3rd
Dead Soft / Goon / Sonny Falls @ Subterranean 6:30PM $10
Shy Boys / Charlie Reed / Jungle Green @ Beat Kitchen 8:30PM $12
Beat Circus / The Claudettes / The Lonesome Organist @ Empty Bottle 8:30PM doors $8 ($12 doors)
The Poison Arrows / Savak / Mint Mile @ Sleeping Village 9PM $5
Com Truise / Jack Grace / Ginla @ Lincoln Hall 8PM $20
See you at the show Chicago!