Welcome to #42, loyal Surfers! Locals Bur put out an album, and we were on hand to celebrate at The Empty Bottle with Courtney and headliner Star Tropics. We caught a free Monday show featuring our favorites The Curls, the crazy jazz stylings of Kevin and Hell, and the post rock/punk mix of Les Strychnine! Oozing Wound announced a new album and dropped the first single, and Noname released a new track before her world tour and appearance on Jimmy Fallon with Saba and Smino on Tuesday! It was a winning week for Chicago music! Make sure to check out our Spotify playlist on the button below as you take in this week's musical happenings. See you next week, Surfers!
Keep Seeing Live Music!
KPL & JCB
Star tropics / Bur (tape release) / Courtney / Topaz
Star Tropics / all photos by LPL

My apologies to Zack Johnson, aka Topaz. I did miss your set, to my demir. Johnson's new album 'High Society' is set to be released on January 29th. We will watch for the release to share his dreamy vibes. In the meantime, readers should check out the content Johnson has on Soundcloud, if not only to view the track artwork by Pedro Andrade, and then purchase a few tracks on Bandcamp.
Courtney is a three-piece group comprised of Dan MacDonald, Mareva Lindo, and welcoming Andy Taylor to the group on drums. You might recognize MacDonald and Lindo from my review of Old Lazarus' harp back in ISSUE #32 or our Year In Review. They are well-known in the folk music scene. Tonight was a refreshing showing of the breadth of their abilities, now performing as grunge rock group Courtney.
After kicking things off with "Good Time Party People," MacDonald introduced the band in their first show of 2019 (and their first weekend show at The Empty Bottle) and highlighted Bur's first tape release of 2019! This being a night of firsts, Courtney brought us a few new songs, including "Girl" which was dedicated to Jess McIntosh (Joybird) who was hanging out at a true fan's distance: she had plenty of room to dance around. The song tells the story of a little fish who is going to make a difference if she continues to be given the room to grow.
"Stay Awake" is also a new tune harkening back to the romantic songs we slow-danced to at those awkward school flings as we sang along to the rather grown-up postulations. "The World, August 2016" also sends us back to what seems like a distant memory that isn't distant enough just yet - "the world is fucking nuts / the world just needs to chill out / take a chill pill world / you're making us look like shit." One can imagine the frustration required to write such a song inside of a rather chill band. Applicable frustrations resurfaced as MacDonald and Taylor went as "nuts" as they could within their self-prescribed chill limits of the band's calm demeanor.
For a bit of grounding, Lindo took us on a shining vocal journey through "The Good Years Are Going By." She sings of opportunities slipping with a weight just shy of tangibility, longing for travel. As I closed my eyes, I visualized plains of the west passing my window on a drive, knowing the gorgeous landscape of the mountains awaits, but opportunity also lies in those plains. For me, it was like an opportunity to pass through the beauty of the plains as they make way for the beauty of the elevated woods. Even if only a daydream, it was a healthy reprieve from my place in the city to reflect on my own goals for this new year.
Tonight was my first introduction to Bur, and I was welcome in celebrating the release of their sophomore album, "Sample Quincy, "which released the same day as the show. (Read KPL's reaction in this week's album reviews).
I scanned the scene to gather every detail I could. From the first chord, their sound was clean. With 17 tracks between two albums, Bur began their set with "10th prestige level 70" which is not in their recorded catalog. Following lead singer Jeremy Kush's fingers as they danced along the strings, I noticed he had that unmistakable "Under 21" X drawn in permanent marker on the back of his hand. These four young gents aired a lot of passion and talent through their music, although that belief hadn't quite yet translated into their postures.
A few successful jams and a bit of audience applause allowed for the nervous gravity to dissipate from the corner of their mouths and feet - Bur had become one on stage in their celebration. Fluidity replaced gravity, and their sneaker laces began to float behind their hops.
On "Fever Dream," Colin Burns' and Juan Jauregui's guitars scaled up to take the "ooh" and "aah" lyrics right out of Kush's mouth creating a sense of cerebral conversation, played out through vocals, percussion and guitars.
Bur rocked through "Bored On A Floor" for their tape release finale. All three guitarists turned towards Anthony Voccaro during his drum interlude, creating a stage for the band member often tucked in the back, hidden from camera view. Their friends and fans pressed to the stage to give an immediate congratulations, holding their cassettes up in the air in a show of their love and support.
Star Tropics wrapped up this night of celebration with plenty of consuming dreamy pop tunes. During their hit "Chapel Hill" I turned to see the audience, who had been quite still this evening, dancing along the jangly paths laid in front of each and every one of them, including Jess and Mareva's shared friends' embrace.
Star Tropics gained strength and they entered into Mazzy Star's "Fade Into You." The cheers rolled in, and the stage appeared to be one with the crowd... How quickly fear fades when an audience interacts. Keep the cheers coming. Every band on stage deserves it!
-LPL

Old Lazarus' Harp has a brunch residency at Beat Kitchen every other Saturday, beginning Jan 12th.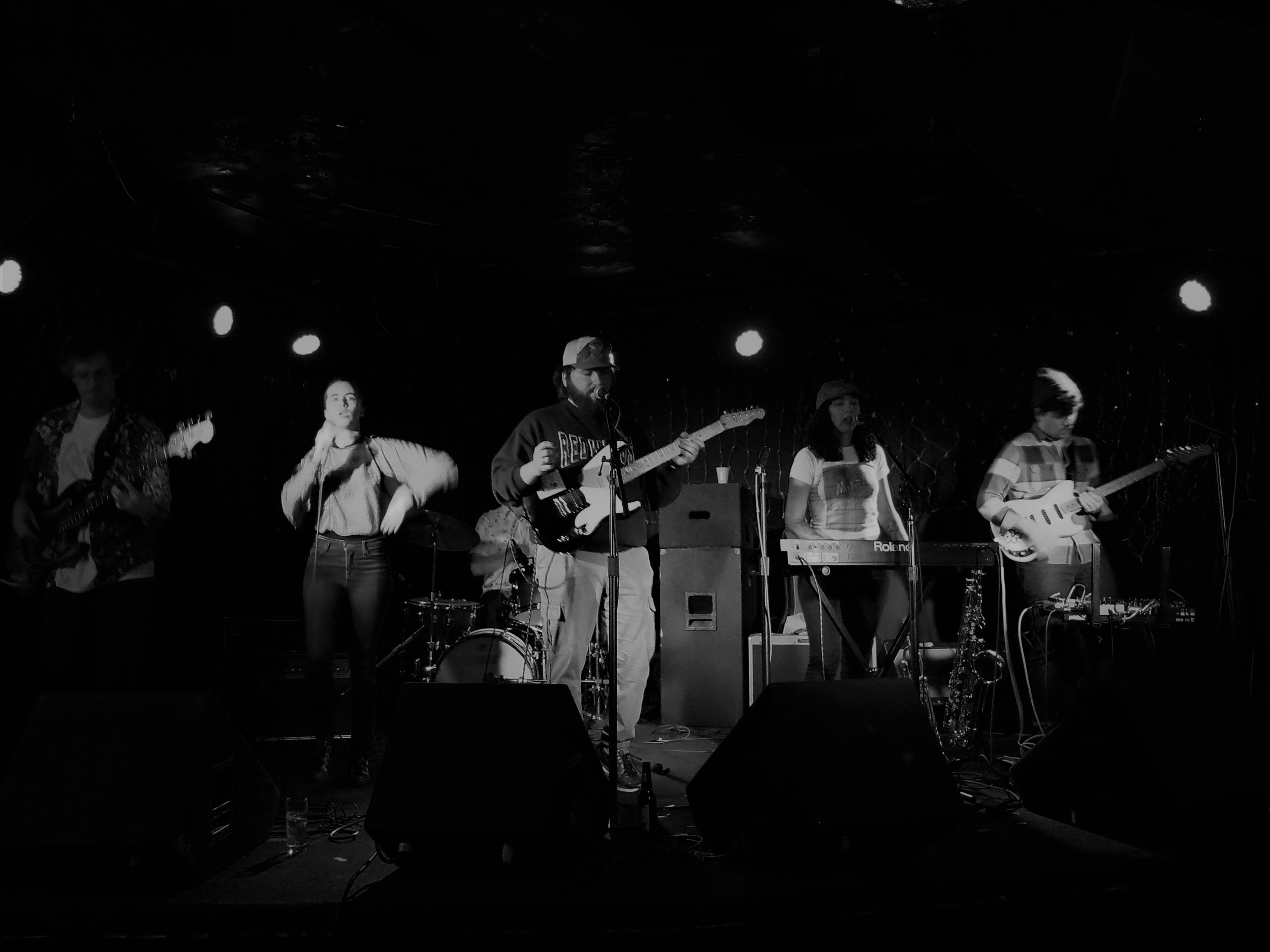 The Curls / Kevin And Hell / Les Strychnine
The Curls / all photos by KPL

The first free Monday show of 2019 at the good ol' Empty Bottle was an evening full of nutty, aural pleasure. Three genre-bending acts, each with their own special blend of musical cacophony, played to an engaged, yet tame, crowd. The bands brought the energy but the new year doldrums had descended, and only a few onlookers were able to reciprocate with some dancing to show their appreciation for the quirky, funky jams.
Les Strychnine returned from hiatus early last year, and this was the first time we were able to catch them. After five years away, they sure have shaken the dust off their post-punk scrambled with post-rock style. The pulsing beat and driving rhythms of post-punk with these frequent trips to repetitive chord jam-outs layered the sound with a whole other level. These could be straightforward tunes and be successful, but the addition of the spaced-out sequences propels them to an excellent place live. It's the right mix of the two genres that never leaves you wishing for more of one... we sure hope they stick around for awhile! With scene journeyers Karissa Talanian (head of Eye Vybe Records, member of Wet Piss) on drums, Drew Kittering (of Rable Rable and now Twila Bent) on bass, and Nick Nes Knowlton (local painter) on guitar, Les Strychnine should be making some waves now that they are back on the scene.
With their combo of jazz and eighties-inspired rock, Kevin and Hell brought an onslaught of entertainment factor to their off-kilter tunes. Band leader Kevin Anddhell never stopped moving, herking and jerking all over the stage and into the crowd, guitar in tow. Using his wireless setup to full advantage, he made several trips off stage to try and energize the early weeknight crowd while the band cranked out jazz ripped indie gems. Jorge Orozco (Bass), Tommaso Moretti (Drums), and Maxwell Clarke (Keys) held down the groove while Natalie Lande and Isaiah Sanderman on Sax had a few rocking solos over the bopping rhythms. This musical madness has been rolling along for several years, culminating in last years On Earth, but it's definitely worth taking a look at the full back catalog.
No one quite sounds like The Curls, and after a quick line check they launched into a breakneck set full of their art-rock, neo-soul, and funk-inspired mish-mash. We dubbed them "hipster soul" after their Pitchfork set last summer, but they are so much more than that! Mick Fansler leads the juggernaut of sound through the jaunty rhythms of his guitar, while Jen Marshall (keys), Matt Puhr (bass), and Carl Swoveland (drums) hold down the beat; leaving Rami Atassi to layer in spectacular guitar madness that weaves its way through and under the rest of the band adding an element that could easily go unnoticed but is essential to the overall aesthetic. However, the hardest workers are vocalist/dancer Anna Holmquist who never stopped moving and had the set highlight with her impassioned vocals on "I Can't Tell U;" and Marshall who also plays horns. One of her sax solos left her and us breathless. With plenty of tunes off their last full length Super Unit, along with both of last years singles "Tidal Wave" and "Bad Boi," this seemed to be a gear-up set for what should be a full year for The Curls. Their new album should be out soon which will undoubtedly garner more praise on the already decorated local talent.
-KPL
Slaves of the Shadow Realm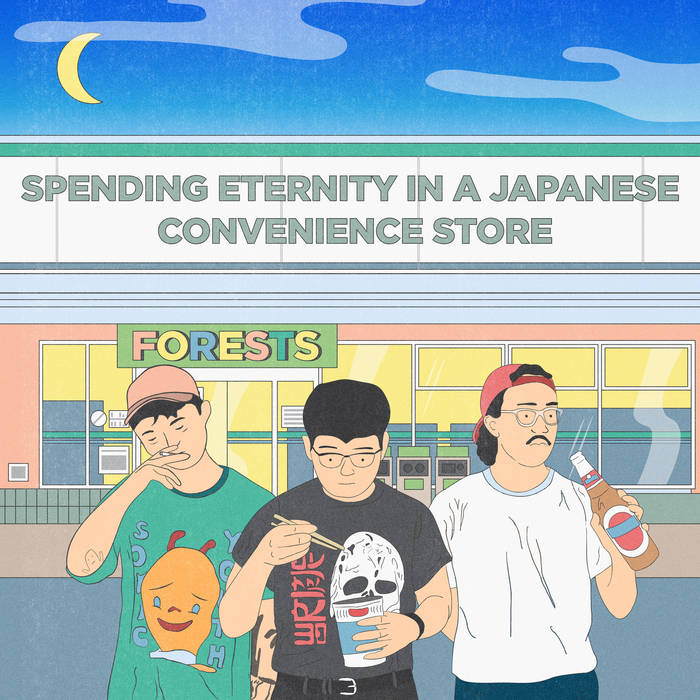 Spending Eternity In A Japanese Convenience Store
WHAT WE'RE JAMMING TO THIS WEEK
Oozing Wound
Tween Shitbag
Skyway Man and Teddy and The Rough Riders
Lagniappe Sessions EP
Chaka Khan
Hello Happiness
NEW RELEASES
NEW RELEASES WE MISSED LAST WEEK:
Robotboot / Continuous / Robotboot , Aerozine50
Ca$hed / Opening Euphoria / Ca$hed
THIS WEEK'S NEW RELEASES:
Old Sea Brigade / Ode to a Friend / Old Sea Brigade , Nettwerk
Mark Deutrom / The Blue Bird / Season of Mist
John Garcia / John Garcia And The Band Of Gold / Napalm
Chrome Sparks / Be On Fire / Counter
Cait Arq / Green Is Green
NEWS & NOTES
Tomorrow Never Knows musicfest five-day passes have sold out. If you slept on yours, there's still hope. Many of the fest's shows still have tix left. Get over to their site and pick a couple or one for every day!

We are pleased to announce that the first real victory was scored in the fight against Lincoln Yards! The large Live Nation-backed venue and entertainment district has been scrapped! According to the Tribune, Ald. Brain Hopkins (2nd) does not support the plan for the stadium, which also may have housed a United Soccer League team, and the entertainment district which may have contained up to five other Live Nation owned venues. The uproar already spurred the formation of CIVL (Chicago Independent Venue League) and their representation has not gone unnoticed! Check out the Tribune article. Collaboration needs to continue in order for the development to truly reflect the area's needs.
****
THURSDAY January 10th
Slushy / Cave Curse / Pamphleteers / DJ Creepy Donnie
Empty Bottle 8:30PM doors $8
Beach Bunny / Retirement Party / Co-Stanza / Lettering
Lincoln Hall 6:30PM Sold Out
Honey & the 45s / Scotch The Filmmaker / Neon Creek
Schubas 8:30PM $10
Lucas Gillan's Many Blessings (Album Release) / Paul Giallorenzo
Hungry Brain 9PM $10
The Hustle / Mimic / Ex Okays / Today's Children
Subterranean 8PM $8
Brothers Osborne / The Wild Feathers
The Riv 8PM $35

FRIDAY January 11th
Deeper / Divino Niño / The Hecks / Mia Joy
Sleeping Village 9PM $12
The Footlight District / Alabaster / Rotten Mouth / The Phones
Subterranean 7:30PM $7
Gone Valley / Quarter Mile Thunder
Hungry Brain 9PM $8 ($10 day of)
Good F*ck / RXM Reality / MAGIN
Empty Bottle 8:30PM $8
The Mighty Pines / Cara Louise Band
Schubas 9PM $12
The Audio Dead / Dreadwolf (EP release) / Rakido / Andrew Palmer & The Fancy Villains.
GMan Tavern 8PM $8
Garaj Mahal / Spare Parts
Chop Shop 9PM $25
SATURDAY January 12th
The Pom-Poms (Kitty x Ricky Eat Acid) / Not Lovely / Desert Liminal
Empty Bottle 8:30PM doors $10
The Life and Times / SWOLL / CANTER
Beat Kitchen 9PM $12
The Premium & Bronson Rock
Bourbon on Division 9PM FREE
William Fitzsimmons
Old Town School of Folk 8PM $25
Garaj Mahal / Spare Parts
Chop Shop 9PM $25
U.S. Bombs / Total Chaos / Shitizen / Battle Royale
Reggies 8PM $15
SUNDAY January 13th
The Evening Attraction / Modern Vices / Luke Henry
Sleeping Village 8PM $8 ($10 doors)
Gabby's World / Yowler / Spencer Radcliffe and Everyone Else / Gia Margaret
Beat Kitchen 6PM $13
Panda Riot / Voolted / Well Yells
Empty Bottle 9PM doors $5
Snuzfest 2019
Guardrail / The Blamed / Makena / Tiny Kingdoms / The Linden Method / and 5 more bands!
Schubas 4:30PM $10
Rookie / Rainbow James / Aberdine
Emporium Wicker Park 8PM FREE
MONDAY January 14th
Charlie Reed / Teddy & The Rough Riders / Cass Cwik
Empty Bottle 8:30PM FREE
MER Music Showcase:
Two Filipinos / Brandon Fox / Weep & Willow / The Shades
Schubas 7PM $10
Steve Earle / Waylon Payne
City Winery 8PM $50 - $65
TUESDAY January 15th
Free Snacks / Malci / Sex No Babies
Empty Bottle 8:30PM doors $5
Meshell Ndegeocello
Thalia Hall 7PM $38
Steve Earle / Waylon Payne
City Winery 8PM $50 - $65
WEDNESDAY January 16th
TNK Fest Day One
Five Day Pass: Sold Out

Charly Bliss / Active Bird Community / Girl K
Lincoln Hall 9PM $15 ($17 doors)
Laura Gibson / Stelth Ulvang
The Hideout 9:30PM $10
Bad Bad Hats / Video Age / Con Davison / Pool Holograph
Schubas 9PM $15
Luke Vibert / DJ Warp / Radiohiro / Striz
Sleeping Village 9PM $12
Ze'ev / Graphics / PLAN Quartet
Empty Bottle 8:30PM doors $5
See you at the show Chicago!