Editor's Note
Hey Surfers! Welcome to #39. This week we caught Preoccupations and Protomartyr with the spectacular English drumming duo Rattle opening, and a night of local talent at The Empty Bottle with Campdogzz headlining and Reunion putting on an impressive first ever set after Wreath Of Hogs opened up the show. Releases always slow down in December leaving us room to include some great experimental stuff like Gayla Bisengalieva's experimental violin compositions or the legend Jim O'Rourke's collab project. Things we normally have to leave out for lack of space we can showcase now that the schedule has slowed a bit after the November release rush. There was still some quality stuff out this week: LP's latest record, Ice Cube dropped an anger filled release and local rockers Good Brother put out their debut album. Check it all out inside and make sure to return next week for our Year In Review issue, which just so happens to be our #40 milestone! See you at the show Chicago!
Keep Seeing Live Music!
KPL & JCB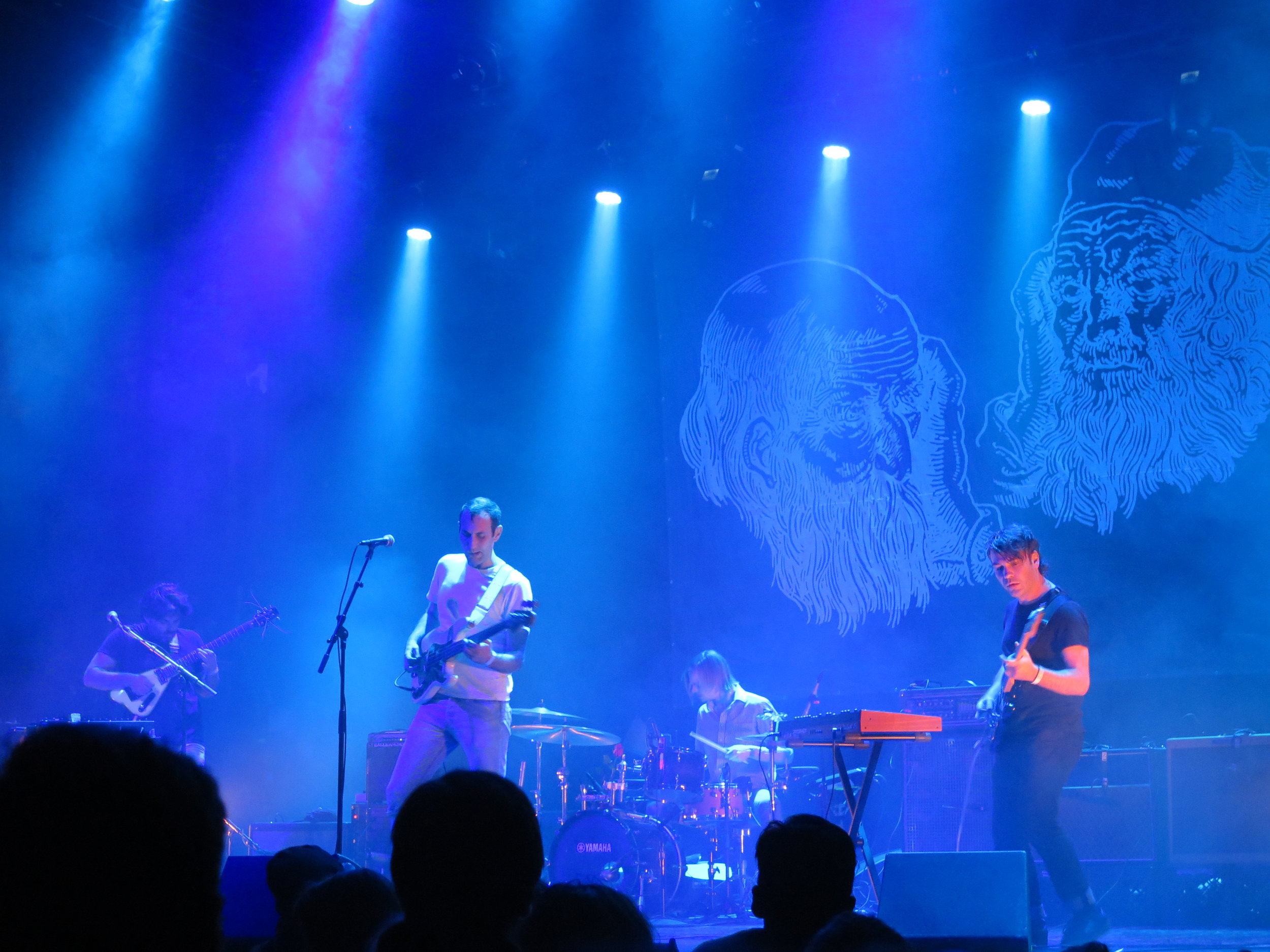 Preoccupations / Protomartyr / Rattle
Preoccupations / all photos by KPL

It was clear this was to be a special evening by the vibe that Nottingham, England-duo Rattle gave off as they strolled onstage with fists full of roses. They scattered the long-stemmed blossoms throughout their double-sided drum kit and confidently sat across from one another. Their mallets and sticks at the ready, they locked eyes before the two of them began a transportative rhythm machine that was four arms, four legs, two brians and one mouth. Katharine Eira Brown and Theresa Wrigley moved as one in precise and deft form. Their rhythms blended and wove through each other as the song built and dropped, then built and dropped again; a long form composition of just drum and vocals that seems it should sound simple but is anything but. The complexity of the rhythms they create together is otherworldly, ethereal, and gorgeous. Creating the ten-plus minute compositions (it's rather unfair to only refer to them as songs) from long hours of improvisation with each other, they have formed a bond that is altogether special. There is no other word for it. Pushing the boundaries of music and rhythm, Rattle is a band to really put on your radar. Check out their video from single "Signal" off Sequence, which just dropped in November.
Knowing what was coming, some air was necessary between sets, and there was a notable sigh of relief as the crowd that headed outside hit the cold air. Needing to steel ourselves for the onslaught to come with the bite of December in Chicago. Back inside, Protomartyr was finishing their linecheck, and the thumps of Scott Davidson's bass drew us all into the heat of the venue. All crowding as close as we could get as Joe Casey sauntered on stage in his signature black suit, a styrofoam cup gripped loosely in one hand. As Alex Leonard counted down and took that first stick swing, Casey grabbed the mic and bellowed in his deep speak-sing style alongside the droning guitar of Greg Ahee. A few tunes off new album Relatives in Descent started the set, warming us up to the swinging rhythms and jangled melodies of the Detroit foursome. Tunes as bleak and haunted as their hometown rolled out from stage as they launched into "The Devil In His Youth". At that point the tide burst as a pit started center, and the rolling sea of humanity tumultuously threw themselves towards each other, crashing in the middle and turning into a dance of arms and heads floating around above the scuffle of shuffling feet. The set became a blur of beer-soaked, dance-the-night-away ecstasy, which is the only way to really enjoy their brand of post punk; it is as dark as it is compelling. Check out the full catalog, and prepare to get addicted.
Out of tragedy was born Viet Cong. When founding guitarist of the Calgary noise-rock band Women died— effectively ending their hiatus—bassist Matt Flegel formed a new band from the ashes. Preoccupations was born out of the controversy surrounding the name Viet Cong, and their self-titled 2016 album was the first released under the Preoccupations moniker. Along with the new title was a sound that dropped some of the noise-rock elements making Women and Viet Cong so compelling. In its place was a dark well of melody that brought up thoughts of a warped Smiths sound with some Nick Cave and Morphine spattered in. Synths and guitars from Scott Munro and Daniel Christiansen swirled around the driving bass of Flegel and former Women drummer Mike Wallace's pounding downbeats. Gone was the swirling crowd as we were all trapped in the well of sonance washing through and around us all, making our feet heavy and our heads bob. Only when they reached a peak would the spell somewhat break and a few dancers were freed from the trance. But even the few danceable tracks from this year's record New Material, couldn't dispel the calm their repetitive beats produce. As we exited in silence, slowly coming out of musical hypnosis, the hum of conversation gradually returned, and the lights of Pilson welcomed us back to reality and to the cold journey home.
-KPL
Campdogzz / Reunion / Wreath Of Hogs
Empty Bottle
December 10th
Campdogzz / all photos by KPL

Yet another great collection of local acts played a free Monday show at The Empty Bottle. There isn't another series in town that brings this much local talent together—Sleeping Village dollar beer nights come close but haven't hit the level that the EB brings every week—and there is no slowing down as Ethers (Dec. 17th), The Curls (Jan. 7th), and Engine Summer (Jan. 28th) are all set to play Free Mondays in the coming weeks! This night brought out new post-punk heavies Reunion, the 90's influenced rockers Wreath of Hogs, and the sprawling folk rock sounds of Campdogzz.
The trio Wreath of Hogs started the night off with a tight set of tunes, many of which we expect to be on their forthcoming EP, and launched into a couple of Pavement style jams throughout that peaked our ears. But it was songwriter Andrew Rolfson's narrative vocal style, in the vein of say Stephen Malkmus or Ted Leo, that really drew the crowd in. He tells of simple life moments instead of the grand sweeping gestures most songwriters try to capture. It makes for a more intimate experience as Rolfson (also Campdogzz bassist) brings you along into the song's subject instead of merely presenting it as many musicians are apt to do. Ryan Hart on bass and Matt Evert on drums laid down a steady groove for Rolfson to explore with simple yet engrossing guitar licks that only accentuated his vocal storytelling. And those couple of jam-outs to round out a few of the tunes really brought it to another level. We can't wait for their debut EP and will keep readers up to speed on any future dates from these guys.
First shows are always a gamble, but Reunion absolutely surpassed expectations. The post punk trio ripped into their set with gusto, complete with a very un-Empty Bottle style light show and fog setup that only served to enhance the musical intensity emanating from the stage. Combining driving rhythms and versatile inflections, along with a singing drummer, make for an impressive first performance from an act that will fit right into Chicago's experimental scene. A few moments of transcendent, blasting jams shook the crowd as none of us were really expecting this propulsive sound that evening. Here's to hoping they play again soon, because we just got to have more.
After catching Campdogzz open for Cursive last month, we were really stoked to get to see them headline. Jess Price is a quiet, fierce force of intensity on stage, and the band produces an evocative tone that is never forced. Their tunes are built of a simple dynamic drum beat from Chris Dye and a walking bass line from Rolfson, while each layer of guitar and synth is added to assemble a sprawling epic sound that produces images of the countryside rolling by as the highway stretches out ahead. Mike Russell shares some vocal and songwriting responsibilities, and the vocals of both him and Price blend to create a synergy that just doesn't come about by accident; it's the sound of destiny. But it's really Nicholas Enderle's slide guitar work that produces that dusty, dirty Midwestern vibe that makes their music tangible and vibrant. "You came to hear some sad songs tonight," Russell commented early in the set. (he forgot the word "beautiful" in that description.) That is where Campdogzz resides, between the desolate and the enchanting. If you don't believe us, give this years In Rounds a listen and you'll immediately be a convert.
-KPL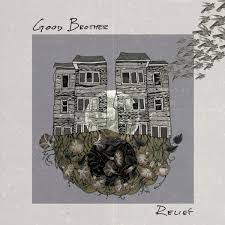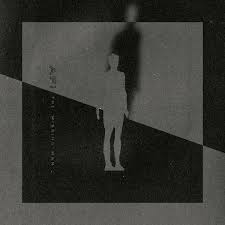 The Missing Man EP
Ex Noctem Nacimer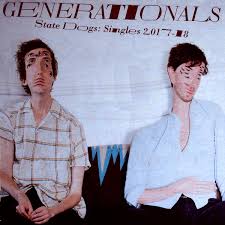 State Dogs: Signles 2017-18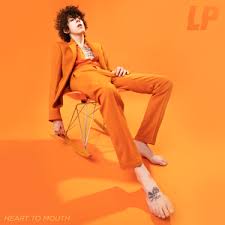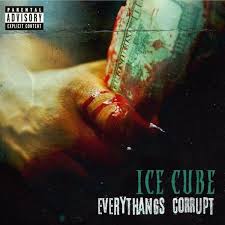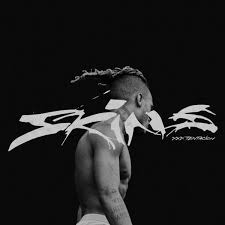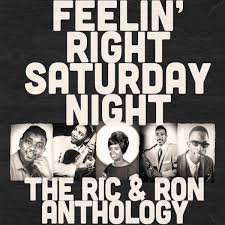 Feelin' Right Saturday Night: The Ric & Ron Anthology
WHAT WE'RE JAMMING TO THIS WEEK
Sarah Shook & the Disarmers
The Way She Looked at You / Devil May Care
David Keenan
Evidence of Living EP
Holly Herndon, Jlin, Spawn / Godmother

Cautious Clay / REASONS

Charlie Crockett / That's How I Got to Memphis

Teen Daze / Hidden World

Galactic feat. Miss Charm Taylor / Clap Your Hands
THIS WEEK'S RECOMMENDED NEW RELEASES
Fernando House / Go To Sleep, Wake Up Tomorrow / Gnawed Paw
When Chicago indie mainstays Santah went on hiatus in the Summer of '17, drummer Steven Plock was left without an outlet, so he decided to make his own. Under the moniker Fernando House, he began composing sweeping indie rock tunes that he had to get recorded. The result is a collection of six tracks he dubbed Go To Sleep, Wake Up Tomorrow. Plock plays nearly every instrument on this album; his deep baritone flows over these rolling rock tracks that have elements of Cohen and Cave, but really shines in the instrumental portions of tunes, such as the sweeping jam out on opener "Golden Light." Take a listen to GTS,WUP and get lost in his affecting vocals.

Fernando House doesn't have any shows coming up.
Rnie / Citrus / Broken Circles
Laid back beats and low key vocals from this Brooklyn by North Carolina performer that is captivating in its stillness and repetitive structure. Absolutely worth a listen, Citrus is one near perfect experience.

No tour info is available at the moment.
Vulfpeck / Hill Climber / Vulf
The fourth record from the Michigan funk quartet (which includes Skokie native Woody Goss on keys) really shows off their range. From the raunchy groove of "Disco Ulysses" to the swinging ballad "Love is a Beautiful Thing," they can really do anything they want and it will be dripping with funk. Hill Climber is a jam filled beauty.

They played North Coast in September but we're hoping they are back around soon.
AMOR / Sinking Into A Miracle / AMOR
This Glasgow quartet produces experimental dance music that is stripped down to it's essences. Sinking Into A Miracle contains no fancy drones or filler; just drums, synth, bass and vocals all simply tracked and clear. It's the minimalists version of pop.

Doesn't appear to be any stateside dates anytime soon.
Jim O'Rourke , Oren Ambarchi / Hence / Editions Mego
Chicago native Jim O'Rourke was heavily involved in the experimental and indie rock scene (including producing Wilco and as a touring member of Sonic Youth) before journeying to New York and on to Japan where he has lived ever since. Here he has again teamed with Australian experimental guitarist Oren Ambarchi for their third two track improv composition album that is perfect meditation music without any of the pretension.

Neither musician is on tour at the moment.
Galya Bisengalieva / EP ONE / Nomad
The Kazakh/British experimental violinist's debut, EP ONE, is twenty two minutes of lush spare atmospherics and long drawn out notes. It's a soundtrack to a space journey through your mind's eye.

She has no Stateside dates on her slate any time soon.
MORE NOTABLE RELEASES
mxmtoon / Plum Blossom / mxmtoon
She is bringing her indie folk to Schubas on March 6th. Tix are $12.
Lubomyr Melnyk / Fallen Trees / Erased Tapes
NOTES & ANNOUNCEMENTS
****
(There are tons of SOLD OUT shows this week that we did not include on this calendar)
THURSDAY December 13th
Justus Proffit & Jay Som / Discus
Schubas 9PM $13 tix. ($15 door)
tenci / Spencer Radcliffe & Everyone Else
Hungry Brain 9PM FREE.
William Elliott Whitmore / Tight Phantomz / Raye Zaragoza
Thalia Hall 7:30PM $17 - $25 tix.
Jollys / Tutu and The Pirates / Wet Wallet / HoZac Sadistic Sound System (DJs)
Empty Bottle 8:30PM doors $8 tix.
Fay Ray / Christian JaLon / Melvin Knight
Subterranean 8PM $8 tix.
RAHKII / Nola Ade / Chai Tulani / Calid B
Chop Shop 8PM $20 tix.
The Lawrence Arms / Wilhelm Scream / Canadian Rifle
Bottom Lounge 8PM $27 tix.
Sam Trump & Jeff Swanson
California Clipper 9PM $5 cover.
FRIDAY December 14th
Oozing Wound / Rectal Hygienics / Bruges / Conduit
Sleeping Village 9:30PM $10 tix.
Valley Maker / V.V. Lightbody
The Hideout 9PM $12 tix.
The Voluptuals / Fran / Luke Henry / Monomania
Beat Kitchen 8PM $10 tix.
Dassit / Malcolm London / Sam Trump
Martyrs' 9PM $12 tix. ($15 door)
Cloud Nothings / The Courtneys
Thalia Hall 7:30PM doors $20 tix.
Gang of Youths / Gretta Ray
Metro 9PM $17 tix.
Dead Rider / Brokeback / Pinebender
Empty Bottle 8:30PM doors $12 tix. ($15 doors)

SATURDAY December 15th
Mannequin Men / TPz / The Poison Arrows
Empty Bottle 9PM doors $10 tix. ($12 doors)
Post Animal / Paul Cherry / Divino Niño
Metro 8PM $18 tix.
Get Up With The Get Downs / The Daytonics / Esso Afrojam Funkbeat / Renaldo Domino
Sleeping Village 9PM $10 tix.
Eyedress / Mia Joy / Desert Liminal
Schubas 9PM $12 tix. ($14 doors)
The Shams Band / Cutta / Donnie Biggins
Tonic Room 8:30PM $10 tix.
The Paper Machete with Claire & The Bears
The Green Mill 3:00PM FREE
SUNDAY December 16th
Bronco (EP Release and Farewell Show) / Mannequin Pants / Young Elder
Subterranean Downstairs 8:30PM $8 tix.
Bunny
Freehand Chicago 8PM FREE w/ RSVP.
MONDAY December 17th
Ethers / TUMS / Gentle Leader XIV
Empty Bottle 8:30PM doors FREE.
TUESDAY December 18th
Ruins / Uma Bloo / Boo Baby
Empty Bottle 8:30PM doors $5 tix.
Bleach Party / Bev Rage & The Drinks / The Runnies
Sleeping Village 9PM $5 cover.
Holiday Toy Drive featuring members of American Football, Maps & Atlases, Meat Wave and more . . .
Beat Kitchen 7PM $20 tix. or free admission with a toy donation.
See you at the show Chicago!