Editor's Note
Welcome to issue #25 of Chicago Crowd Surfer! This week we made it to Palm at the Empty Bottle with locals Dehd and The Knees opening, and JCB hung outside for Daniel Bachman as he played The Hideout's Picnic on the Porch series. We interviewed Chicago rockers Sonny Falls at the Rainbo Club. Check out our banter filled conversation below. And this was a huge release week as we take a look at Ohmme's debut full length and a trio of cassettes put out by three up and coming Chicago acts: Desert Liminal, Wage and Mayor Daley. Along with reviews and blurbs on all the great new releases this week (it was a huge week for new music) and we'll let you know when you can see all the bands that have new records out. Make sure to check out our recommended shows in the news and announcements section to find a show to check out this week!
Seeing live music gives us joy, and it is our mission, in these trying times, to spread some of that joy to you. We don't just want to spread it, we want to share it; which is why we are a crowd-sourced publication. We want you to join us: to write about, and share pictures of, the shows you attend, the new albums you love, the bands you adore, and any other thing that has to do with seeing, performing, or experiencing music in Chicago. Please send any submissions to chicago.crowd.surfer@gmail.com. We are now up to eleven contributors and are always looking for more! We may not publish everything we get, and we reserve the right to edit, but will always try and seek the submitters' approval. Our mission is to be a positive publication, so if you have negative things to say - please look for another forum in which to express that opinion. We aim to wade through the bullshit of this modern life to find what good is left. See you at the show Chicago.
Keep Seeing Live Music!
KPL & JCB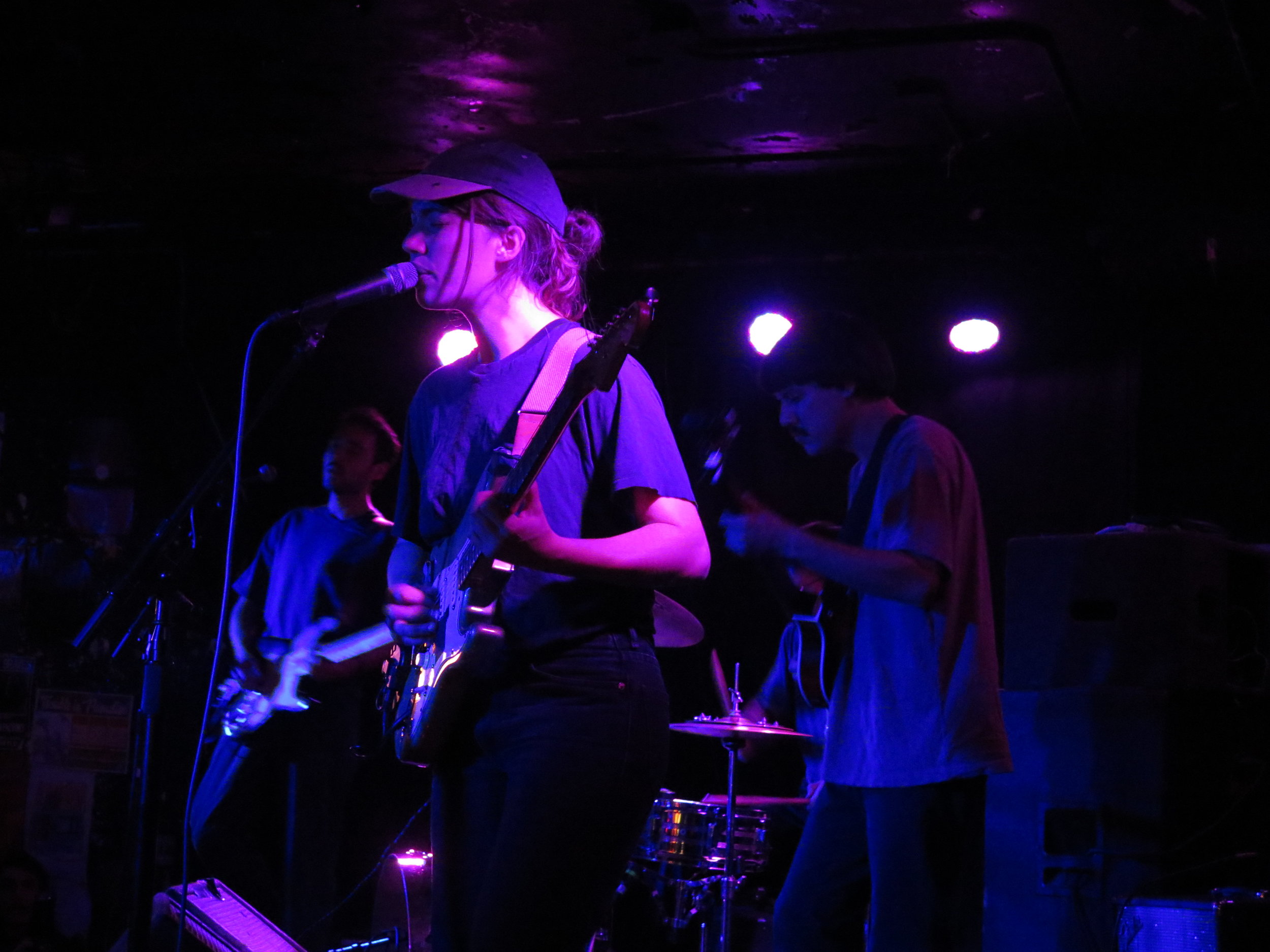 The Empty Bottle
August 23rd
Palm / all photos by KPL
 
The Knees appeared onstage as if they had walked in off the street, and began their set of circular jams like they were at a practice space. Relaxed, and rather sure of themselves for such a young band, the quartet produced twenty minutes of high concept rock. Math Rock, Post-Rock, Prog-Rock—call it what you will—the ever involved indie platform that bands like The Knees embrace leaves so much room for interpretation that it sometimes becomes too much for the listener. They avoided that trap this set and took us along with them for the ride through their repetitive chords.

Crowded for a Thursday show, The Empty Bottle was filled with twenty somethings and a smattering of us older music fans. Guitarists and vocalists, Wilson Brehmer and David Miller, traded off leading tunes, Ben Goldman held down the low end, and Davis Conners pounded out the beat. It was quite the experience. The Knees are an act that we'll be paying attention to in the future.
Over the last several years local indie stalwarts Dehd have grown into a fascinating act. Co fronted by NE-HI's Jason Balla and Emily Kempf, of so many projects it's hard to keep track (she recently played on Lala Lala's upcoming album The Lamb which is out next month). The two layer their vocals over the jangly notes Balla produces in juxtaposition with the steady dreamy rhythm Eric McGrady makes on his tom and snare,; he plays standing , constantly wrapped in attention on what he's doing; while Kempf's bass renders an even and driving beat. It all comes together sounding like it always belonged. Was always there, waiting to be discovered by someone. With a growing confidence in themselves, each show we've seen has been better than the last. They have become a true gem of the local scene.
Palm took up their spots with their typical unassuming shyness. They nodded to a few friends in the crowd and greeted others with half waves before taking off into musical malistroms that left us reeling for reality. Their circular patterned progressions created a mind meld that held us in its grip as song after song skated through them into our brains. With the release of this year's stellar Rock Island, they deserve more attention than they have received. And, even with some early technical difficulties, they were able to pull off a stellar set.
It's the back and forth pull of their tunes that really attracts. The chord structure repeats so often it could become unsettling to the average listener, but it's exactly that cyclical tightness that can be so captivating. They could have played all night and most of us would have never left. (If you want more on Palm check out LPL's review of them opening for Wye Oak in Issue #12)

Off subject, but inherently linked to the experience, a kid we met before the show at Lockdown didn't know who Motley Crue was. What have we done to our youth . . .?
-KPL
Daniel Bachman / all photos by JCB
 
A Picnic on the Porch at the Hideout featuring experimental folk guitar instrumentals - how do you prep for that kind of show? We wrote about Daniel Bachman's latest album The Morning Star back in Issue #21, and I was very excited to see the unconventional record in an equally unconventional setting. To add to that I got a surprise +1 with my wife excitedly tagging along as she rarely enjoys the shows we feature here. It was all pointing to a great night. Figuring that it would be a night of meeting new friends and mingling backed by some wonderful string plucking, I was all geared up for a casual party. Having made my assumptions, we packed up our blanket, solo cups (who knows if the bottles can go outside), playing cards, two dog eared books (maybe people won't talk to us :( ), and we were off.

We didn't eat much, as picnic boxes were available for purchase from neighborhood farm-sourced supermarket Local Foods. Unfortunately, these were limited to chips & salsa and a bean medley. Tasty, but it made us regret not packing our own food to fill up. The Hideout is definitely a favorite venue of Chicago Crowd Surfer, and seeing the stage room completely empty was a bit disorientating as we waited at the bar for our drinks of choice. Some good news was that those bottles were indeed allowed outside - solo cups saved for another day!
The 'stage' for this show was the porch of the bar, with everyone huddled on the picnic tables and small blanketed grassy area directly in front. It's definitely a cool idea, and left us feeling way more connected to Mr. Bachman as well as the other attendees. It's also fitting, considering the atmosphere Daniel had crafted into his latest album. What better way to take your recorded porch songs on the road than to literally perform them on a porch? And it worked in every way you could have wanted. I knew this wouldn't be a particularly physical performance, and it was no surprise that there was little crowd interaction aside from the intermission. The music, however, was spot on. The ambience of Chicago isn't quite the southern woods from the recording, but it still managed to transport me to the same feelings I experienced when listening to The Morning Star, and - by extension - my childhood.
However, that crowd interaction, and fun casual, party we expected: Not so much. But that was our only gripe. If I didn't know better, I'd have sworn the show was in a library. So many 'shushes' and stern glares at the slightest noises, including to the bouncer checking IDs. The slight drizzle and chilly August night wouldn't normally have been an issue had we been either: (1) indoors or (2) meandering about interacting with new friends. Tough to watch, but c'est la vie.

All in all, Picnic on the Porch is an awesome concept, and we recommend checking one out
-JCB
ohmme
parts
joyful noise , ohmme
The perfect end of summer album, raw and rough and stunningly gorgeous. The music produced by multi-instrumentalists and vocalists Macie Stewart and Sima Cunningham takes you on a ride through their experiences. With two part harmonies they serenade the listener with stories of family in folker "Grandmother", love in rocker "Peach", and death in the plodding closer "Walk Me". All well covered song subjects; but they cloak the substance with their dreamy melodic vocals, off kilter beats, and poetic lyrics.

Formed from the scene around them, Stewart (who played in Kids These Days and now with Marrow) and Cunningham have been part of Chicago's music scene for years. They started the partnership in '14 after wanting to play the guitar (they are both classically trained pianists and have played keyboards in bands for years.) What started as an experiment has turned into one of Chicago's most well recognized indie acts. This debut full-length has been eagerly anticipated by local indie fans, and Stewart and Cunningham have gifted us all with these beautiful minutes away from the bustle of our city life.

-KPL
After celebrating their record release at Thalia Hall last weekend, they are off to a national tour that ends in November. Maybe they will treat us to a homecoming show!
desert liminal
comb for gold EP
desert liminal
Fuzzy and glorious, the music of Chicago duo, Desert Liminal, is a dreamscape soundtrack filled with Sarah Q's distorted synths and Rob Logan's steady beats. These are some late night, lights off, closed eyes kind of tunes. This new four song EP (available on their bandcamp page in cassette and digital) doesn't quite reach the heights of their full length Static Thick, which they released earlier this year, but Sarah Q's breathy vocals taking form over stretched out synth chords and Logan's lazy late summer drumming still capture the same gauzy moods. Be on the lookout for these two. They have quite a future together.

-KPL
Schubas is hosting them on September 8th where they are opening for Bret Kontz and The Joy Poppers. This is a free show on a Saturday! Get there!
white denim
performance
city slang
The psych rock sounds of White Denim have been entertaining fans for twelve years. These Austin natives have dropped their sixth full-length, and it is quite possibly their best. Building on the excellence of 2016's Stiff, this new collection of nine pulse pounding tunes takes their sound to new levels. From the toe tapping rhythms of "It Might Get Dark" to the quirky keys opening and acoustic guitar base of "Backseat Driver", they are taking a few steps away from the straight up guitar madness of most of their earlier work; but they still have the tight no nonsense songwriting that has driven them to the top of the crowded indie rock heap.

-KPL
They are hitting House of Blues on September 12th and tickets are going for the low price of $20.
blood orange
negro swan
domino
No else has made the journey that Dev Hynes has. The English-raised musician was a punk rocker, an acoustic troubadour, and now an R&B mastermind that should be far more recognized for his genius. This fourth album as Blood Orange still has the choral trappings of previous records, but contains a maturity that he showed shades of a couple years ago on the masterful Freetown Sound. Maturity comes with trusting yourself musically, and it is here that the lush tracks on Freetown, and the disco based tunes on '13's Cupid Deluxe, give way to a spareness that is refreshing. Sometimes stripping down a sound is the best way to its heart and Hynes has found the key. This is an important album. Not only does he cover aspects of the modern black experience, he does so with such aplomb that the listener has no choice but to trust him as he takes us on a journey through his experience as a black man in today's society.
-KPL
 
Hynes and the band just hit Pitchfork this summer. We're hoping for a Winter return to Chicago.
devotchka
this night falls forever
concord
It's been seven long years since this gypsy folk rock collective released an album. Their rich, layered sound has long been missed by fans, and finally Nick Urata and crew return with a self reflective record that doesn't always look fondly on their success. On opener "Straight Shot" he croons, "I can draw a straight line through my mind / right back to the good times / back when all the stars were aligned / before all the paperwork got signed."

Beyond this contemplation, the musical richness that has defined Devotchka is still there, creating two warring concepts that threaten to take over the album. Urata's melancholic feelings about his band's success stand apart from the upbeat tempos and plucked string sonatas, yet they blend into a single cohesive whole by record's end. This is especially evident in closer "Second Chance" when he sings, "Now I've got nothing but love / To give all day long / I get none in return / Just the same old sad song / I've got no one to blame / 'Cause I got it all wrong / I've got nothing left to give you / Just love all the day long."

-KPL
They are hitting The Vic on October 4th. Tix are on sale and going for $29 - $75.
the lemon twigs
go to school
4ad
This brother duo has done what many before have already accomplished: wrote a rock musical. But none have written a story about a monkey who is adopted by human parents and then ends up going to school and rebelling against his benefactors. Musically grand in scope, but tight in story, this unexpectedly affecting journey is, at its core, a metaphor that isn't resonating with most critics. But we think this has the chance to become a real cult classic. The songs have some hilarious hooks and as a whole it all works incredibly well. However, we understand it's not for everyone. Maybe it's just for those who enjoy experimental nutty ideas come to life.
-KPL
The brothers are returning to Chicago in January on the 25th at The Metro. Tix are going for $17 and who knows what kind of crazy theatrics they have planned.
WHAT WE'RE JAMMING TO THIS WEEK
lala lala
water over sex
The second single from this local indie favorite's new album The Lamb which is set to drop on September 28th. We can't wait for fall just to get our hands on this one.
They are celebrating their album release at Empty Bottle on Sept. 28th. Scoop up those $8 tickets for what is sure to be a great show.
boygenius
me & my dog / bite the hand / stay down
Three of the industry's young premiere singer songwriters have joined forces to form boygenius. Julien Baker, Lucy Dacus, and Phoebe Bridgers are all affecting songstresses in their own rights; and then they came together and produced these three gut wrenching tunes that left us begging for more.
These three geniuses are on their way to Thalia Hall for a two night stand on Nov. 12th and 13th, which sold out really fast. However, we were lucky enough to scoop up some tickets, so you'll definitely get a full report!
wage
life as a surplus EP
Messy and off beat in all the best ways, this Chicago duo, made up of Ana Raba on drums and vocals and Daniel Luedtke on keys and vocals, is keeping it real with this four song EP that is filled with strangeness. Check out these four tunes on their bandcamp page. While you're at it, purchase it and support local musicians.
They just had a release party with Mayor Daley and Desert Liminal to all release their cassettes at The Empty Bottle on Sunday. We had planned to attend, but couldn't make it at the last minute. We hope there was a good crowd on hand to enjoy these three great bands.
mayor daley
out of the blue ep
In the vein of post rock, this trio out of our Windy City produces some crunchy, crispy tunes. Kelly Carr's droaning vocals mixed with the fuzz of distortion and Paul Erschem's driving drums create a hypnotic combination that had us hitting repeat. Check out this three song EP on bandcamp. Buy it you fools!
There are no current shows on their FB page. We hope to check them out soon.
cautious clay
resonance ep
Two new tunes and two pre-released singles make up this four song jammer that has this indie pop darling working out how far he can stretch his sound. It turns out, as far as he wants it to go.
He's hitting up Schubas on September 28th, and tickets are going for $18 ($20 doors.)
more notable jams from this week
THE REASON - Better Dayz

Barns Courtney - "99"

Fall Out Boy - Lake Effect Kid EP

Amos Lee - Crooked

Hippo Campus - Bambi

Logic - The Return

Disclosure - Where You Come From

The Blaze - FACES

KYLE (featuring Kehlani and Logic) - Playinwitme (Remix)
THIS WEEK'S RECOMMENDED NEW RELEASES
Nothing / Dance On The Blacktop / Relapse
After singer Dominic Palermo was beaten in Oakland after a show this bands trajectory was changed forever. Dance On The Blacktop, their fourth and most affecting record, is full of lush heavy tunes that analyze his CTE diagnosis (yes, the same condition that is haunting former athletes, developed from repeated head injuries) and their frontman's uncertain future.
Nothing is coming to Lincoln Hall September 12th with Culture Abuse and Smut in support. Tix are going for a measly $16 ($20 door).
Murder By Death / The Other Shore / Bloodshot
Folk rockers to the core, Murder By Death release their ninth and most gloriously symphonic album. Their sound has grown over the years but this may be the pinnacle, with horn and string arrangements that only add to the layered acoustic instrumentation that has been a hallmark their entire 16 year career.
They are arriving in town on October 6th for a night at The Metro. Tix are going for only $22.
Lucie Silvas / E.G.O / Furthest Point , Thirty Tigers
Former pop songstress Lucie Silvas continues her trajectory toward stardom with this heavily Nashville influenced record. Her adopted home has changed her sound, her songwriting and her life ( she is married to John Osborne of Brothers Osborne). But while her husband produces classic country she has leaned on taking pop sounds and giving them a folky twist. We think you'll like the result.
She hasn't been in the area for over a year, we're hoping she does a club tour in support of this one in the Winter.
Interpol / Marauder / Matador
At a time when Interpol should be taking a victory lap for their role in the early 2000s' scene, they got a producer known for his work with The Flaming Lips, and they recorded straight to tape. It's ballsy, but it works. It's not a perfectly executed record, musically speaking, but that's what works about it. Marauder is a raw Interpol record. It embraces all of their "flaws", and is honestly our favorite of their efforts in years.
Interpol plays Riot Fest at Douglas Park in September. They've been quiet with daily schedules, but keep it tuned here for updates.
Bas / Milky Way / Dreamville , Interscope
The first verse starts: "You know they be lying like Kellyanne Conway / I just get my thoughts off , I just take the top off / When the cauldron bubble, we come from the back block / So they call us trouble, we can never slouch nor stop off." We'll just let this Queens by way of Paris, Dreamville signed rapper tell it in his own words: "This album is about finding ground. About not poisoning your own well. About finding and tethering yourself to the love that truly fulfills you. Love of self. Love of others. Lovers. Family. Friends. Fans. You've all given me all the affirmation I'll ever need. That is the Milky Way. The only way to go." (from his Spotify bio). We couldn't have put it better. Listen to this one now!
He doesn't have any current dates set for Chicago. Come to the Chi man!
Steady Holiday / Nobody's Watching / Barsuk
The sophomore album by LA actor/musician Dre Babinski continues her wonderful brand of laid-back, late night pop. The subdued synth tracks over delicate percussion, surrounding Dre's hushed vocals, make for the perfect soundtrack to a cab ride home after a night on the town. It's jazzy and graceful - exactly what we want for sleepy pop.
Currently no dates in Chicago, but we'll let you know when there are!
MORE NOTABLE RELEASES
The Devil Makes Three / Chains Are Broken / New West
This New England alt country act can always be counted on to produce quality honky tonk influenced rock that belies their East Coast roots.
They played the Concord back in January so we are hoping for a Winter return in support of this quality record.
Ólafur Arnalds / re:member / Mercury KX , Decca , Ólafur Arnalds
If you have never seen Ólafur Arnalds create music, stop what you're doing and go check it out now. He and a colleague developed a technology that makes pianos both mimic and add to the music that he is playing in real time. It's amazing to watch two pianos react to his one keyboard stroke. It may be the future of musicianship. It also doesn't hurt that his songs are gorgeous.
He is swinging through Thalia Hall on February 7th and tix are on sale now for $31 to $45.
Alice In Chains / Rainier Fog / BMG
This version of Alice in Chains is almost twice as long as the Layne Staley fronted one, and the William DuVall fronted version puts out yet another solid release. Nothing groundbreaking: just solid hard rock grunge and great vocals.
Alice in Chains played The Riv back in May, but we'll let you know when they come back.
Sports / Everyone's Invited / SPORTS BAND
Dream pop from, of all places, Norman, Oklahoma. It's a compelling album full of synth flourishes and heavy bass beats with falsetto vocals that ride that wave of notes into the ether.
There are no Chicago dates for Sports at this time.
Rubblebucket / Sun Machine / Grand Jury
Transcendent pop music that will leave you gasping as each tune builds on the last. Kalmia Traver and Alex Toth outdid themselves with this one.
They are stopping by Bottom Lounge on Nov. 17th and tix are going for a cool $22.
Justice / Women Worldwide / Genesis , Ed Banger , Because
Justice has been around for a decade now, and this may be their most interesting work so far. They took the live versions they had worked out for the Women tour into the studio and recorded them. This is the closest you will get to how live electronic music is created.
These Frenchmen aren't visiting Chicago again any time soon.
HONNE / Love Me/Love Me Not / Tatemae , Atlantic UK
This English duo produce quality synth soul that will have you dancing the night away. The perfect late night party record.
Making the journey across the Atlantic they are arriving in Chicago next month. The Metro is hosting them on September 29th and tix are going for $18 ($20 day of)
BC Camplight / Deportation Blues / Bella Union
The one man rock machine puts out a commentary record about living in the here and now. Hey BC, we're all "in a weird place now."
Currently gearing up for a UK tour, we're hoping he swings through this Winter.
Alexander Tucker / Don't Look Away / Alexander Tucker , Thrill Jockey
Experimental folk psych rocker Alexander Tucker has been around for a couple decades now and each record builds on the last. This release may be his best yet. Ambiance to the extreme.
It doesn't look like he is making it stateside anytime soon.
Tunng / Songs You Make At Night / Full Time Hobby
Folktronica is how some have labeled this English sextet that produces some haunting and evocative tunes. Songs You Make At Night is grand in scope, yet as personal as any music can be these days.
Currently they have no U.S. dates planned.
Her's / Invitation to Her's / Heist or Hit
This Liverpool based duo produces bedroom pop with a distinctly English bent. Think Happy Mondays mixed with some Lightspeed Champion and elements of late Beatles thrown in for good measure.
Her's is coming to The Empty Bottle on November 11th!
NOTES & ANNOUNCEMENTS
North Coast Music Festival is this weekend. We wish all you Coasters a great time! We just couldn't do it this year. But we are making a couple aftershows!
****
Thursday August 30th
Bad Gyal / Brittany Campbell
Schubas 8PM $18 ($20 doors)
LA Witch / Moonwalks / Pussy Foot
Beat Kitchen 9PM $15
Friday August 31st
North Coast Music Festival
(see our Summer Fest Guide for more info)
Manic Focus / Mr. Bill / Daily Bread
Concord 9PM doors $22
The Hazy Seas / Strange Foliage / Engine Summer
Schubas 10PM FREE
Tatiana Hazel / Divino Nino / Family Reunion
The Hideout 9PM $8
Saturday September 1st
North Coast Music Festival
(see our Summer Fest Guide for more info)
Breaking Biscuits / Thriftworks
Concord 10PM $25
Futurebirds / Gazebo Effect
Beat Kitchen 9PM $12
Sunday September 2nd
North Coast Music Festival
(see our Summer Fest Guide for more info)
Laverne (record release) / Britney Campbell / Daymaker
The Empty Bottle 8:30PM doors $8
The Fearless Flyers
Concord 10PM door $37.50
Jordanna / Sports Boyfriend /
Glitter Moneyyy / Yomi
Schubas 8PM $12
Shortly / Black Belt Eagle Scout / Shrug
Beat Kitchen 8PM $10
Monday September 3rd
Accessory (Tape Release) / Freak Heat Waves / Kristian North / Fran
The Empty Bottle 8:30PM doors FREE
Tuesday September 4th
--
Wednesday September 5th
The Hotelier / Pool Holograph
Schubas 7:15PM $15 ($18 doors)
Lollygagger / 8-Bit Creeps (EP Release) / Red Scarves
The Empty Bottle 8:30PM doors $5
See you at the show Chicago!
Been inspired by a recent musical experience? Excited about an upcoming show? shoot us an email to GET STARTED.
Being a contributor has never been easier. All you have to do is enjoy music, have a good time and tell others about it. We are a community sourced web mag, that means our experts are music lovers in your community. Yes, you are an expert music lover. (We know because you are reading this site) Our goal here is to encourage people to see live music, and have a good time doing it. Get clever with how you would like to contribute, but here are some ideas:
See a show and write about what made it great for you (and snap a couple pics)
Tell people about CCS
Listen to a new album and write a review
Share the weekly issue post
Buy us a ticket to see a show - we will try to cover the show if you can't go!
Post to our social media sites about news in the local music scene
Help us make a connection to acquire:

Press passes
Photo passes
Promo materials (flyers, buttons, stickers, gear…)
With any written contribution, we request email submissions by the following Wednesday morning (ex. If you see a Friday show, submit 4 days later; ex. Listen to a new album on Tuesday, submit the next day). Please let us know that you want to contribute so we can get you into that week's issue. You can totally submit a review later than Wednesday, and we may include it. Not to put the pressure on, but we are a weekly mag so we like to keep content current.
-LPL
P.S. If you want a little extra confidence, we really do want to hear from you and expand our community. I am not a trained writer, and personally think my reviews need a good deal of improvement. I keep writing to get better, and people are still reading it!