Editor's Note
Welcome to issue #23 of Chicago Crowd Surfer! We've got a huge local issue this week with In Tall Buildings from The Empty Bottle, NE-HI and Whitney at Pritzker and our first visit to Sleeping Village with a trio of locals headed up by The Curls! There's also plenty of new music to devour including a new Cursive track, a dual review of Jake Shears new album and plenty more of last week's new releases and when to expect them to roll through. Next week we'll be taking a trip back to Sleeping Village for Brooklyn's own Red Barrat and a full review of the Lunar Ticks record release show at Sub T. Happy reading Chicago, and see you at the show . . .
Seeing live music gives us joy, and it is our mission, in these trying times, to spread some of that joy to you. We don't just want to spread it, we want to share it; which is why we are a crowd-sourced publication. We want you to join us: to write about, and share pictures of, the shows you attend, the new albums you love, the bands you adore, and any other thing that has to do with seeing, performing, or experiencing music in Chicago. Please send any submissions to chicago.crowd.surfer@gmail.com. We are now up to eleven contributors and are always looking for more! We may not publish everything we get, and we reserve the right to edit, but will always try and seek the submitters' approval. Our mission is to be a positive publication, so if you have negative things to say - please look for another forum in which to express that opinion. We aim to wade through the bullshit of this modern life to find what good is left. See you at the show Chicago.
Keep Seeing Live Music!
KPL & JCB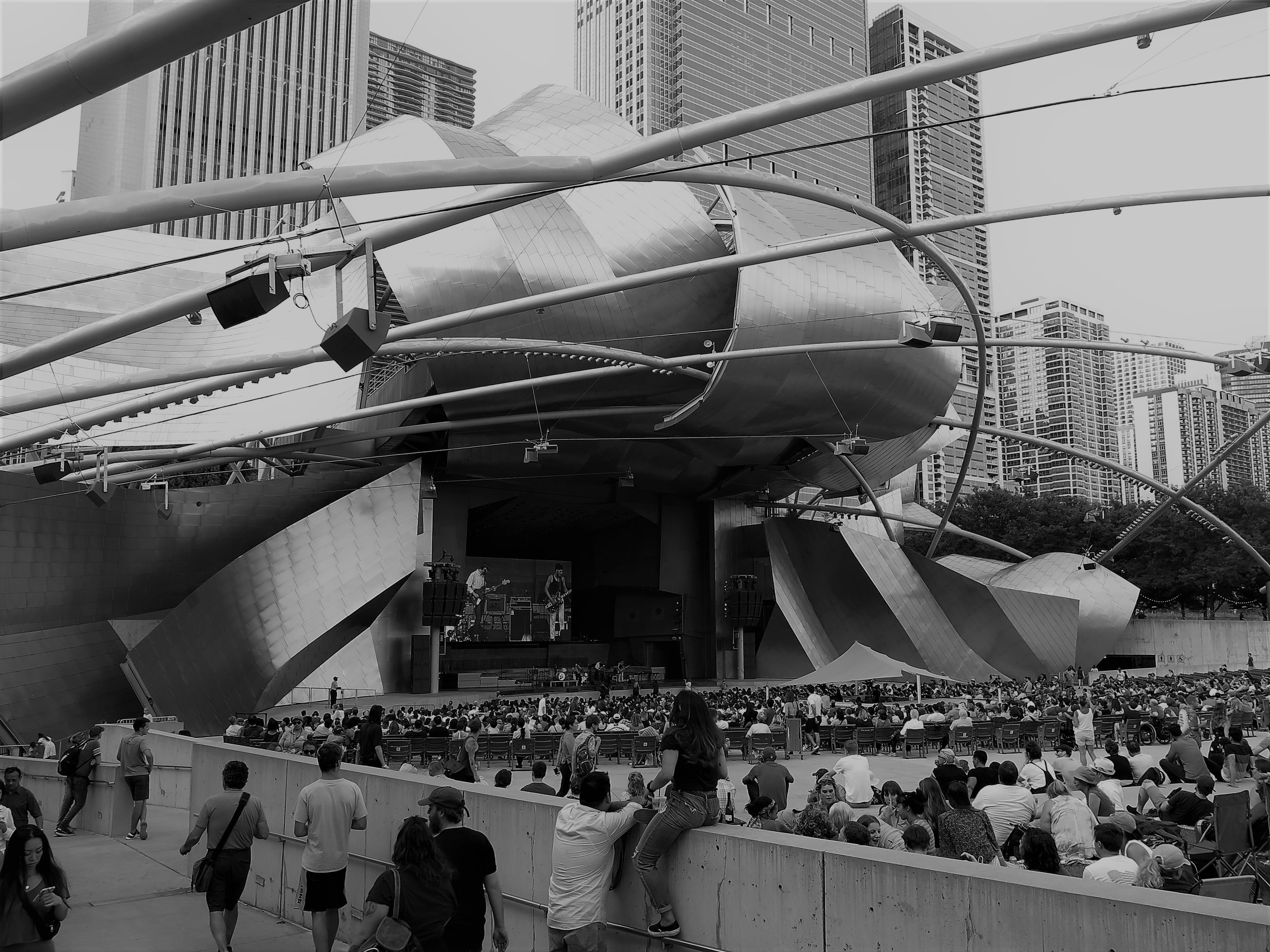 Pritzker Pavilion
August 12th
Pritzker Pavilion during NE-HI / all photos by KPL
 
Tonight was a night of local talent, and all of them new to me. Both acts tonight were local - Ne-Hi hailing from Logan Square and Whitney a pair of Chicago roommates, formed in 2013 and 2015 respectively. Both in their infancy, KPL and I were not sure what kind of crowd we were about to join. Pritzker was set up in such a way that you had to climb a couple of staircases, and a bit of a hill to get there. In contrast to most venues, you enter on the side of Pritzker and see the entire audience and performers all at the same time. We were pleasantly shocked. The seats were near capacity and the lawn was full back to the furthest perimeter.

NE-HI brought their finest psych rock this evening, and sweated through their shirts to prove it. We caught this set from the elevated pedestrian path alongside of the lawn. Nobody was having a bad time: everyone was smiling, dancing, or visibly entranced. After a few songs (and a long char dog), KPL and I broke away from our trance and ventured down to the floor. Spotting a space on the front stairs of the lawn, we extended our legs and returned to the music.
When you see a show at a paid venue, you are among fans. The people there all intended to be there. You have an automatic conversation starter (the band), but that can limit the variety of people you might meet. There was no shortage of millenials out tonight. I expected that and got some good styling tips from watching them pass - anything goes! The people watching is always excellent at Pritzker. Tonight, the Whitney and NE-HI fans were peppered amid a sea of adventurous music lovers from all walks of life taking in a free show, and discovering a few new bands. Pritzker is a place where anyone and everyone is truly welcome. Diversity is praised.

The venue's emcee approached the mic and announced the next band, informing us that they had become an international touring act beginning just a bit over 2 years ago. Tonight we were lucky enough that they had returned to Chicago for a homegrown show. A quick glance to my left revealed NE-HI waving to familiar faces on the lawn and stepping through the crowd to join their friends. Ladies and gentlemen, Whitney.
When a man shows emotion on stage, my heart warms and I giggle. Hearing KPL do the same in response, my heart melted. Five songs in, Cadien Blake James of local kings Twin Peaks joined Max Kakacek and Julien Ehrlich for a quick jam on "Red Moon". Guitarist Max Kakacek grinned visibly as James rippled over his strings. A small child seated to our right, of no more than 2 years, was quite maturely sucking his pacifier and taking in the unworldly imagery that is Pritzker Pavilion. Researchers have discovered that the rate of pacifier sucking correlates to current brain activity. More sucking indicates an increase in the rate of cognition, which means the child is engaged in an intense state of learning. This fact might seem out of left field for a music magazine, but not if you know me. My background is rooted in child development and early intervention. You would never know it by his deadpan stare, but let me tell you, this boy was going to town.

Continued in the review below…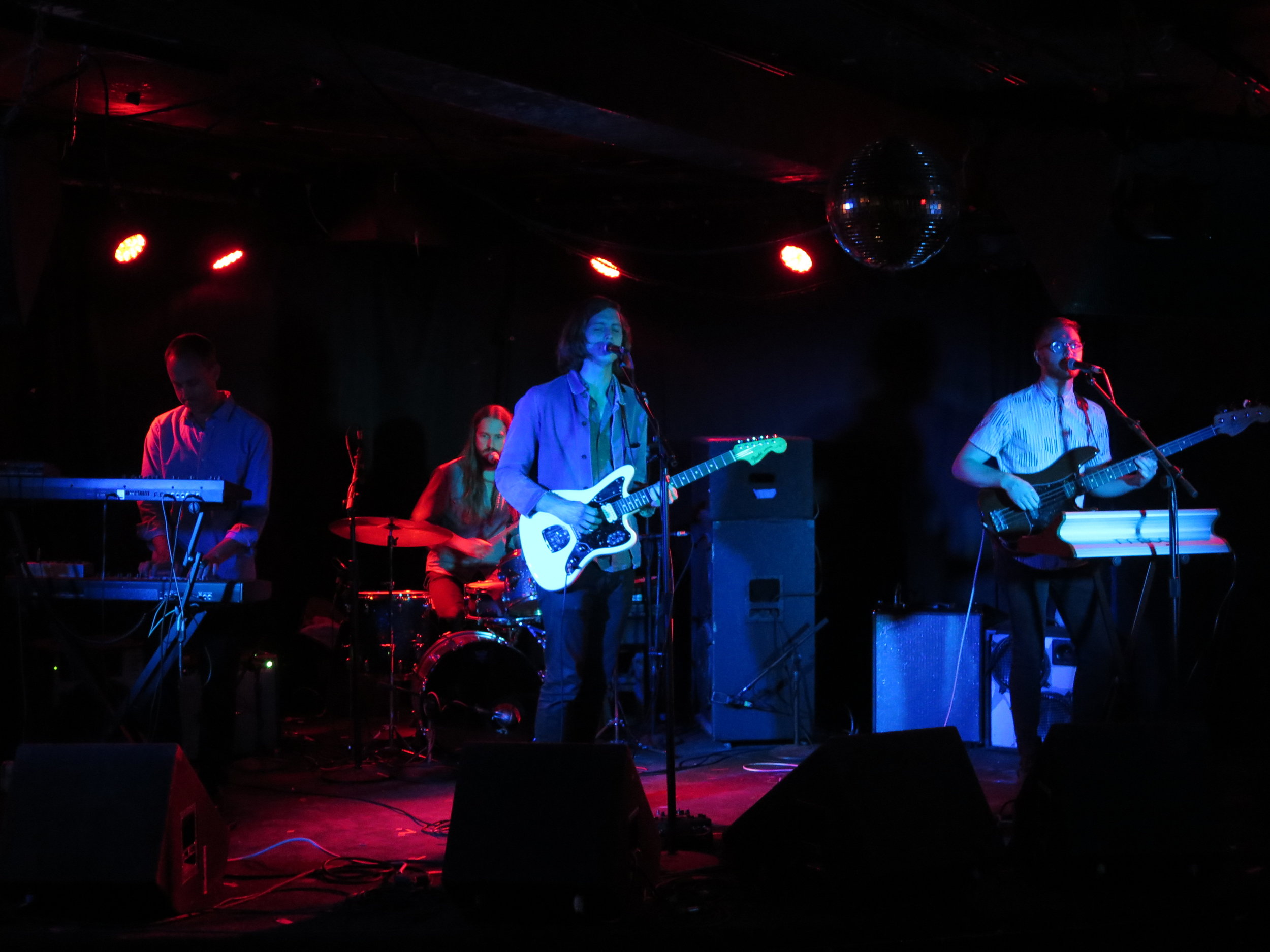 In tall buildings / caroline says / jessica risker
In Tall Buildings / all photos by KPL
 
...continued from the review above. My char dog was just a snack really. KPL and I went straight to Lockdown to share the slider plate with tots, naturally. There are a few TVs in Lockdown's small bar, all of them playing the same music video or concert footage of a heavy metal band. As we paid our tab, the crowd on TV was going wild. I looked up to see at least 100K people in a stadium already singing in unison "Nuh nah nah na nah nah, THUNDER!" No one was on stage yet. Then a long flow of blonde locks went bounding down the jetty to join the fans in chorus. I too was thunderstruck sitting at the bar between shows. The adoration was oozing from the television. I turned to our bartender to share my moment - "I just love when a band gets that much feedback from the audience." From Lockdown we walked across the street to show our appreciation for the third local gem of the night, Jessica Risker.

We entered The Bottle just as (it pains me to write this) Jessica Risker was clearing her stage. I was so excited to see her that I thought she was just setting up in classic Bottle form. It wasn't until KPL said, "Oh babe, I am so sorry. We missed her." that my eyes truly saw what was happening. She was wrapping up one of the paper strips that I recently learned she uses to play lullabies through a music box. We took a seat at the bar. I still have no idea what happened, how we missed the very set I most wanted to see that night. As I watched Jessica--the glowing being that she is--I discovered that she was quite pregnant. I dropped my head, and went to the bathroom to collect myself. Who knows when her next show will be.
I came back with room to spare this time. Tonight was a talent showcase of record label Western Vinyl. Caroline Says was the middle of three sets, and this was the last night of their tour. Thankfully music has a way of shaking me loose from a funk, and Caroline Says did that well. Caroline Sellee, together with Maud on bass, make a sound that works like Sanskrit; and when your body feels the vibration made from this sound, its response is natural. Maud hit some high notes on her bass, and my body responded with calm, stable bliss. We gravitated towards the other viewing angle of the stage--atop the stairs/risers--putting us slightly above stage-level.

We took our set break outside this time. We met Paul the guitarist from Caroline Says who was very, very nice. We also re-met two music lovers with whom we had separately crossed paths a few months ago. Now they were seeing a show together and we all got to meet each other again! (Hi friends!)
Erik Hall looked just like his picture, and, in this case, that was a good thing. Imagine a sophisticated Englishman who sings with a deep Beatles voice--soft but shaky at times--to match his denim jacket. He lead into "Wake Up" to draw in his listeners. Now, fully out of my funk, I realized this whole night was a grand Chicago experience. Hall paused to share with us the honor he felt in being part of the showcase following two great acts. The crowd stood in a typical halo, with plenty of space between them and the stage. I couldn't let that gap continue and hopped down the stairs to get closer. Best. Decision. Ever. My thoughts swirled around in the bubbly bath of self-crafted pop. My eyes followed the direction of the sound as it waved across the stage, smoothly sloshing back and forth, cresting over the instrument at each end before sliding back again.

In Tall Buildings is quite successful; previously playing venues such as The Vic, and supporting bands on tour such as Broken Social Scene. Hall's most recent album, Akinetic, (beautiful by the way) sported production and engineering from Brian Deck whose work can be found in Iron & Wine and Modest Mouse. Read back to JCB's interview with Erik Hall just after Akinetic was released.

Have you ever wanted to be transported to a jam show in the middle of an indie show? Well, it happened to me without consult that night, and I was not mad about it. I don't mean jam in the traditional genre, I mean when a band goes off note and lays into the music themselves. When they are exploring their own inspiration, which to me is the ultimate showcasing of musical ability. I felt welcome to join in their impromptu rhythms and move my hips, arms, shoulders… As I moved around, I noticed Paul, Maude and David from Caroline Says square-dancing along in their own interpretation.

Keep an eye on these five groups: NE-HI, Whitney, Jessica Risker, Caroline Says and In Tall Buildings. You will continue to see them rise.

-LPL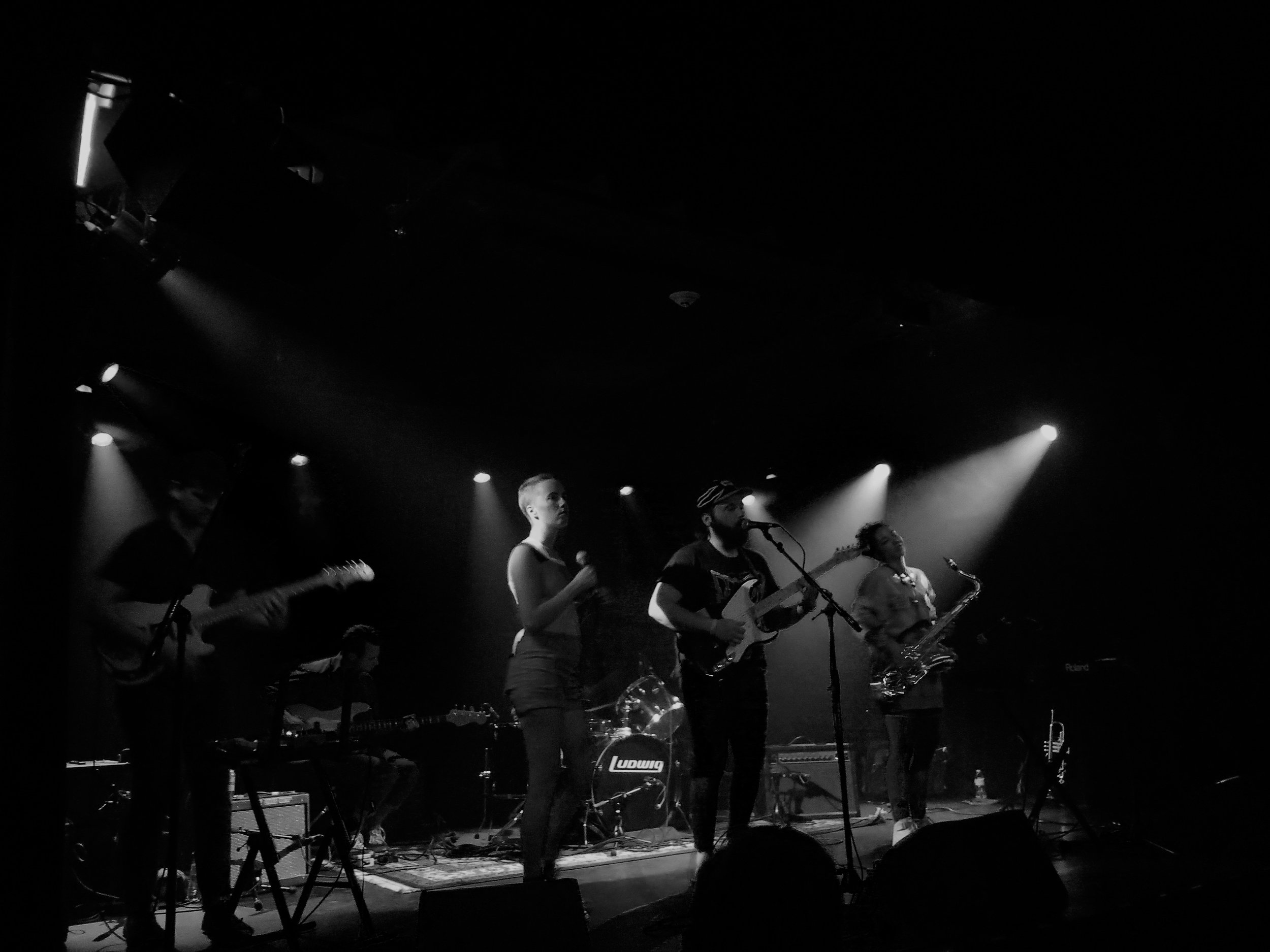 peach fuzz / the curls / strawberry jacuzzi
Sleeping Village
August 7th
The Curls / photo by KPL
 
Last Tuesday we ventured to Belmont and Ridgeway in Avondale for our first trip to new venue, Sleeping Village. The building looked like it used to be a VFW or maybe just an event hall. Its wide open floor plan in the main bar area, the 300 person venue in back, and large patio next door made it the perfect space to spend a late summer evening. LPL and I hit up Avondale Tap down the block for some grub (they have half price drafts on Tuesdays) and then made our way over a bit past the nine o'clock start time.

Clearly they were on a set schedule, 'cause Strawberry Jacuzzi was already rocking in the venue as we entered the building. Just like Schubas or Bottom Lounge, you can still frequent the bar and patio without seeing the show, but we journeyed quickly to the venue since we could make out the popy indie rock emanating from behind the doors. Having seen Strawberry Jacuzzi before, I knew their quirky lyrics and energetic performance would set the night off right.

The venue was dark! As was the lighting, which I do like as a spectator, but it doesn't bode well for photos. If it were packed in there, you might have trouble finding someone. The band was washed with side blues and warm backlight. Faces were difficult to make it in the harsh shadow lines. However, Strawberry Jacuzzi was kicking it onstage, with Ross Tasch jumping around with his bass while the more composed Shannon Candy and Nikita Word strummed their punk chord hearts out. With songs like "Astronaut, Girl" and "Love is for Suckers", they're just straight fun with a bit of feminism and thoughtfulness thrown in. If you want to check them out yourself, they are opening for Sad Baxter at The Empty Bottle on September 11th.
This was The Curls' final Chicago gig before hitting the road for a bit, and they brought it as usual. Jenny Marshall (keys/horns/vocals) and Mick Fansler (guitar/vocals) always have a great chemistry, and Anna Holmquist (vocals) marching and dancing to the beat while uttering her talk/sing vocals with the energy of a kid on a sugar rush is about as entertaining as musicians come. Their brand of off beat soul and funk with a healthy dose of the Clash and Talking Heads influence pleases the crowd everytime. Don't fret The Curls will be back. This is their home base.

To be honest, we got wrapped up in a conversation on the patio and only caught the last four songs of Peach Fuzz who were also headed out on tour. A bit rougher around the edges than the previous two acts, the five piece band (including Shannon Candy of Strawberry Jacuzzi) produced jaunty indie rock that reminded one of later Bikini Kill or early Sleater Kinney. We're looking forward to hitting up a full set when they are back in town.

All in all the first visit to Sleeping Village was a success. We highly suggest dollar beer night on Tuesdays, but there are plenty of other shows and events to see at Chicago's newest venue. Check out their calendar at: https://sleeping-village.com/. Based on their schedule we'll be there all the time.
-KPL
tirzah
devotion
domino
R&B can mean so much these days, and Tirzah Mastin is creating what could be described as bedroom R&B. It has everything bedroom pop should: Confessional lyrics; an off kilter, one of a kind sound; and a certain innocence The only difference being the more fine tuned experimental R&B elements instead of low-fi indie rock. It's a gentle record and attention must be paid or you might miss the details in Mica Levi's production--a highschool friend and prominent musician on her own as Micachu and composer for films--or Mastin's inflections on standout "Say When." She doesn't really show off her vocal talents till the later half of the album, leaving plenty of room for the spare lushness of Levi's production to wash you from one track to the next. This is up there with Rhye's album as the the best R&B release of the year.

-KPL
We think the only way we'll ever see her in Chicago is if Pitchfork gets her on the bill next year.
the beths
future me hates me
carpark
We've mentioned before that there is an indie rock renaissance going on the other side the Pacific. Australia and New Zealand are turning out some of the best indie bands at the moment. The Beths, out of Auckland, produce catchy indie rock with Elizabeth Stokes insightful lyrics front and center. Guitar rock drives their sound with building chord progressions and driving drums, but it is Stokes vocal vulnerability that grounds this collection of tunes. Without it they would have been lost in the indie crowd, but her ability to enter your emotional zone pushes them to the forefront. There are elements of surf rock here with doo-wop backing vocals and heavy influences from fellow Pacific dweller Courtney Barnett and indie acts like Speedy Ortiz. Haven't we talked you into it yet?

-KPL
No stateside tour yet, we're hoping for a winter visit. Fingers crossed
foxing
nearer my god
triple crown
Symphonic, sprawling and memorable this third full length from St. Louis' Foxing is a deep dive into indie, post-rock, and electronic that feels as full as any album to come out this year. Digging in after the departure of founding member and bassist Josh Coll left the band last year, it seems the now trio did some intense soul searching and what they produced is a skyscraper on top of the ashes of the old band. Full of intensity and lavish sound this record is getting short listed on my favorites of the summer if not the year.

-KPL
Foxing is hitting Lincoln Hall on September 30th, it starts at 7PM and tix are going for the low price of $15!
lola kirke
heart head west
downtown
Far from her quirky turn as Hayley Rutledge in Amazon's "Mozart in the Jungle", Lola Kirke's debut full length is wrapped in warm country vibes run through an indie sieve. She sure isn't her indecisive character here. This is a headstrong woman who knows what she has experienced and what she wants. Whether it's nods to fifties ballads in "Sexy Song" or classic country in "Turn Away Your Heart" her gorgeous, deep, lilting vocals flow like she's a natural at this singer/songwriter gig. She shows us her experimental side with title track "Heart Head West"; a poem track complete with vocal manipulations and an ethereal backing track that leads into highlight "Out Yonder." She's hitting the indie-americana genre at just the right time. We expect this album to pick up steam.

-KPL
She hit the Hideout last November, maybe she's got a tour planned to support this one. We sure hope so.
jake shears
jake shears
frieda jean
The Scissor Sisters frontman has put out a seventies pop-infused, self-titled debut that displays his virtuoso vocal chops but strays somewhat from the outlandish bawdy style of the Sisters. There is still plenty of pop fun in "Big Bushy Mustache" and "S.O.B." (sex on the brain), but we also get full on power ballads with "All For What" and "Palace In The Sky" giving Shears the chance to show off his emotional range. There are shades of all kinds of influences here from Queen to Bowie to Elton John to George Michael and more, but what Shears accomplishes is a blend of all of these ingredients into a rather great album from start to finish.
-KPL
A second view. Rare but welcome:
"Take Your Mama". "I Don't Feel Like Dancing". Scissor Sisters was a huge band for me in college (jeez, 2018 is shaping up to be my college throwback year). These two songs, among their many others, were played at every single party. They're still played at our annual lake trip for the core college group. SS made music that is impossible not to boogie to. And their live shows were always over-the-top theatrical, yet musically – expertly executed. A big part of that is Jake Shears' voice and flamboyant performances. I've seen them live many times; from dirty dives to posh theaters to Chicago's Berlin.

Post Scissor Sisters hiatus (let's call a break-up a break-up, guys), Jake Shears could have crashed and burned with a solo effort. It's a story long told in pop. He could have been Nate Ruess' disastrous solo album, or Gaga's Joanne. Instead, he moved to New Orleans and gathered some new influences. Sure, the 70s Elton and Bee Gees glossy rock is still front and center, but there's a grittiness to the backing tracks that was definitely missing from Scissor Sisters' catalogue. Naturally, the Preservation Hall Jazz Band cameos on a track, and there are plenty of horns throughout the cheerful and brisk 45 minute runtime.

There are also a few nods to the disco-fueled dance music he helped redefine in the early aughts, and he's still damn impressive at making us shake our hips to downtrodden lyrics. "Sad Song Backwards" makes you proud of that time you went home with a complete stranger to get over an ex, and "Sad Song Backwards" uses some country twang to toe tap along to Jake overdosing on Prozac. As he says himself in the bookend track, he's a "necromancer with perfect glowing skin." And it's so great to hear him remind us that when the going gets tough, just dance it all away

Only 12 minutes to spar? Check out these 3 tracks.
Big Bushy Mustache
Sad Song Backwards
S.O.B.
-JCB

Postscript: If we're bringing back my college heroes, I'm eagerly awaiting Zero 7's comeback.
He's coming to the Metro on November 7th. Tix go on sale this Friday and will run you $25.
WHAT WE'RE JAMMING TO THIS WEEK
cursive
life savings
Chiding lyrics with a crazy symphonic rock backdrop. Yeah that's Cursive. A hero of our early indie fandom returns. We needed this right now.
Cursive is finally back on tour and they are hitting Thalia on November 15th!
moses sumney
black in deep red, 2014 EP
Wow, last week Sumney released "Rank & File," a protest song for the new generation; and this week he gives us context, with two new songs, "Power?" and "Call-to-Arms," which delve a bit deeper into the powerful feelings expressed in all these tracks.
He just was at Pitchfork so we don't expect him back anytime soon.
mitski
two slow dancers
This indie darlings third single off forthcoming Be The Cowboy, due out this Friday! We don't know about you but we are looking forward to it.
She is dropping by The Vic on Saturday Oct 25th. It'll most likely sell out soon so scoop those tix up!
Cat Power
Woman (feat. Lana del rey)
Chan Marshall (Cat Power) is back! See below, but this is my college throwback year and this is completely fitting. It's been 6 years since Cat Power graced us with that soulful voices that effortlessly bounces from folk-rock to electronic to pop and back. She enlisted Lana Del Ray for the second single from forthcoming Wanderer, who is, let's face it, this generation's Cat Power.
We're jacked for this album, and for her upcoming slot at Riot Fest
Altopalo
mono
Minimalistic James Blake, with skittery beats, spacious atmosphere, and hushed R&B vocals. Listen to the whole track. Don't give up. Soak it in, and hit repeat.
We can't find any shows except an upcoming one in Brooklyn. Come here Altopalo!
saintseneca
beast in the garden / ladder to the sun
"Beast in the Garden" is, ostensibly, about Adam & Eve. The thought experiment of how good of an idea it was to leave the garden is interesting enough, and I'd say pushing for more in life is what we all should do. All that said, the only thing I thought while listening to this song the first through was, "is that a fucking Zither-led rock song?" "Ladder to the Sun" actually came out a while ago, but it's a B-side for the former and still pretty damn catchy. So while you're contemplating your existence and life decision, keep listening and this peppy jam will make sure you feel ok.
They are hitting Lincoln Hall on Friday Oct 12th.
Other notable jams from this week
Mountain Man - Window / Rang Tang Ring Toon / Stella

Twenty One Pilots - Jumpsuit / Levitate / Nico And The Niners

Tauk - CMF 9000

Sia, Diplo, Labrinth - Thunderclouds

Say Sue Me - Just Joking Around

King Tuff , Tune-Yards remix - Psycho Star
THIS WEEK'S RECOMMENDED NEW RELEASES
Kathryn Joseph / From When I Wake the Want is / Rock Action
She released her first album at the age of 40 and garnered critical acclaim and a Scottish best album award. This sophomore effort finds her experimenting with the form of her tunes. There is still a piano forward sound but it's darker and sleeker than before.
We're really hoping she makes it over here this winter.
Tomberlin / At Weddings / Saddle Creek
A mellow journey through the life of this young singer/songwriter. At Weddings was written through her late teens and early twenties while living with her family in Southern Illinois. It is a gorgeous piece of work, but make sure you have a tissue or two handy.
She hasn't announced a tour in support of this one but we sure hope she makes it here when she does hit the road.
Black Grapefruit / All My Relations / Black Grapefruit
A complex collection of tunes from the former SOS duo Randa Smith and Brian Dekker. They recorded it in upstate New York which allowed them to expand and experiment with their sound and the result is grand yet intricate.
Sadly we can't find any tour dates at the moment
Odetta Hartman / Old Rock Hounds Never Die / Northern Spy
Old Country elements blend with indie rock and americana in this sprawling sophomore release from this big city girl turned inward explorer.
She is opening for Let's Eat Grandma at The Empty Bottle on September 6th. That's turned into a killer show!
The War and Treaty / Healing Tide / Strong World , Thirty Tigers
Soul, blues, and gospel all blend to make War and Treaty's Healing Tide into an epic journey through this husband and wife's life. It's music with so much soul you'll just have to dance and cry at the same time.
They stopped by The Lagunitas Tap Room in June and we slept on it. Hopefully they make it back soon
The Magpie Salute / High Water I / Eagle Rock
Do you like The Black Crowes? If so, this band is for you. If not… do you like Southern country rock? If yes to that, this band for you… and also - The Black Crowes probably was, too
They're opening for Gov't Mule and Avett Brothers in Tinley Park on Aug 25th. Tickets here
MORE NOTABLE RELEASES
Robbie Fulks , Linda Gail Lewis / Wild! Wild! Wild! / Bloodshot
Classic honky tonk sounds from these two legends of the genre. Fulks has been a staple of the Chicago honky tonk scene for decades and Lewis is the sister of legend Jerry Lee and has been an accomplished singer on her own since '69. If you love the genre as much as we do, this one is for you.
They are hitting up Fitzgerald's in Berwyn on October 19th.
Koran Streets / Late 20's / You.Know.I.Got.It , Steady Leanin
A solid effort from the Berkeley rapper who spits truths instead of brags.
Sadly, we couldn't find any tour date
Cordovas / That Santa Fe Channel / ATO
This sophomore effort from the Nashville, TN based roots rock outfit comes with plenty of steel guitar country flavor wrapped in outlaw lifestyle content.
They are hitting the area several times before Summer is up. They are playing tonight Thursday, Aug. 16th at The Haymarket Americana Concert Series at 737 W Randolph St at 7PM and they are coming back to Fitzgerald's on September 7th and they are playing a street fest in Oak Park on September 14th.
Gorgon City / Escape / Virgin, EMI , Universal
The English producer duo is at it again with a new collection of house that rivals their debut but never quite reached the climax we would have liked.
They are coming back to Chicago on November 8th at The Riv. Tix are on sale now for $31 - $41.
Liz Cooper & the Stampede / Window Flowers / Sleepyhead , Thirty Tigers
The first full length from this Nashville trio who have been steadily releasing tracks for years without an LP. Dark and flowing, it is a gorgeous indie Americana sound. Don't believe us? Put it on now, we dare ya.
They are opening for Phosphorescent on November 30th at The Vic.
DROELOE / The Choices We Face / bitbird
This Netherlands based producer duo has hit it big with this collection of seven tracks that is some of the best electronic we have heard all year.
First Ward Chop Shop will be hosting them on September 22nd and tix are going for $15.
Shooter Jennings / Shooter / Elektra
The only son of outlaw country legend Waylon Jennings and Jessi Colter returns with a self titled joy of a record. Running through all the gamuts of country with his inspired songwriting skills.
He's coming to Beat Kitchen on October 12th. We hope to check it out for sure.
NOTES & ANNOUNCEMENTS
The end of summer is coming so you should make it out to Glenwood Ave. Arts Fest or Pilsen Fest this weekend before the fall arrives and drives us all back inside!

Also plenty of things to see this week! Check out our recommended shows below!
****
Thursday August 16th
The Sea and Cake / Moonrise Nation
Pritzker Pavilion 6:30PM FREE
Grandkids / Har-di-Har / Floatie
The Hideout 9PM $10
 
Friday August 17th
Glenwood Ave. Arts Fest
(see our Summer Fest Guide for more info)
"Punk Band" Film Screening / Voice of Addiction / Blood People / Blind Adam and The Federal League / Vortis
Beat Kitchen 7PM $8
Many Rooms / Angelo De Augustine / Gia Margaret
Schubas 7PM $15
Lunar Ticks / Rotten Mouth / Bronson Rock
Sub T 8PM $8
Joan Of Arc / Jenny Pulse / Orphan Schlitz
Sleeping Village 9PM $12 - $15 doors
 
Saturday August 18th
Glenwood Ave. Arts Fest
(see our Summer Fest Guide for more info)
Pilsen Fest
(see our Summer Fest Guide for more info)
Split Lip Rayfield /WT Newton/ Gary Moore II
Beat Kitchen 8PM $14
The Big North Festival
Post Animal / Dehd / Divino Nino
Half Acre Beer Company 4PM $70
Meat Wave / Sweet Cobra / Sarah Squirm
Empty Bottle 8:30PM doors $8 - $10 doors
The Chamanas / Balun
Sub T 9PM $15 - $40
Case / Billy Lemos
Schubas 8PM $10 - $15 doors
Tasha
Hungry Brain 9PM $10
Beach House / Papercuts
Chicago Theatre 7:30PM $35 and up
Sunday August 19th
Glenwood Ave. Arts Fest
(see our Summer Fest Guide for more info)
Pilsen Fest
(see our Summer Fest Guide for more info)

Monday August 20th
Montrose Man / Masonic Wave / These Beasts
The Empty Bottle 8:30PM doors FREE
 
Tuesday August 21st
Efrim Manuel Menuck (of Godspeed You! Black Emperor) / Daniel Wyche Quartet / TALsounds
Empty Bottle 8:30PM doors $12
Amen Dunes / Okay Kaya
Lincoln Hall 8PM $15
Pylons / Bernie & The Wolf / Elephants / Lettering
Burlington 8PM

Wednesday August 22nd
Fingerbangles / Claire and the Bears / Chuck & Sara
Martyrs 8PM $10
See you at the show Chicago!
Been inspired by a recent musical experience? Excited about an upcoming show? shoot us an email to GET STARTED.
Being a contributor has never been easier. All you have to do is enjoy music, have a good time and tell others about it. We are a community sourced web mag, that means our experts are music lovers in your community. Yes, you are an expert music lover. (We know because you are reading this site) Our goal here is to encourage people to see live music, and have a good time doing it. Get clever with how you would like to contribute, but here are some ideas:
See a show and write about what made it great for you (and snap a couple pics)
Tell people about CCS
Listen to a new album and write a review
Share the weekly issue post
Buy us a ticket to see a show - we will try to cover the show if you can't go!
Post to our social media sites about news in the local music scene
Help us make a connection to acquire:

Press passes
Photo passes
Promo materials (flyers, buttons, stickers, gear…)
With any written contribution, we request email submissions by the following Wednesday morning (ex. If you see a Friday show, submit 4 days later; ex. Listen to a new album on Tuesday, submit the next day). Please let us know that you want to contribute so we can get you into that week's issue. You can totally submit a review later than Wednesday, and we may include it. Not to put the pressure on, but we are a weekly mag so we like to keep content current.
-LPL
P.S. If you want a little extra confidence, we really do want to hear from you and expand our community. I am not a trained writer, and personally think my reviews need a good deal of improvement. I keep writing to get better, and people are still reading it!