Editor's Note
Welcome to issue #22 of Chicago Crowd Surfer! Did any of you make it Lolla this weekend? We sure didn't because we had two killer aftershows to attend and wanted all our energy for Parquet Courts and Tank and the Bangas on consecutive evenings at good ol' Thalia Hall. This week Chicago's own Gia Margaret put out her debut LP and some great singles dropped from Phosphorescent, Moses Sumney and Big Thief's Adrianne Lenker. Next week we'll be featuring a marathon of Chicago music this Sunday, with NE-HI and Whitney at Pritzker and In Tall Buildings and Jessica Risker at Empty Bottle.
Seeing live music gives us joy, and it is our mission, in these trying times, to spread some of that joy to you. We don't just want to spread it, we want to share it; which is why we are a crowd-sourced publication. We want you to join us: to write about, and share pictures of, the shows you attend, the new albums you love, the bands you adore, and any other thing that has to do with seeing, performing, or experiencing music in Chicago. Please send any submissions to chicago.crowd.surfer@gmail.com. We are now up to eleven contributors and are always looking for more! We may not publish everything we get, and we reserve the right to edit, but will always try and seek the submitters' approval. Our mission is to be a positive publication, so if you have negative things to say - please look for another forum in which to express that opinion. We aim to wade through the bullshit of this modern life to find what good is left. See you at the show Chicago.
Keep Seeing Live Music!
KPL & JB
parquet courts / dream wife
Parquet Courts / all photos by KPL
 
Over the years, the appeal of Lollapalooza has diminished. The festival just got too big for its own good. The park is very large, and in order to catch a band on the opposite end involves ten minutes of fast paced walking multiple times a day. I've attended the festival for eight years in a row, but after a few years of only attending on Sunday to see great headliners such as Outkast and Arcade Fire it was time to finally lay Lolla to bed and not attend at all. No offense to those that did make to Grant Park over the weekend as thousands of people had a great time there, but we just had no interest this time around. However, we couldn't let the weekend go by without seeing some of our favorite acts that rolled through town to play an aftershow. So it was off to Thalia Hall on Thursday to check out English act Dream Wife and one of the best bands to emerge from the crowded Brooklyn indie scene, Parquet Courts.

Since we arrived a bit early (doors didn't open till 10, this was an aftershow in the true sense) a beer or two at The Green Room Tap was in order before we ventured across the street and up the stairs to the roomy venue at 18th and Allport. In my experience, most after shows are not attended by too many actual festival goers. (Especially Lolla after shows.) But, even with few in the crowd sporting the signature cloth wristband that marked the Lolla-goer, not that many people had shown up early.
After grabbing a beer, DB (who is an equally avid Parquet Courts fan) and I took a spot about twenty feet back, and prepared for the onslaught that was to come. Dream Wife drifted on one by one. Bassist Bella Podpadec fiddled with her tuning as Alice Go played a few chords to test out her guitar. Next, their drummer Alex Paveley strolled on; his blond fro bouncing a bit as he walked. A look was shared between them before launching into the first track as singer Rakel Mjöll bounded onstage in a bright red flowy sleeve tube top and matching bondage pants. She grabbed the mic, and started into her sing-songy spoken lyrics that immediately had me hooked. Mjöll's energy was infectious, and she bounced around the stage like a huntress looking for that moment where the band's momentum reached its peak. She only stopped a couple times to throw a foot up on a monitor and howl; flashing a smile and a wink as she turned back to the band and continued her path.

A few songs in, Go and Paveley really started to steal the show with their musical skills, riding both under and over the top of Mjöll's lyrics at the same time. It's hard to explain--maybe you just have to experience it yourself--but as Go soloed right before they launched into their last tune "Somebody" it became clear that, even though Mjöll seemed to be the star of this show, it was really the two guitarists that made this thing great. Speaking of "Somebody", it is a tune directly from the headlines with a chorus of "I am not my body, I am somebody." It's a message that every concert goer--every person--should take to heart.

Unfortunately, Dream Wife only got a thirty minute set which ended far too early. At least they are coming back to Chicago on October 1st for an intimate show at Schubas. We already have our tickets. This one is going to sell out, so score yours right now!

Right at midnight, as DB and I and the rest of the sold out crowd clambered as close to the stage as possible, the quartet out of Brooklyn by way of Texas launched into "Total Football" (the opening track of the new stellar album Wide Awake!) and we all went nuts. It seemed the entire floor of Thalia turned into a pit for the whole song. All of us peaking on the anticipation of the evening. They went right into "Dust", and the crowd quieted down a bit but none of us stopped dancing as the band complained about the simple household chore of sweeping.
 
There is something to be said about the seeming chaos that exists at the heart of Parquet Courts's music. It digs into the fabric of who we are as a generation, and how we experience the world. The simple chord progressions that drive the tunes are backed by a persistent driving beat. Sean Yeaton (bass) and Max Savage (drums) provide a pounding rhythm to which A. Savage and Austin Brown produce their off kilter melodies and poetic, lyrical symbolism that makes the music so provocative and appealing to fans of many genres.

Over the course of the set, they continued to treat us by including a cover of the Ramones's "Today Your Love, Tomorrow the World" and most of the new album in addition to delving a bit deep into their catalog as well with oldies "Master Of My Craft" and final tune " Light Up Gold II." They have never done an encore any of the seven times I've seen them, and this night was no different. As the final chords rent the air, they said goodbye. DB and I hung around for a bit to finish our last beer, stunned into silence by the perfection we had just witnessed.

If you want to take them in yourself they are set to play December 2nd at The Vic. Be there and be "Wide Awake!"
-KPL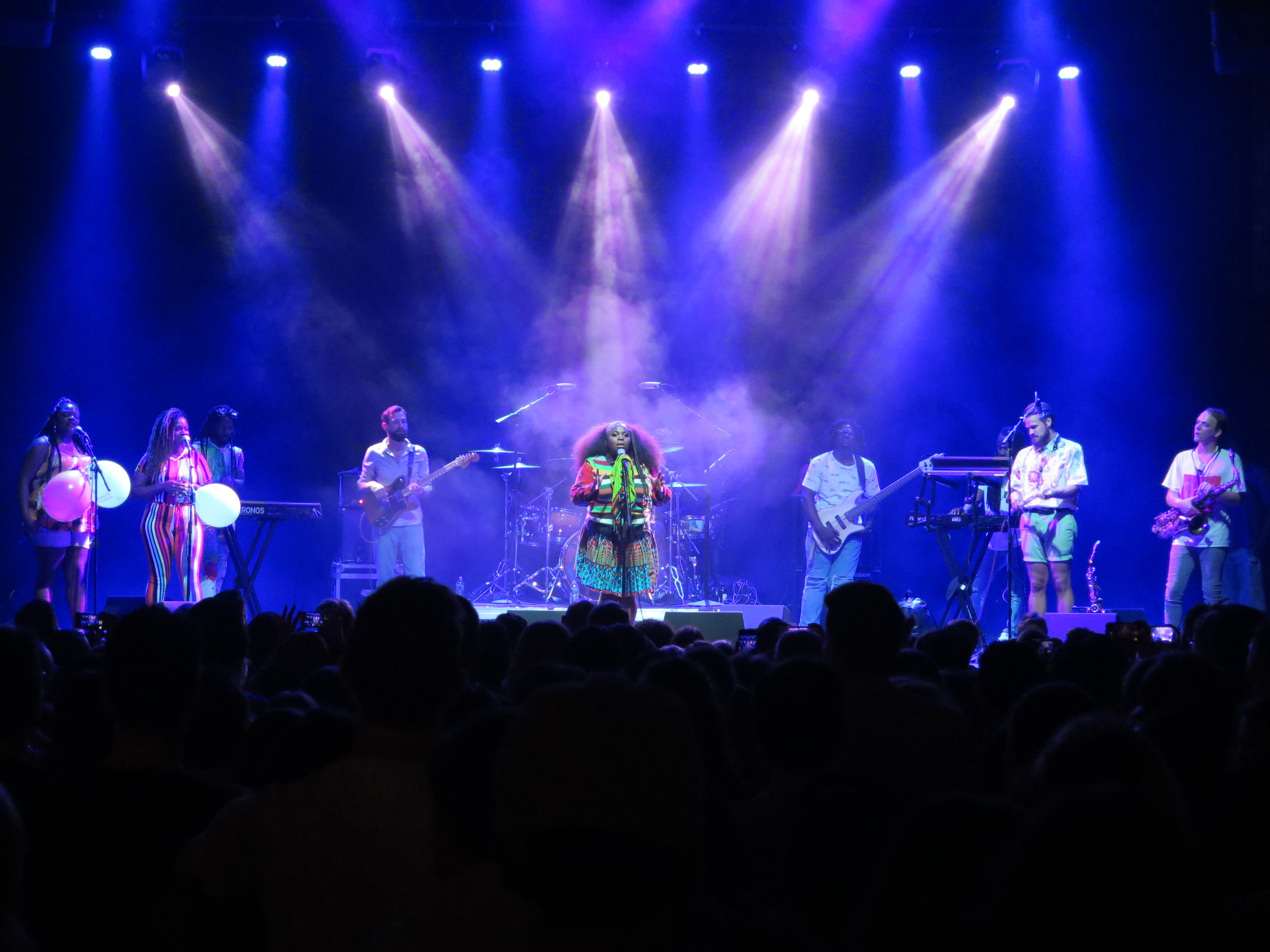 Tank and the bangas / durand jones & The indications
Tank and The Bangas / all photos by KPL
 
A good meal at Simone's (960 W. 18th St.) can set the evening off right."Heavily nursed with a few English Browns, my hangover from the night before; LPL; and our friend, SV in tow took in the scene at Punch House (in the basement of Thalia) before the show. The ambient glow from the massive fish tank, and the hip diners lining the wood paneled booths were the perfect accompaniment to the soul and funk we were about to take in upstairs.

We took our seats on the side of the balcony closest to the stage right before Durand Jones and his band, The Indications, took the stage around 11. They burst onto the neo-soul scene this year with their fabulous self titled debut, and I for one was more excited for them than Tank (who I've seen before, and was still looking forward to.)
The cool grooves started as Jones strolled over to the mic with whiskey in hand. His powerful vocals took center stage immediately, and got all of us swaying in our seats, or on our feet. Right away he had us all hooked, and the next half hour flew by. Drummer, Aaron Frazer, surprised us with his perfect falsetto for "Is It Any Wonder?" (A tune that I was sure was a cover given it's perfect sixties vibe, but it turns out it's an original.) Jones was phenomenal as well. His dulcet tones elicited screams as he would occasionally take it to the top and howl with arms extended. He even did a James Brown style knee drop during a particularly emotional tune. The set ended with the righteous "Make a Change" which points to the economic disparity that all of us see every day, and the need to fix it before it's too late. They had us all grooving and thinking at the same time. My hat goes off to Jones and his band for taking on such a difficult subject, and for their uncompromising success at making the perfect tune. They took a well deserved group bow before leaving the stage. If you are into road trips they are playing The Castle Theatre in Bloomington, IL on September 12th!
The anticipation was high as the quick changeover was ending. We could see the band had gathered stage left to take a selfie together before all eight of them ran onstage. But one was missing. As they began the first tune, their uncomparable front woman sauntered on in her colorful ensemble with her signature handkerchief draped from one hand. As she grabbed the mic the band exploded, and their funkified, soul-filled, rocking set commenced. We had balcony tickets, but it was clear that the ladies were going to dance tonight. So, as the set reached a peak, they journeyed downstairs. I hung back having spent too much energy the night before.

This set was a crazy journey through American music with all the modern twists the Bangas could provide. On stage left, saxophonist and flutist Albert Allenback was the band's cheerleader rocking as hard as the audience did. And stage right, Anjelika "Jelly" Joseph and Kayla Buggage held down the sound with their backing vocals, the perfect accompaniment to Tarriona "Tank" Ball's infectious energy and booming vocals. In the middle, the Johnson brothers held down the groove in the rhythm section with Joshua on drums, Jonathan on bass, and Joe on keys. Together with the other members they create the most unique sound in music today by blending all the noises of their native New Orleans into a one of a kind musical experience.

Their cover of "Caroline" brought the house down. They even got me dancing in the back towards the end of their hour and half set when they launched into new single "Smoke.Netflix.Chill." If you want to get a bit of the experience check out their live album The Big Bang Theory: Live at Gasa Gasa. As I caught up with the girls after the set they were all about Allenback and Tank, praising their energy and connection with the audience. There is only one Tank and The Bangas and we hope they visit again soon!
-KPL
Chloe moriondo
rabbit hearted
chlore moriondo
Rising to popularity though her uke YouTube covers Chloe Moriondo has now produced a debut album that is as sweet as it is haunting. This fifteen year old songwriter may have a simple style but it's effective at capturing the harrowing experience teen life can be. As in "Silly Girl" where she sings "I'm just a silly girl / in the stupid dumb old world / and he is perfect / unlike me." Heartbreaking as it is honest. Her soft intonations and simple uke strumming (with the occasional claps or background sound) accompany what is a very promising start to a career as a songwriter.

- KPL
She is currently not on tour. She's 15! Maybe in a few years folks.
Houndmouth
golden age
reprise
"You know I never forget . . ." is the opening lyric to Indiana-based Houndmouth's third album, and their first effort into synth pop. Their first album since the departure of keyboardist Katie Toupin; the Americana style they developed is nearly all stripped away, and what falls into its place is a straight forward danceable pop that is grounded in their midwestern roots. While most synth pop out of the coasts deal in sprawling sounds and metaphorical lyrics, the tight rhythms and straight ahead subject matters feel as if they restrained themselves on purpose in an effort to stand out in the crowded genre. Elements of their Americana sound creeps back in at points with the guitar part on "Waiting for the Night" or the acoustic piano in "Black Jaguar", but, over all, the pop takes over and drives the Golden Age ship.
-KPL
They just hit the Metro last weekend, but we wouldn't be surprised to see them again in late Winter.
michael nau
michael nau & the mighty thread
relearn to boogie , light in the attic
The Baltimore indie rocker, Michael Nau, is one of those journeymen of the scene that began recording under his own name in '16 after stints fronting for Cotton Jones and Page France. Here his lilting baritone rides over the top of jangly, tonal rock on these eleven solid tunes. The only drawback is how little variation the album contains. One track flows into the next, continuing the subtle mood he develops early on. However, it all works so well there really isn't anything to complain about. From the acoustic seventies feel of "Can't Take One" to the country tinged opener "Less Than Positive" he holds the listener in rapt attention; nodding along with the beat the whole way through.

-KPL
He's bringing his chops to Schuba's on November 9th.
gia margaret
there's always glimmer
orindal
The Chicago-based singer/songwriter, Gia Margaret's, debut LP is astonishing in its sincerity and perceptiveness. Simple folk melodies with some electronic elements float under her beautiful vocals, which contain the perfect amount of compassion and vulnerability. She terms her music "sleep rock." A dead on way to describe her sound. Not to say it lulls you to sleep, far from it; but it does have a lullaby vibe that induces introspection more than languid effects.

She gave a recent interview where she claimed to view songs as weapons thrown out into the world, and discussed her fear that she could hurt others with her lyrics drawn from real life. The term confessional is thrown around all the time when describing indie rock, but it fits Margaret's tunes more than most. Whether it's the broken relationship of opener "Groceries", or the woman at the heart of "Sugar" she peoples these songs with realistic fleshed out individuals and subjects. It's not something every artist can do, especially with their debut.
-KPL
 
She just had her record release party at the Hideout in late July, and then hit the road. Hopefully she plays a homecoming show when she returns.
Garcia Peoples
Cosmic Cash
Beyond Beyond is Beyond
I'm not supposed to be reviewing this album as I'm decidedly not the psych-jam fan on this site, but I guess sometimes the right record comes along. I don't even think I can say they've done something groundbreaking with the genre. New Jersey's Garcia Peoples have released an album for fans of The Grateful Dead, The Allman Brothers, Phish, and more. That isn't to say that this is just a covers album though. These guys have a true love for 60s/70s jam music, and they filter that through modern pop hook machines and with higher production than the bands they emulate did. My guess is dropping the names above got the people that would be interested… interested.

Only 11 minutes to spar? Check out these 3 tracks.
Hangin' On
Show Your Troubles Out
The Sweet Lie
-JCB

Postscript: I think it was the boogie rock that got me here. If you can do some Little Feat sounds, I might even go see you live.
It's not clear if they have tour dates any time soon, anywhere. When it becomes clear, we'll let ya know!
WHAT WE'RE JAMMING TO THIS WEEK
moses sumney
rank & file
A compelling tribal rhythm based track that shows off some of the sounds he was using at his Pitchfork set. It seems a treatise to the rejection of falling in line with the distractions our world now contains.
He just played Pitchfork but we are hoping he returns this Winter!
phosphorescent
new birth in england
Matthew Houck is known for producing sprawling epics of country styled psych rock but he seems to have found a happy place with this new rolling track, the first single off forthcoming C'est La Vie, due out October 5th.
He's bringing his show to The Vic on November 30th. Tix are only $25!
windhand
grey garden
Black Sabbath with a more delicate voice. The first single from Virginia doom metal band, Windhand, has the trudging riffs you expect, but with Dorthia Cottrell's lyrics more up front than in previous efforts.
They are visiting the Sub T on November 7th. Tix are going for $15.
aphex twin
t69 collapse
Oh, sure. I reference Richard D. James last week, and this week he comes out with a new song. Guess we know of at least one famous Chicago Crowd Surfer fan. For the first two minutes, RDJ (who is Aphex Twin, by the way) gives us very traditional drill 'n' bass. It's great, and my spreadsheets were loving it. Then after 2 minutes, the world crashes and burns with kick drums slamming to and fro before calming down for a nice ending phase of acid techno. It's Aphex Twin. It's inviting and distant in the same track, just like its always been.
He's not hitting the States anytime soon. Boo. One of the best electronic acts we've ever seen.
adrianne lenker
cradle
Big Thief's leader comes at 2018 with an ethereal answer to her band's 2017 indie rock smash success. It sounds a heck of a lot like Joanna Newsom, with lullaby vocals and delicately finger picked strings. Lenker's lyrics match the atmospheric sound, with ambiguous symbolism floating throughout. Tracking behind her actual words are reverbed vocals without any discernible words. The whole thing is about mood, rather than the distinct stories told on her band's record Capacity last year.
Currently touring with Big Thief, it doesn't seem Lenker is going to do a solo tour soon
THIS WEEK'S RECOMMENDED NEW RELEASES
lucero / among the ghosts / liberty & lament
The twelfth studio album from the Memphis based Alt Country stalwarts finds them still at the top of their game. Twenty years since their inception they are rocking away as they recorded this one live in studio.
They are coming to The Metro on September 28th. It'll run you $26 ($30 the day of)
Amanda Shires / To The Sunset / Silver Knife , Thirty Tigers
The other half of country rocks Jason Isbell (the couple married in '13) Shires fourth solo album is by far her most epic. While country comes into these tunes in shades it is purely a pop record and the best of her solo career.
She is coming to Thalia Hall on September 20th. Tix are on sale and vary from $30 - $85.
Helena Hauff / Qualm / Ninja Tune
Breaking the gender barrier in electronic music is no easy feat but this German DJ and producer is trying her best. Recorded with all analog equipment this impressive third studio effort is hypnotic in all the right ways.
She just played smartbar in May so we doubt she'll be back anytime soon.
Spider Bags / Someday Everything Will Be Fine / Merge
These workhorses have been churning out indie guitar rock since '07. Age seems to have softened some of their sharper edges; but this is still a solid effort with plenty to bite into.
They are not hitting here on their current tour but we hope that changes soon!
Mac Miller / Swimming / Warner Bros.
By far the Pittsburgh based MC's most mature effort to date. If you haven't checked this one out yet, you should. Some real personal moments here.
He's hitting the Aragon on December 3rd for $44.
MORE NOTABLE RELEASES
Jim Lauderdale / Time Flies / Sky Crunch , Yep Roc
Americana is filled with legends of the genre, and Jim Lauderdale falls squarely in that category. His 28th album finds him at his country rock best.
The Hideout just hosted him in June and we missed it. Hope he comes back soon.
YG / STAY DANGEROUS / Def Jam , UMG
The Compton MC's third effort has features by everyone it seems: 2 Chainz, ASAP Rocky, Ty Dolla Sign, Quavo, Mozzy, Jay 305, Big Sean, YoungBoy Never Broke Again and Nicki Minaj all take turns sharing the mic and with production mainly by DJ Mustard you know the beats are prime.
The MC is not coming back to Chicago anytime soon.
Dorian Concept / The Nature of Imitation / Brainfeeder
Austrian producer and composer Oliver Thomas Johnson (aka Dorian Concept) has been churning out tracks at a steady pace since '04. His third proper album is a gorgeous collection of brainy electronica that we found irresistible.
He hasn't hit the states in years and that doesn't look like it's changing anytime soon.
Travis Scott / ASTROWORLD / Epic , Sony
Houston's hometown hero, and Kardashian by way of Kylie Jenner, puts out his most complicated effort to date. It's not groundbreaking but it's a solid hip-hop record in a year when those have been few and far between.
Scott just hit Lolla last weekend so we don't expect him back till the Spring.
Gabe Gurnsey / Physical / Phantasy Sound
Creating drum and bass pop tracks with a distinct late 80's influence Gabe Gurnsey gifts us this fun debut that gets way dark at times. Put it on, sit back and be transported.
He is opening for NIN and Jesus and Mary Chain on October 25th at Aragon. This show is Sold Out but there are plenty of tix available on the third party market.
James / Living in Extraordinary Times / BMG
These 80's and 90's rockers are still churning out solid Manchester rock four decades in. This may be their most experimental album to date.
It doesn't seem they are getting Stateside during this tour.
NOTES & ANNOUNCEMENTS
We checked out Sleeping Village last night and are happy to report that we have a legit new venue in town. A good system, dark lighting, cheap and expensive beer and Malort at $3 a shot. Check out their $5 cover $1 Hamm's nights on Tuesdays. We saw Strawberry Jacuzzi, The Curls and Peach Fuzz (review coming next week) and hung on the spacious patio. Check it out before it gets discovered by the masses.

Yeah we know. We don't like it either, but the calendar will be coming in the fall. For now, as always here is our suggested shows this week.
****
Thursday August 9th
Shy Boys / J Fernandez / The ABC's
Schubas 9PM $12
 
Friday August 10th
Tacocat / GYMSHORTS / Bleach Party
Empty Bottle 9PM doors $12
 
Saturday August 11th
Market Days
(see our Summer Fest Guide for more info)
My House Music Fest
(see our Summer Fest Guide for more info)
Sincere Engineer / Arms Aloft / Guerilla Poubelle / Tonia Bug
Beat Kitchen 8:30PM $10
¡ESSO! Afrojam Funkbeat (Vinyl Release) / Sandra Antongiorgi / Beats y Batería
Martyrs 9PM $10 - $13 door
Sunday August 12th
Market Days
(see our Summer Fest Guide for more info)
My House Music Fest
(see our Summer Fest Guide for more info)
The Lawrence Peters Outfit / W.T. Newton
Empty Bottle 12PM FREE
Whitney / NE-HI
Pritzker Pavilion 6:30PM FREE
In Tall Buildings / Caroline Says / Jessica Risker
Empty Bottle 8:30PM doors $8
Beach Bunny (EP release) / Mt. Pocono / Lettering / Girl K
Sub T 8PM $10
 
Monday August 13th
A Giant Dog / Hitter / Bev Rage & The Drinks
Empty Bottle 8:30PM doors $5
Willy Tea Taylor / The Harmed Brothers / Tom Vandenavond
Reggies 7PM $8 - $10 doors
Tuesday August 14th
Avantist / No Men / Pussy Foot
Sleeping Village 9PM $5 cover
Wednesday August 15th
King Buffalo / Wizzo / Dust Bath / Bryce Cashman / Burned Or Buried
Reggies 8PM doors $12 - $15 doors
See you at the show Chicago!
Been inspired by a recent musical experience? Excited about an upcoming show? shoot us an email to GET STARTED.
Being a contributor has never been easier. All you have to do is enjoy music, have a good time and tell others about it. We are a community sourced web mag, that means our experts are music lovers in your community. Yes, you are an expert music lover. (We know because you are reading this site) Our goal here is to encourage people to see live music, and have a good time doing it. Get clever with how you would like to contribute, but here are some ideas:
See a show and write about what made it great for you (and snap a couple pics)
Tell people about CCS
Listen to a new album and write a review
Share the weekly issue post
Buy us a ticket to see a show - we will try to cover the show if you can't go!
Post to our social media sites about news in the local music scene
Help us make a connection to acquire:

Press passes
Photo passes
Promo materials (buttons, stickers, gear, flyers…)
With any contribution, we request email submissions by the following Wednesday morning (ex. If you see a Friday show, submit 4 days later; ex. Listen to a new album on Tuesday, submit the next day). Please let us know that you want to contribute so we can get you into that week's issue. You can totally submit a review later than Wednesday, and we may include it. Not to put the pressure on, but we are a weekly mag so we like to keep content current.
-LPL
P.S. If you want a little extra confidence, we really do want to hear from you and expand our community. I am not a trained writer, and personally think my reviews need a good deal of improvement. I keep writing to get better, and people are still reading it!