Editor's Note
Welcome to issue #21 of Chicago Crowd Surfer! Hey there Surfers! We made it out to Wicker Park Fest last Friday to catch Against Me! and a couple solid local openers and then scooted on over to the Sub T for a late show featuring Porches with Sidney Gish opening. This week also brings a killer new EP from Chicago singer songwriter Appleby and an album from local rapper G Herbo, along with new music from Tony Molina, Daniel Bachman, and The Coup put out a soundtrack for Sorry To Bother You (a film that made us wish we did film reviews). Enjoy!

This weekend is Lolla! If you're headed down to Grant Park this weekend wear sensible clothes and don't make a fool of yourself. What are we saying . . . go CRAZY!!! Maybe we'll see you at an aftershow or two.
Seeing live music gives us joy, and it is our mission, in these trying times, to spread some of that joy to you. We don't just want to spread it, we want to share it; which is why we are a crowd-sourced publication. We want you to join us: to write about, and share pictures of, the shows you attend, the new albums you love, the bands you adore, and any other thing that has to do with seeing, performing, or experiencing music in Chicago. Please send any submissions to chicago.crowd.surfer@gmail.com. We are now up to eleven contributors and are always looking for more! We may not publish everything we get, and we reserve the right to edit, but will always try and seek the submitters' approval. Our mission is to be a positive publication, so if you have negative things to say - please look for another forum in which to express that opinion. We aim to wade through the bullshit of this modern life to find what good is left. See you at the show Chicago.
Keep Seeing Live Music!
KPL & JB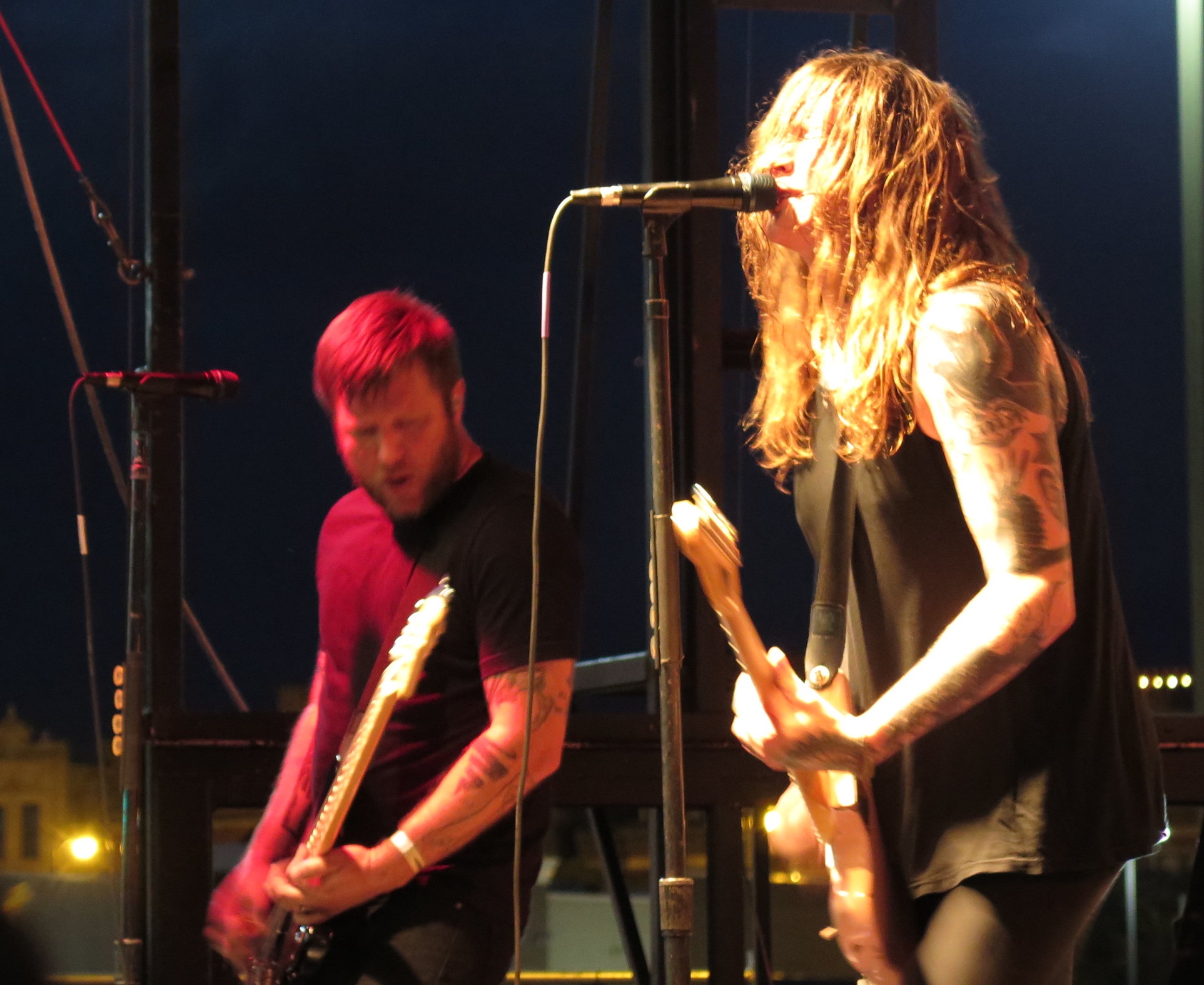 AGAINST ME! / the brokedowns / sincere engineer
Wicker Park Fest
June 27th
Against Me! / all photos by KPL
Wicker Park Fest is one of Chicago's largest street fests. It stretches across five blocks of Milwaukee Avenue right through the heart of the busy entertainment district. The Subterranean and Wicker Park Chamber of Commerce curated a particularly excellent lineup this year: Three days packed with fantastic national and local acts for the low, low price of a $10 per day donation. (If you are kind enough to pay it.)
On Friday night DB and I happened to dig in at the South Stage on the corner of Paulina and Milwaukee for a trio of punk bands that were sure to get our inner rebellion going. Chicago native Deanna Belos was up first with her band Sincere Engineer. Last year she put out a rather killer album Rhombithian full of her confessional lyrics backed by catchy pop/emo punk tunes. Her band rolled through a good portion of their record and had a loyal contingent up front singing along. She had the charm needed to hold the crowd's attention. It was particularly apparent on "Here's Your Two Dollars" while she snarled "We're not going anywhere. We're not going anywhere." Sometimes, amazing things come in five foot packages, and Belos is proof of it. If you want to check them out they're headlining at Beat Kitchen on August 11th.
After a couple vodka lemonades at the Tito's tent, we headed back for something a bit more classic punk with Elgin's The Brokedowns. They've opened for so many touring acts the last several years, so it was no surprise the Sub T pegged them to warm up for Against Me!. Fresh off the release of their new album Sick of Space, the four-piece does have a special weapon in its arsenal: All three guitarists can sing. And when they team together, their shout-along choruses become so infectious that you can't help but shout along with them. The combination of a bit of attitude, a political/social commentary bent, and plenty of heavy riffs make The Brokedowns a damn fun band. They are playing next September 25th at the Sub T opening for Iron Chic and Spanish Love Songs.
The street started to fill up during The Brokedowns set and it was clear that the screen they had set up in the Jewel parking lot, and the extra mains down the block were going to be necessary. The diverse crowd was ready to rock to Laura Jane Grace and the guys.
They really impressed critics and fans several years ago with their break from the machismo punk aesthetic when Grace came out as transgender woman; their last couple albums have grabbed hold of a sense of inclusiveness, and her struggles (and victories) as she made her transition. It was no surprise that there were quite a few transgender individuals in the crowd. This sense of community and support was as inspiring as the music itself. LJG and the guys came out on a tear, ripping through hit after hit after opening their set with a back to back "FuckMyLife666" and "I Was a Teenage Anarchist".

Milwaukee Ave. was packed with people chanting and singing along to Grace's affecting lyrics. Towards the end of the set they got into some of their newer tunes and finished up with a fantastic rendition of "Black Me Out." They walked off stage to howls of appreciation, and soon Grace returned with an acoustic guitar to play "I Hate Chicago." (A tune I could never figure out as far as where it came from or if she wrote it, which I think she did.) At first we thought the crowd might turn, but instead they took it in stride and laughed and cheered at the myriad of local references . The rest of the band joined in to round out the encore with "Pints of Guinness Make You Strong", "Trash Unreal", and "Sink, Florida, Sink".

It seemed that the city life tension had been lifted from the crowd, as the streets started to empty out and we headed back north to the Sub T for our aftershow. Maybe Grace and the guys had delivered a bit of rock magic that made us all feel lighter on our feet. Then again, that might have been the Tito's and lemonades talking...
-KPL
Porches / all photos by KPL
Always a sucker for an aftershow, it was a no brainer to scoop up tickets to this Wicker Park Fest late-nighter. With solo indie act Sidney Gish and Porches both on the WPF bill for days we couldn't make it, there was little hesitation to catch them when we could. The Sub T was already packed when we hiked up the stairs. DB mentioned we could try for a balcony spot, but I know from experience that is the first place that fills up so we opted to post up in back where bar access was easy, and $3 PBRs were aplenty.
Sidney Gish came down the spiral stairs from the green room to a few screams. She then picked up her guitar, made a quick tune up and proceeded to wow us. There is something to be said about a single person who can hold the attention of a few hundred for a full thirty minutes. No show talkers here, she held us all in the palm of her hand as she constructed songs with her loop pedals. She would start with a single note or simple chord progression and seamlessly move on to the next growing the tune around her sing-song talky lyrics. (This is not an easy thing to do, and takes a ton of time to perfect.) To call her songs confessional would be an understatement: She takes you on a journey through her life with every track until you start to feel like you know her. It's a special talent that makes her low-fi charm all the more impressive. And from the sound of the applause it seemed that the rest of the crowd felt the same.
After a quick change over, Porches descended the stairs and Aaron Maine, the driving force and songwriter, took the mic. Aaron's blond hair gleamed like a beacon in the blue backlighting. It became apparent that his sparse electronic pop becomes fuller and far more bold when played live. This difference in depth probably had something to do with the addition of the five piece backing band he brought to tour with him. His high vocals rode atop the swinging synth pop creating swirling sounds that captured the ear and wouldn't let it go. They started with "Now the Water" (off of this year's The House) and played straight into the standby hit "Mood" to get the show off and running. Over an hour of pure blissfulness later he gifted us with a wonderful version of "Country" to bring the set to a close. He purred to us, "Watch the water drip from my mouth to yours / I like how you take a sip / can you make it light? / Can you do no harm? / Break the water with your arms." It was during the encore that Maine announced they were going to be playing a song for the last time. He then launched into "Headsgiving" off his first album Slow Dance in the Cosmos. It was a real treat for those of us who had stuck around till one in the morning.

We poured back out onto the street with the rest of the late night freaks to the smell of Flash Taco's street stand, and capped off a grand Chicago Friday night with some steak tacos with green sauce.
-KPL
appleby
happiness
appleby
Justin Laroy Burns began his career by self releasing tracks on soundcloud without revealing who he was. He went years before he started showing his face outside his live shows. This all petered out as he became more comfortable with himself as a musician, but it added to the intimate soundscapes that make up his early work. With the release of his new EP Happiness it seems that Burns (who took the name Appleby from his Mother's maiden name) has turned a corner. The spare beats and melodic tones of Elias Abid (who did the production on the whole album) give the perfect backing for Appleby's falsetto to ride on. First single "Young Lost Love" is really the only tune where he doesn't utilize his gorgeous high tones. The Chicago singer songwriter has produced one of the most compelling collections of tracks this year. Highlights "Lady Sunshine" and "Echos" really let him show off his vocals, but with it's infectious pop groove "Count On You" could be the sleeper hit of the summer if it can get some air play. Which we sure hope it does.

- KPL
We couldn't find if he has any shows coming up but we'll let you know if and when he does!
tony molina
kill the lights
slumberland
It's been a particularly swamped past few weeks IRL, and I haven't had a lot of time to digest new music. I usually like to cook dinner to new music, but even that's been mostly shoving food in my face whilst standing over the sink and then going right back to the laptop and conference calls. That's why Tony Molina is my friggin' hero this week. Tony is into the whole brevity thing, and he's damn good at it.

He's typically been a bare bones type of musician, but pulls out 12-strings, organs, and pianos to give the whole album a very baroque pop feel. He worked in both studios and bedrooms, which I feel really gives the songs a spacious, yet, intimate, sound. It's an interesting take on urgency, as we normally associate short songs with punk rock. Baroque pop normally lavishes in its beauty over the course of many minutes. That's not to say these songs don't sound beautiful. The 60s folk influence gives the songs a very Simon and Garfunkel vibe, and each song has a point. There's an intro, a catchy as hell hook, a sing-a-long chorus, and a bit of a solo to lead us out. Honestly, the whole thing works, and there isn't a single excuse for you not listening to Kill The Lights right now.

Only 14 minutes to spar? Check out the whole damn album!
-JCB

Postscript: You know what's awesome? Putting on an album, making an egg sandwich, eating said sandwich, and realizing you've listened to the whole incredible album by the time you wash the plate.
Tony doesn't have any shows in Chicago coming up, but we'll make sure to keep you updated before they end faster than his albums do.
israel nash
lifted
desert folklore , thirty tigers
A sprawling dream quake of an album, Lifted is Israel Nash's fifth studio record and really finds the resident of Dripping Springs, TX at the peak of his talents. The once NYC stand by for folk rock fans has hit something special with this collection of a dozen tunes that take the listener on a journey through his musical mind. There is an inherent Western quality to this music, it's tailor made for road trips across the midwest (where Nash grew up). Standout "Hillsides" has that steady pace of a country tune complete with haunting steel guitar but his ethereal vocals float just above the music, low in the mix, and the fuzzy effect he runs his vocals through just adds to the misty quality. While closer "Golden Fleeces" rocks us to a close with it's dreamy climax. If you are into folk rock that is heavy on the psych end throw this one on now. It'll make you want to hit the road, just to see the trees go by.

-KPL
Nash is coming to Schubas on September 18th and tix are going for a paltry $13
the coup
sorry to bother you: the soundtrack
interscope
A companion piece to the critically acclaimed film written and directed by lead singer Boots Riley, it features the classic rock/rap/funk sound of The Coup with some great features from Tune-Yards, Killer Mike, LaKeith Stanfield, E-40, and the fabulous Janelle Monáe. Possibly the best film I've seen all year, it takes the attitude and messaging The Coup have always contained and slaps it right up on the big screen. But this record stands alone without the film, and with tracks titles like "Whatthegirlmuthafuckinwannadoo" you start to get the picture. Oakland lives in the blood of these artists and informs most of what they do. The only real bumper is Killer Mike's featured verse on "Monsoon," which finds one half of RTJ chop rapping to a drum and bass track. It's a great track that I hope I'll get to see live someday. Overall if you've seen the film or haven't (you really should); it doesn't matter. This album stands without it. It's just good quality music, hands down.

-KPL
Unfortunately The Coup is currently not on tour.
daniel bachman
the morning star
three lobed
When I'm bogged down with work, or I'm reading and need something to drown out the wife's obsession with the show Blue Bloods, I typically turn to classical or post-rock. It's something that I can concentrate on for more detail if I want, but the wordless music helps me focus on the task at hand. I loved Daniel's 2016 effort, and that self-titled effort was one of my favorite albums of that year – the juxtaposition with droning sound and field recordings with traditional song structures featuring 6 and 12-string guitars made the whole thing a traditional folk-pop, yet dangerous, record. So, when Daniel Bachman's latest, The Morning Star, showed up on my Spotify home page, I figured it would be a great record to put on while crushing spreadsheets and testing APIs. It helped that the title was making a solid play at speaking to my real life job.

What I didn't expect is that 2018 Bachman doesn't have much interest in traditional musical structures. Over the course of 7 tracks, spanning 75 minutes, you take a journey directly to Virginia. Sure, there are the guitars that Daniel is known for (a few kinds, to be sure), but there are organs, recordings of nature/traffic/creaky floors, AM radio sounds and drones/hisses/cicadas. It's pure atmosphere, and this is the literal definition of someone saying music can 'transport you places.'

"Sycamore City" sounds as if like you're sitting on the front porch while Daniel is in the back room, perfecting an unfinished composition, while the tracks that bookend it are both exercises in droning dissonance. The album plays that way for the rest of the runtime. It's this battle between unhinged noise and the peaceful calm of a world away from all the bullshit that drive the listener. The beauty of Bachman's record is that it doesn't necessarily pick a side. Some people will find the meandering folk fiddlin' to be the boring parts, and others will revel when the unending blather dissipates. Not many albums make me question if I've made the right moves in my life, and maybe you won't get the same feelings as I do, but give it a shot.

Only 13 minutes to spar? Check out this track:
Sycamore City
-JCB

Postscript: I went in looking for background music, and I came out reflecting on the world we live in today, the sleepy country town I grew up in and the constant motion of where my life has taken me. This is a serious album, and it is seriously good.
Daniel Bachman is playing Picnics on the Porch at The Hideout on August 24th. Tickets are only $10
southside , g herbo
swervo
machine
A team up of Atlanta producer Southside, the head of 808 Mafia, and Chicago rapper G Herbo careens through its fourteen tracks, never losing steam. Whether it's reliving his banger dealing days in "That's Where I Grew Up." or dealing with music rights issues in "100 Sticks" (with the best feature verse on the album courtesy of Young Thug), Herbo takes us through his life with a disconnection that is kind of creepy at times. There seems to be a gap between what he is rapping about and how he really feels about it. Maybe it's that truth is not all that exciting, or maybe it's age bringing some perspective; whatever the reason it seems a small step back after last years excellent Humble Beast which brought him to the forefront of Chicago hip hop.

-KPL
G Herbo is playing Lolla this weekend. He is scheduled at 4PM on Thursday on the American Eagle Stage.
WHAT WE'RE JAMMING TO THIS WEEK
iggy pop , underworld
teatime dub encounters
A rock legend complains about the state of the world and his life over Underworld's gorgeous soundscapes. It's surreal and odd, just like Iggy.
Sadly neither act is stopping by Chicago at the momen.
iron & wine
what hurts worse
The first single off Sam Beam's new EP Weed Garden which has an August 31st release date. It's lush with his patented folk sound.
Beam is playing Milwaukee's Pabst Theatre on October 4th. Tickets are going for $32.50
vic mensa
metaphysical
This Chicago MC softens up a bit and talks over electronic tribal yells and beats, it's an infectious tune, with a love story attached.
He has no upcoming tour dates at this time.
fucked up
raise your voice joyce
Toronto based hardcore outfit Fucked Up has just gotten stranger over the years with long instrumentals or experimenting with adding electronic sounds under front man Mr. Damien's screams, howls, and growls. This one is more straightforward but still carries a catchiness that works. This is the first single off new album Dose Your Dreams. (out Oct. 5th)
They are not stopping in Chicago on their current tour. We've seen them several times and want them to come back!
blood orange
charcoal baby
Dev Hynes delivers a soothing funky jam on this second single from upcoming album Negro Swan which drops August 24th and we can't wait!
We missed him at Pitchfork so we hope he plans to swing back through over the winter!
helena hauff
Hyper-Intelligent Genetically Enriched Cyborg
What if Aphex Twin was obsessed with 80s movies, and composed less-experimental techno? The result might sound like the single from London's Helena Hauff's. Her upcoming album, Qualm, is out this week. It's going to be on my spreadsheeting playlist, for sure.
She doesn't have any upcoming Chicago dates, and we missed her in May when she swung by Smartbar.
OTHER NOTABLE JAMS FROM THIS WEEK
Mac Miller - What's the Use?

Tom Morello , Vic Mensa - We Don't Need You

Derek Minor - Revolution

The Blancos , Joyner Lucas - We're Tired

DROELOE - Looking BAck

Pale Waves - Eighteen

IDLES - Samaritans
THIS WEEK'S RECOMMENDED NEW RELEASES
Santigold / i don't want: the gold fire sessions / downtown
One of our favorite R&B pop artists Santi White produces dance tunes for this millennium. Fun, funky and weird this latest mixtape finds the provocateur at her mellowist. But it's still some of the best pop to come out this month.
No Chicago dates for Santigold coming up soon. We need some more of you! Come back soon!
phantastic ferniture / phantastic ferniture / polyvinyl
Australia is just cranking out the indie rock these days. This trio from the smallest continent releases their debut album and it is fantastic. Well shaped and sonically astute Phantastic Ferniture is worth the listen.
Doesn't look like they are making it to the States anytime soon.
ross from friends / family portrait / brainfeeder
Felix Clary Weatherall, aka London producer Ross From Friends has produced a solid record. Each of these tracks could stand alone but he has curated them into a cohesive whole.
It looks like he is skipping over us when he comes over next. He is exclusively hitting New York, Colorado and L.A.
thin lips / chosen family / lame-o
Brother/sister acts always seem to hit a soft spot for us and this trio with a brother/sister team on drums and guitar have a great sense of humor and a witty self deprecating style that carries a charm all its own.
They are currently on tour opening for another of our favs, Hop Along. (who swung through earlier this summer), so there are no Chicago dates for Thin Lips at this time.
like pacific / in spite of me / pure noise
North of the border emo punk rockers put out a solid effort full of all the genres tropes but they do it so well you start to excuse it by mid album and as closer "Something Missing" hits it's chorus you're right there with them.
Like Pacific doesn't have any Chicago dates anytime soon. If we were them we wouldn't come here right now anyway.
MORE NOTABLE RELEASES
like pacific / in spite of me / pure noise
cody jinks / lifers / cody Jinks , rounder , concord
Austin Basham / You and Me for Now / Austin Basham , Nettwerk
VanJess / Silk Canvas / VanJess
We Banjo 3 / Haven / We Banjo 3
Halestorm / Vicious / Atlantic
Channel Tres / Channel Tres / GODMODE
NOTES & ANNOUNCEMENTS
It's Lolla weekend Surfers! If you're going have a damn blast! If not, do yourself a favor and avoid downtown this weekend; it'll just annoy you. There are so many activities including a ton of great aftershows! Check out our Summer Guide for the full aftershow list. Many are sold out but that doesn't mean you can't get a ticket. It just might cost a bit more...
****
Thursday August 2nd
Parquet Courts / Dream Wife
Thalia Hall 10PM doors Sold Out
(but Thalia always releases some tickets at doors)
 
Friday August 3rd
Tank and the Bangas / Durand Jones and The Indications
Thalia Hall 10PM doors $22 - $50
Mephiskapheles / J. Navarro & The Traitors / The Eclectics
Reggies 8PM $13 ($15 doors)
Saturday August 4th
Post Animal / The Curls / DJ Paul Cherry
Empty Bottle 10PM doors $15
Lori McKenna / Whitney Fenimore
City Winery 8PM $25 - $35
Sunday August 5th
Pylons / Bosco Mujo Palace / Good Water / Honeydew
Subterranean (downstairs) 8PM $8
 
Monday August 6th
Sports Boyfriend / Birthh / Kahiem Rivera / Mia Joy
Empty Bottle. 8:30PM doors FREE
Tuesday August 7th
Peach Fuzz / The Curls / Strawberry Jacuzzi
Sleeping Village 9PM $5
Nikka Costa
City Winery 8PM $28 - $38
 
Wednesday August 8th
Los Lobos
SPACE 7PM doors $75
See you at the show Chicago!
Been inspired by a recent musical experience? Excited about an upcoming show? shoot us an email to GET STARTED.
Being a contributor has never been easier. All you have to do is enjoy music, have a good time and tell others about it. We are a community sourced web mag, that means our experts are music lovers in your community. Yes, you are an expert music lover. (We know because you are reading this site) Our goal here is to encourage people to see live music, and have a good time doing it. Get clever with how you would like to contribute, but here are some ideas:
See a show and write about what made it great for you (and snap a couple pics)
Tell people about CCS
Listen to a new album and write a review
Share the weekly issue post
Buy us a ticket to see a show - we will try to cover the show if you can't go!
Post to our social media sites about news in the local music scene
Help us make a connection to acquire:

Press passes
Photo passes
Promo materials (buttons, stickers, gear, flyers…)
With any contribution, we request email submissions by the following Wednesday morning (ex. If you see a Friday show, submit 4 days later; ex. Listen to a new album on Tuesday, submit the next day). Please let us know that you want to contribute so we can get you into that week's issue. You can totally submit a review later than Wednesday, and we may include it. Not to put the pressure on, but we are a weekly mag so we like to keep content current.
-LPL
P.S. If you want a little extra confidence, we really do want to hear from you and expand our community. I am not a trained writer, and personally think my reviews need a good deal of improvement. I keep writing to get better, and people are still reading it!