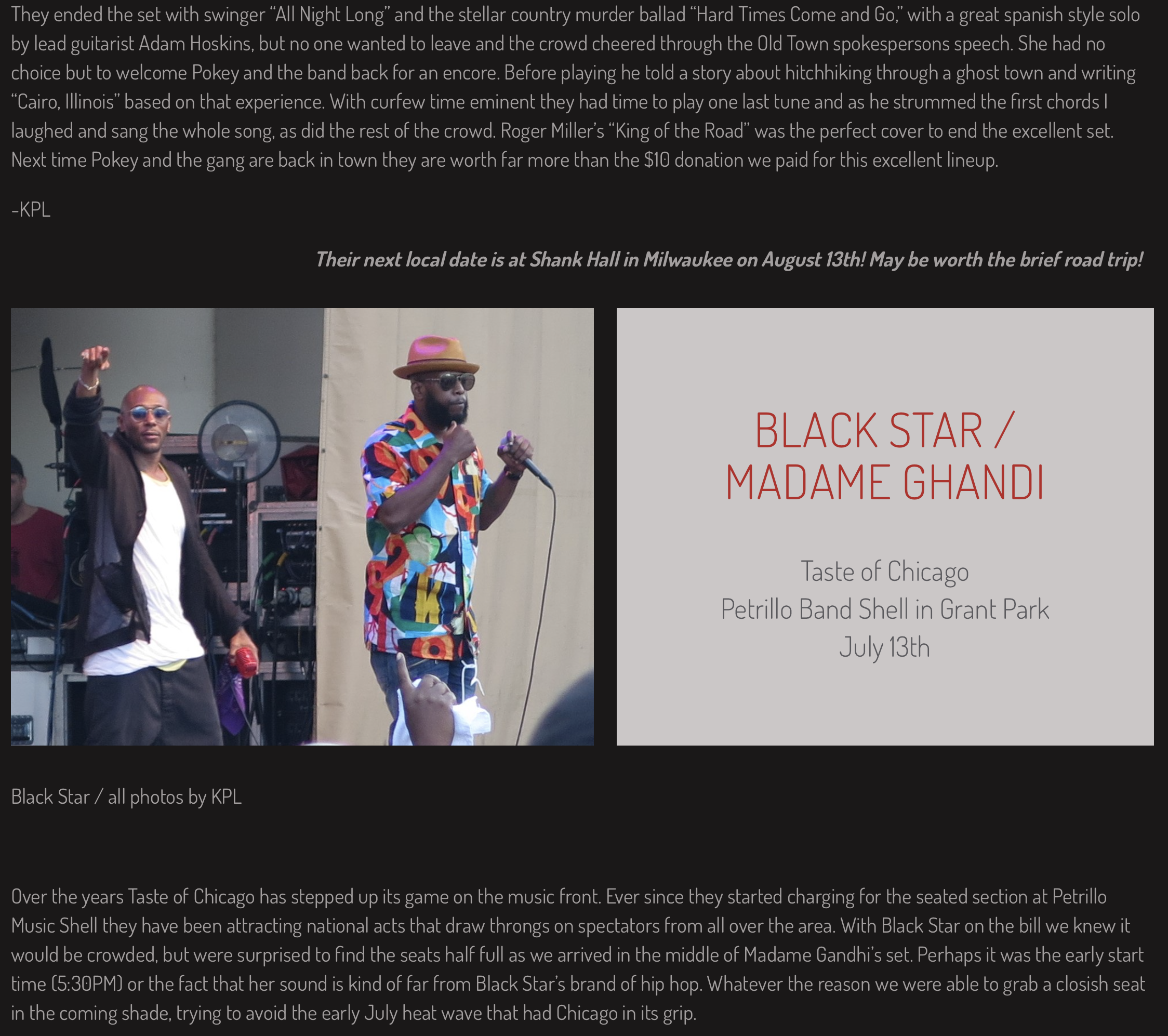 1:45 - 2:25 | Red Stage ****
After having your brain melted by The Curls come have it bashed in by local noise rockers Melkbelly. Let Miranda Winters and the boys crush you with their sound, it's the perfect way to start the day.
They are at The Sub T for an after party on Saturday with Nnamdi Ogbonnaya, there are still tix going for $12 each!
A few days after (July 29th) they get to open for The Foo Fighters at Wrigley Field!
pack
A PONCHO
AND A BAGGIE FOR WATER SENSITIVE ITEMS
joshua abrams & Natural information society
3:30 - 4:20 | Red Stage. ****
Prepare yourself for the awesome sounds of Chicago jazz bassist Joshua Abrams and his group Natural Information Society, who craft perfect loops to show off their skills as they melt and mold the air with their sound.
5:15 - 6:10 | Red Stage ****
Fresh off the his new album CARE FOR ME, Saba comes home for a Chicago rapper right of passage, play a Pitchfork afternoon set. This is a Friday set to see.
7:25 - 8:25 | Red Stage
The Australian bard of rock returns to Pitchfork after a scorcher of a set in '15. She has come a long way since then and this set promises to be memorable with plenty of new tunes off this year's excellent album, Tell Me How You Really Feel.
GET THE COOZIE SET
THE SET OF 3 HAS THE DAILY SCHEDULE
1:00 - 1:40 | Green Stage ****
This local indie act produces some cool and strange tunes. Art rock for the new generation. Should be the perfect opening to this years strange and cool fest.
They are headlining an after party at The Hideout with locals Wei Zhongle and Deeper in support. Last time we checked there were still tix available for only $10!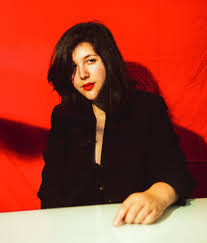 2:30 - 3:15 | Green Stage
She released one of the best albums of the spring in Historian. Her heartfelt rock should be great for lounging on the lawn in the afternoon heat.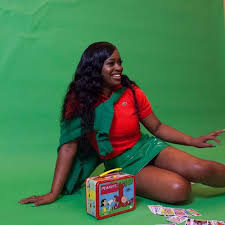 4:15 - 5:10 | Green Stage
A late replacement for Earl Sweatshirt this viral sensation hip hop artist can either flop or be the set of the fest. If her video album Whack World is any indication it's going to be a highly interesting show.
6:15 - 7:15 | Green Stage
The Internet vocalist and former member of the Odd Future collective put out one of the best hip hop albums of last year with her solo debut Fin. If you're looking to chill as the sun goes down this is your jam.
The Internet is having an album release party at East Room on Friday night!
8:30 - 9:50 | Green Stage
No one else is playing so you might as well check out Kevin Parker and the gang as they roll through all their hits. We're sure they'll give us "Feels Like We Only Go Backwards," "The Less I Know The Better" and "Let It Happen" along with the rest of their psych rock catalog.
IT WILL BE A rare
&
'chilly' p4k weekend
2:45 - 3:30 | Blue Stage
Maybe the shade is the best place to be and you can kick back to the finger picking folk stylings of Julie Byrne in the grove around the Blue Stage.
4:00 - 4:45 | Blue Stage ****
Witty and blessed with a cool and collected flow local MC Open Mike Eagle may be the perfect act to get you over the afternoon hump.
He is performing at Lincoln Hall on Friday night as well. Tix are $15 and the show starts at 10:30!
5:15 - 6:00 | Blue Stage
Every one of her tunes builds to a glorious hollering peak. It works so well that it landed her this evening starter set. We can't wait to take it in live.
6:30 - 7:15 | Blue Stage
Big Thief and Barnett back to back is worth the ticket price alone. Let Adrianne Lenker, Buck Meek, Max Oleartchik, and James Krivchenia transport you into your inner one with their gorgeous brand of indie rock.
7:45 - 8:30 | Blue Stage
What better way for the sun to dip down than to the tones of this English electronic duo. With collabs from James Blake, King Krule and Micachu on the new album who knows who might do a guest spot during their evening set.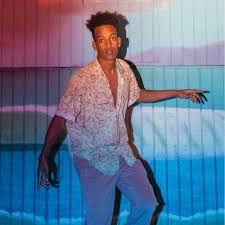 1:45 - 2:25 | Red Stage
Smooth vibes resound from this Los Angeles singer songwriter; between soul and hip hop is where his tunes reside. The perfect buffer between Paul Cherry and the strangeness that is Zola Jesus.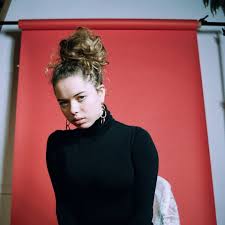 3:20 - 4:10 | Red Stage
This 22 year old British singer songwriters honest, brooding guitar/synth pop seems perfect for a blanket on the grass moment. With an opening slot for Fleet Foxes this tour her career looks to skyrocket soon.
USE SUN SAFETY SKILLS
HAT, SCARF, SUNBLOCK, PANTS...GET CREATIVE!
5:15 - 6:10 | Red Stage
The throwback soul sounds (with a modern twist) of Raphael Saadiq will be a welcome relief from the experimental and folk sounds of the rest of the afternoon. Expect plenty of dancing and the visible release from the crowds pent up energy.
7:25 - 8:25 | Red Stage
We've been waiting to see this band for years. Ever since Lost in the Dream came out in '13. We hope Adam Granduciel and friends have some surprises in store. Do you think he tours with the grammy?
1:00 - 1:40 | Green Stage ****
This Chicagoans lounge pop sound might be the best way to start your Saturday. Especially if you hit it too hard the night before. Chill, odd, and off kilter; we say that's just Pitchfork . . .
He is headlining a Sunday night after show at Schubas with Bunny and Slow Pulp opening. Tix are only $13 and it starts at 10PM.
2:30 - 3:15 | Green Stage
Soulful and arty, Zola Jesus' avant-garde pop with operatic overtones has been captivating audiences for over a decade. Last years album Okovi was her most accessible to date but still not what you would call easy listening. Dark, brooding and lovely her set should be a Saturday highlight.
She is playing an after show at The Empty Bottle on Friday night. Tix are $20, and FEE LION and Wingtips are opening.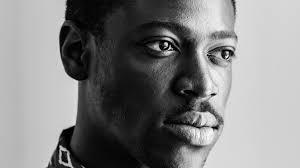 4:15 - 5:10 | Green Stage
His debut Afromanticism was one of the best albums of last year. The cool, collected folk-soul hybrid sounds like a great way to spend the late afternoon.
6:15 - 7:15 | Green Stage
The perfect addition to funk up a mellow evening. Dev Hynes has accomplished more at 32 than most do in a career, and this second Pitchfork set under the Blood Orange moniker is a testament to all that hard work.
SKIP THE LONG WATER LINE
WATER WAS ONLY $2

LAST YEAR
8:30 - 9:50 | Green Stage
We do appreciate that Pitchfork has their headliner as the only music in the park. It means you can lounge in the rear and have no sound bleed. There seems no better place than the back to enjoy the dulcet indie waves that is Fleet Foxes.
LISTEN TO
THE MUSIC
IT IS HARD TO DO WHAT THESE ARTISTS DO
2:45 - 3:30 | Blue Stage
Displaying her gorgeous electronic compositions are the reason this eclectic festival exists. No other fest would stick this strange musician in an afternoon slot on day two. That's what makes this one of the best fests out there.
She is performing at The Constellation on Sunday night with Cool Maritime opening. The show starts at 10PM and tix are going for $13.
4:00 - 4:45 | Blue Stage ****
Reach into your soul and pull out the darkness and let it shine in the Blue Stage shade as you are transported to the world of Haley Fohr. The Indiana native has deep Chicago roots and has collabed with tons of local experimental musicians. We're wondering who may guest in on a tune or two!
She is playing a pre-show at The Empty Bottle on Thursday night with Lolina opening. Tix are still available for the low cost of $12!
5:15 - 6:00 | Blue Stage
We'll be in amongst the trees for Cleo Tucker and Harmony Tividad's beautiful indie rock harmonies. Maybe we'll see you there.
They are playing the Sub T on Friday night with J Fernandez opening. Tickets are still available at only $15!
6:30 - 7:15 | Blue Stage
Founding members of the very short lived but incredibly influential English post-punk/rock band This Heat reunited in 2016 to form This Is Not This Heat. Expect a sound wall of craziness and wonder!
7:45 - 8:30 | Blue Stage
The smooth indie R&B stylings of DC native Kelela Mizanekristos is perfect for the coming darkness. With a sultry and sexy electronic sound she is sure to get the Blue Stage crowd going.
irreversible entanglements
1:45 - 2:25 | Red Stage
The jazz will flow from the stage to you. Will you accept such a gift from these talented artists? Whether presenting a message with spoken word or clobbering you with a multitude of notes they will impress the small crowd that will brave the early fest goings on day three.
They are playing a post fest show at Constellation on Monday night for $15. Might be worth checking out if you miss their early set.
3:20 - 4:10 | Red Stage ****
Sleek and stylish, her R&B sounds get us moving our hips. The Chicago phenom (she's only 19) may bring along more local talent from her interesting collabs. We can dream right?
5:15 - 6:00 | Red Stage ****
A fixture on the Chicago hip hop and spoken word scene for years, her smooth flow and poignant lyrics are entertaining enough but the sleek production is just as ear candy worthy.
tell ccs about your fest experience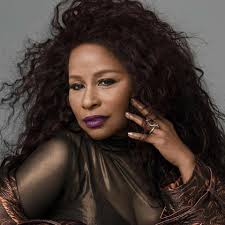 7:25 - 8:35 | Red Stage
A legend of funk and soul, she has won ten grammys, sold 70 million records, been nominated for the Rock and Roll Hall of Fame twice and released a funk jam called "Like Sugar" last month that has had us jazzed up for this set for weeks.
1:00 - 1:40 | Green Stage ****
Perhaps the busiest musician in Chicago, Ogbonnaya has his hand in many bands and projects across the musical spectrum. His solo material is half hip hop half indie R&B and has a frenetic soulfulness that makes it all the way unique.
He is opening for Melkbelly at The Sub T on Saturday night. Tix are $12 and they were not sold out the last time we checked!
2:30 - 3:15 | Green Stage ****
Another of Chicago's up and coming rappers following the independent/DIY perspective. An Evanston native, he has been producing music since his highschool years and after all that work he gets his due.
He is at Schubas for an after party on Saturday night. It starts at 10PM and tix are only $15.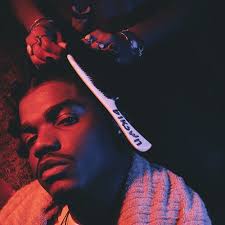 4:15 - 5:10 | Green Stage
Innovative rapper and neo soul artist Christopher Smith Jr. has been performing under the Smino moniker for several years and and his debut LP blkswn was a hip hop highlight of last year. This promises to be a funky alternative to the indie rock next door on the Blue Stage.
6:15 - 7:15 | Green Stage
Indie hip hop mastermind DRAM (which stands for Does. Real. Ass. Music) has blown up as of late. And he scored a hit with last years Big Baby DRAM. A cloud will definitely settle over the Green Stage if you catch our drift.
say hello and smile to the vendors
8:30 - 9:50 | Green Stage
Do we really need to convince you to stay and hear her perform tunes from the now twenty year old classic album The Miseducation of Lauryn Hill. Yeah we didn't think you needed convincing. This may end up being the only truly memorable set of the fest . . .
2:45 - 3:30 | Blue Stage
Her mellow danceable brand of electroncia may be the balm you need to get through your Sunday. Definitely our form of musical church.
4:00 - 4:45 | Blue Stage
Introspective and captivating, Michelle Zauner's solo project is just as good, if not better, than her work with Little Big League.
She is playing an aftershow at Thalia Hall on Saturday with Mothers and local act Varsity opening. It starts at 10 pm and tix are going for only $16.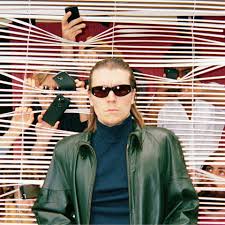 5:15 - 6:00 | Blue Stage
Eighties inspired pop that leans more toward The Cars than Blondie. This Australian is known for his solo theatrics.
6:30 - 7:15 | Blue Stage
Bringing out comparisons to a young Elliott Smith, Alexander Giannascoli's newest record Rocket is a journey into his subconscious: as beautiful and strange as it sounds.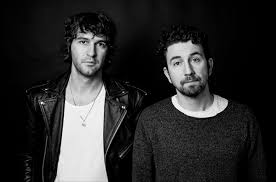 7:45 - 8:30 | Blue Stage
After the mellowest Pitchfork on record this Canadian rock duo will bring out the pure punk in us all. With shout along lyrics and three cord madness galore they are sure to drown out any residual Chaka Khan bleed. Not that the two sounds mixed wouldn't make an interesting rock/funk hybrid. We've seen these guys several times and let's just say you should make sure you have ear plugs for this set.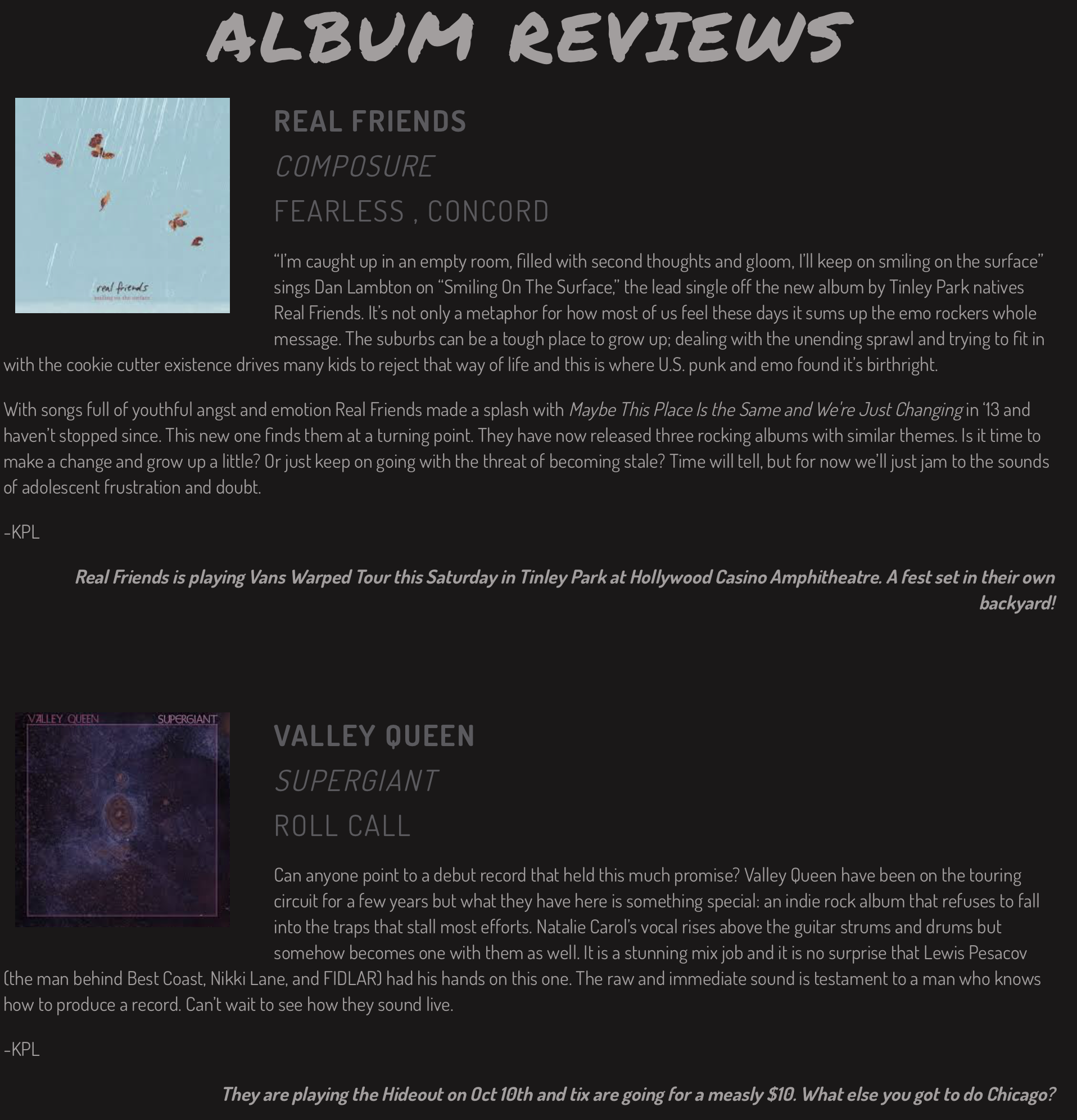 Been inspired by a recent musical experience? Excited about an upcoming show? shoot us an email to GET STARTED.
Being a contributor has never been easier. All you have to do is enjoy music, have a good time and tell others about it. We are a community sourced web mag, that means our experts are music lovers in your community. Yes, you are an expert music lover. (We know because you are reading this site) Our goal here is to encourage people to see live music, and have a good time doing it. Get clever with how you would like to contribute, but here are some ideas:
See a show and write about what made it great for you (and snap a couple pics)

Tell people about CCS

Listen to a new album and write a review

Share the weekly issue post

Buy us a ticket to see a show - we will try to cover the show if you can't go!

Post to our social media sites about news in the local music scene

Help us make a connection to acquire:

Press passes

Photo passes

Promo materials (buttons, stickers, gear, flyers…)
With any contribution, we request email submissions by the following Wednesday morning (ex. If you see a Friday show, submit 4 days later; ex. Listen to a new album on Tuesday, submit the next day). Please let us know that you want to contribute so we can get you into that week's issue. You can totally submit a review later than Wednesday, and we may include it. Not to put the pressure on, but we are a weekly mag so we like to keep content current.
-LPL
P.S. If you want a little extra confidence, we really do want to hear from you and expand our community. I am not a trained writer, and personally think my reviews need a good deal of improvement. I keep writing to get better, and people are still reading it!