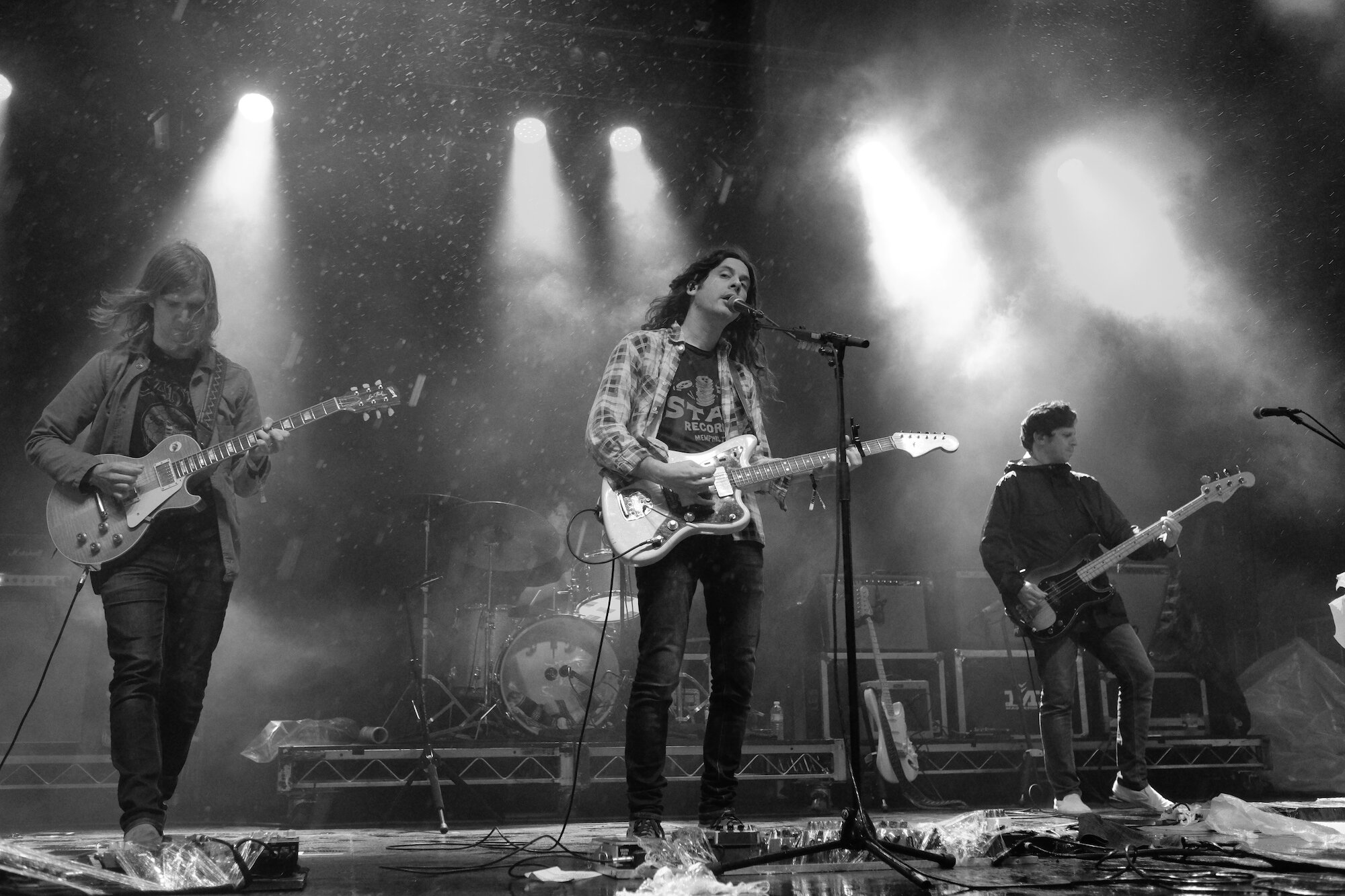 Goose Island 312 Block Party
Kurt Vile / all 📷 : Tina Mead

The Goose Island 312 Block Party is the last free street fest of the summer not to be missed! They draw people with cheap beers and great bands. What other fest else can you get a Matilda for $3!?! The fest exclusives, small barrel brews, and partner breweries take it over the top. I was partial to the limited release Goose Island hazy IPA, Lost Palate. By the number of the colorful cans floating around, I'd say others were, too. On the downside, space is tight and since people are there for the drinking, if you don't press in to get close to the main stage, the music will be drowned out by the throng of conversation. That's not a problem on the indoor "local music" (literally a warehouse with a stage in the corner). It was loud as always, and this year it was sweltering hot, which meant only people who really want to feel the music stayed. Except for on Saturday, when it provided shelter from the storm... but I'm getting ahead of myself.
Friday
Cafe Racer kicked things off at the local stage with their simultaneously percussive and spacious wash of guitars you can get lost in. Their sound worked in the echo chamber like space, enhanced by the bouncing sounds. You can see them open for Luna at Lincoln Hall on October 12 & 13th. I heard a few songs, but bounced early to get my ink done. (As in tattoo.) As in free tattoo in a garage warehouse at Goose Island. Unsurprisingly, most of the flash was Goose Island and drinking-themed, but there were also the Chicago stars. I have always planned on getting them, so I jumped at the chance. They even had my color: atomic red. It's the first year Goose Island has had such a partnership, and everyone seemed pretty jazzed about it, especially since it was a complete surprise. Big shout out to the artists from Dead Serious Tattoos and Native Rituals for coming out to make us perdy.
I was still riding the post-tattoo adrenaline when Lola Kirke started on the main stage for Friday's female-powered, twang-tinged lineup. Kirke's brand of Americana is a perfect stylistic balance. Just the right amount of rock like Shania, Reba, and the country of my formative years. Or the right amount of twang like Stevie and folk rockers of the '60s. Kirke and her band were feeling the late summer heat as they rolled through their tunes, closing with her feel-good love song, "Sip the Wine." Not quite beer, but it was still a sweet note to end on.
Dogs at Large continued the happy feels on the local stage. They played their latest single and b-side, "Sweet Talkin' / Chosen Ones." These two tracks have kicked the Dogs at Large sound up into the next level of rock, largely fueled by the stylings of one of my fav Chicago guitarists, Jamie Yanda. Central to this band is the like-no-other sonorous vocals of Sam Pirruccello. Man, did he sound great in that warehouse. Kudos to the sound crew for getting that room humming!
Illinois daughter and Nashville-based outlaw country artist Margo Price tells stories of her life that become universal in their specificity. Bank foreclosures, DUIs, and cars sold to fund album recording sessions. The feminist anthem that is "Four Years of Chances" still rings true, but the standout performance had to be "Nowhere Fast." It started like a traditional country ballad and evolved into a psych jam. Price pushed her band to a wicked pace, strumming her acoustic guitar with vigor. As she finished the song she told us how happy she was to be in Illinois by congratulating us and shouting, "Legalize weed!!!" It echoed down the industrial corridor. We will look forward to Price coming back home in 2019 when we can all partake (more) openly.
ROOKIE was an ideal headliner for the local stage Friday night. Their rock is a classic sound that was attractive to a large portion of the Chicago beer-drinking crowd. And these guys perform. They bring passion and movement to the music. And they play together a LOT, so they are tight, reliable performers. I was partial to their song, "I can't have you (but I want you)." But the crowd really loved them for their cover of Neil Young's "Down By The River." Not only did they pull it off, but there were resounding shouts of pleasure from the crowd. The guys of ROOKIE know how to get a party groovin'. It could have been the perfect note to end on, but we had one more performer on the main stage. You can catch them at Sleeping Village on October 1st.
Jenny Lewis sat behind the keyboard for "Heads Gonna Roll" and "Wasted Youth," but was downright commanding as she moved to center stage for "Big Guns." Her every gesture had confidence and elegance, as if she were empress of the stage.Her voice was strong and melodious, her band talented and tight. They played a mixture of songs from her four albums, which meant the music ranged in sound from a traditional country to a more disco, funk, pop-fueled sound. Lewis had no problem embodying those sounds. She is 100% diva, no matter what the style of music. Anyone who saw her performance would be happy to show up to see her again and again.
Saturday
Funky rhythms echoed through the entry as Ben Pirani warmed up the main stage, greeting us with "Dreamin's for Free," the sultry, mo-town ballad featuring horns that feed the essential chorus to Pirani's delicious lead vocals. The drummer set a loose, jazzy style elevated by the vibes player. I will definitely be looking to seeing this group again.
Whereas Friday boasted mostly rock/country vibes, Saturday blended some pop, funk, soul, rock, and rap. With our city slowly but surely gentrifying by the minute, it was also wonderful to see such a diverse group of listeners for this incredible bill of mixed music.
Tatiana Hazel brought our first dose of electronic pop to the fest. Hazel is a Chicago native who recently relocated to L.A., so we were happy to get our dancing muscles warmed up with songs like, "Can't Help but Notice," and "Knew You Would." She is a part of a recent wave of Latin musicians whose music might tease us with a word or two in Spanish, but who also remember that the rest of us are still learning the basics.

For the lovers of funk, of whom there are many, The Budos Band delivered. Check out "Old Engine Oil," the lead track on their latest album, The Budos Band V, with punchy brass and a bongos-made heartbeat. The bass player took us deep into his work, almost in artist-like fashion, holding his instrument as a tool and his body contorted in such a way we had nothing to do but dance.
Antoine Anthony warmed up stage for Roy Kinsey with an acapella, "His Eye Is On the Sparrow," creating a sacred tone to endure the set. "Citadel Blues" contemplates being a young black queer Chicagoan. The experience is specific and in its own way, universal. The audience absorbed his message and swayed under its weight. Kinsey rapped about pain, but also about his Hot Girl Summer. It was, as he called it, "the ratchet part of the set." There was resounding joy as he shouted at/with us, "Bitch she ain't yo friend!" Oh. And did I mention, he's a librarian? Check him out at the MCA on October 1st. Its Free! Not to be missed!
Priests brought a much-needed dose of indie post-punk pop drama to the fest. Their jangly surf inspired "Jj" was a great way to grab the audience's attention for their larger-than-life set. Tight and catchy backup music banged, adding life to Katie Alice Greer's lead-singer position.

"Can I get a hell yeah?" The audience gave a resounding response, "Hell yeah!" Manwolves was our last band on the local stage, and they were determined to milk every ounce of energy from the audience. These young pups had plenty of bite with energized performances of their already jamming tunes. The trumpet player had serious soul, especially on "You." Dripping wet listeners came in for the dry, hot Manwolves performance which blasted us with all that jazzed-up hip-hop making for the best set of the fest.
The rain continued to drizzle as Kurt Vile's set time approached. I was worried all afternoon about a Pitchfork-type cancellation, but sans lightning, on he went. He was the vision of a poet. Casually standing at the mic, plucking out music, and spinning tales into the mic. As the rain came down all the heavier with wind blowing his hair, his voice was barely a mumble against the weather. Crews scurried back and forth, keeping plastic from blowing off the pedals and keys. As Vile began "Bassackwards," I felt like I could stand in the rain and listen to him all night; there was something so perfect about it. But concern for my now somewhat rain-drenched camera won out, and as I walked away, I could hear guitar squeals echoing through the rain... Until next time, Kurt Vile. Until next year, Goose Island.