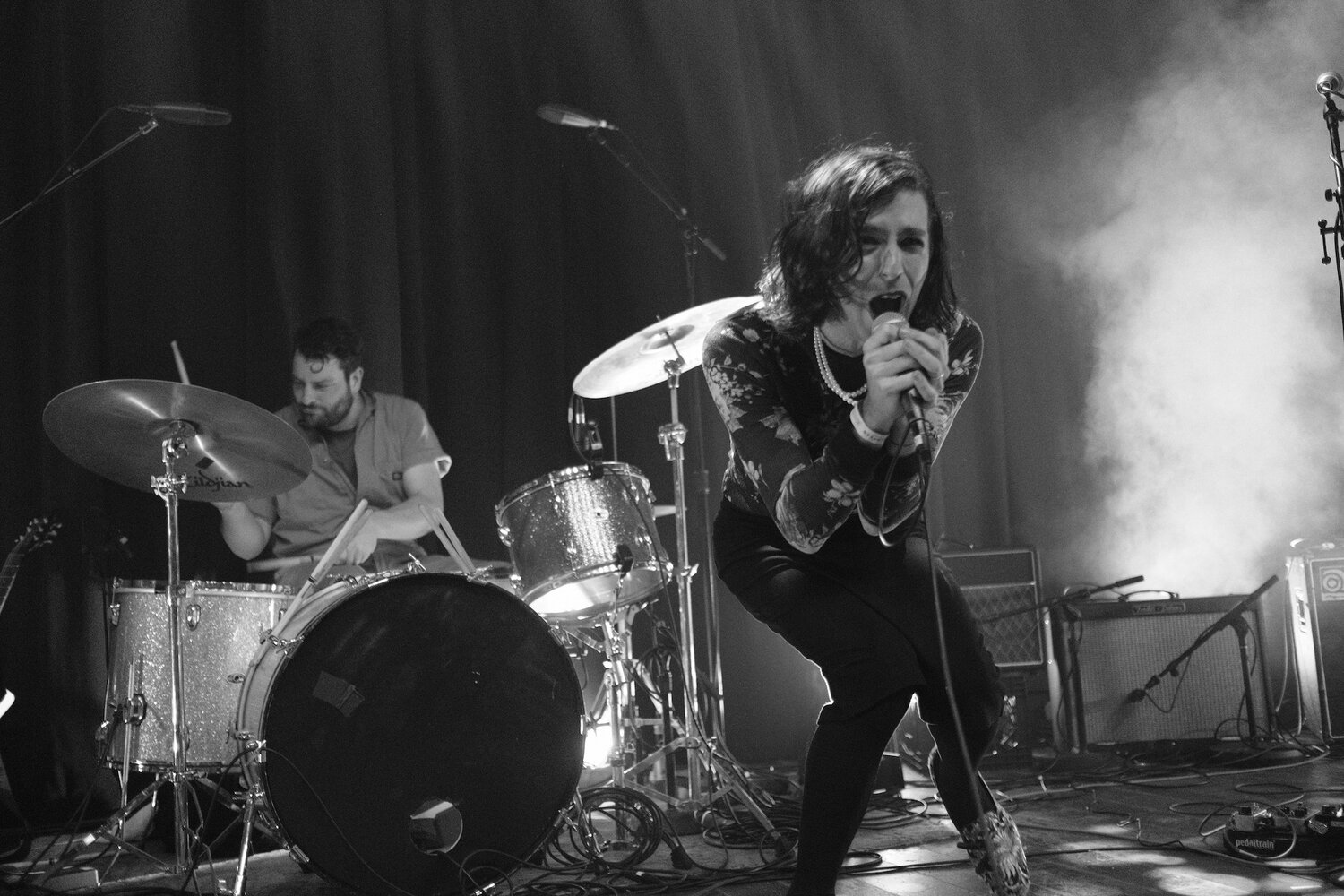 with: Speedy Ortiz / Stef Chura
Lincoln Hall
30/10 Series
September 7th


Ezra Furman / 📷 : Tina Mead

This lineup was stacked. Not unusual when seeing an-all local lineup, as the Chicago scene is rife with killer bands, but all three of these were touring. Stef Chura came to us from Detroit. Speedy Ortiz from Philly. Ezra Furman grew up in Evanston, but he has been out in Cali for a minute. Three touring headliner-worthy bands all together, just for us?!?! Bonkers.
Stef Chura kicked off her set with two of my favorites from her latest album, Midnight, "All I Do Is Lie," and "Method Man." They are memorable on the album because they have movements. Seeing them live and feeling that tension of knowing more is coming, was really yummy. During her "Method Man" solo, Clara Salyer made her guitar squeal, like she was on the edge of chaos. Chad Stocker bowed under the beat of the music. Ryan Clancy gave us a taste of his punk attitude (actually he came up in emo, but either way, dude can kick ass on the drums), as he threw us into "My Girl." Chura's patent fuzz-heavy music filled the space, but it was no match for her cutting voice that came through the mix and gave me chills. It was jagged. Full of peaks and valleys. Perfect kind of voice for exploring the music. She drew out some syllables. Hesitated just a second. Not in a way that felt evasive, but rather, keeping the music fresh. Relishing it. As they wrapped up with "Scream," I was fully feeling the power of their rock.
Speedy Ortiz eased into their set with the first three songs off their album Twerp Verse. It was "Lucky 88" that really hit me. They brought rock with a slightly more pop sensibility. The rolling pace and clever lyrics are hard to resist. Lead vocalist, Sadie Dupuis, fed off her bandmates with the tightness of the songs; she was always moving to or from the mic. The drummer, Mike Falcone, showed his power as he muscled his way through the music. "Raising the Skate" took that energy and relaxed it. They brought a loose happiness to the music. I was happy to see Audrey Zee Whitesides on bass (she killed on guitar in Mal Blum's band at Beat Kitchen just a few short weeks ago.) "The Graduates" built with extra infusion of energy compared to the recording. Just when I thought they had nothing more to give, they closed their set with a deep cut, "Taylor Swift." They brought a heavier sound and everyone thrashed beneath its weight.
Ezra Furman is a rock star. When she/he took the stage, you could see the uneasy pleasure at the knowledge. Her/his pencil skirt, floral top, and kippah were thought-provoking and an expression of identity I could easily accept. Furman accepts either she/her or he/him pronouns. On stage, Furman truly was a bad ass bitch. In the most positive connotation, so I'm going with female pronouns. Her art, philosophy, life, and identity seem to be rolled up together. She uses the stage to become someone else, but also to be more genuine, vulnerable, and intimate. That charges her performances with power that is palpable.
Furman dedicated "Marshcino Red Dress" to the gender non-conforming members of the audience. When she followed it with breakout hit, "I Wanna Be Your Girlfriend," there were more than a few swoons of pleasure in the audience. They ended the regular set with all-out punk jam, "Thermometer," and we couldn't help but scream for more. "Police on My Back" made famous by The Clash was up next, originally created by British '60s, mixed-race band, The Equals. Completely perfect for this night of killer rockers, "What Can You Do But Rock 'n' Roll" was the actual closing song. Through it all Furman, embodied the music, emoting out every pore. I wish I could be half that vulnerable to my closest friends, let alone a room of strangers. I left completely blissed, inspired, and feeling all the joyful expression of self and emotional connection
-Tina Mead